12:00am Enzo wins the pool Tournament
SEE what they CAN'T show you on TV! 3 Days FREE No Commitments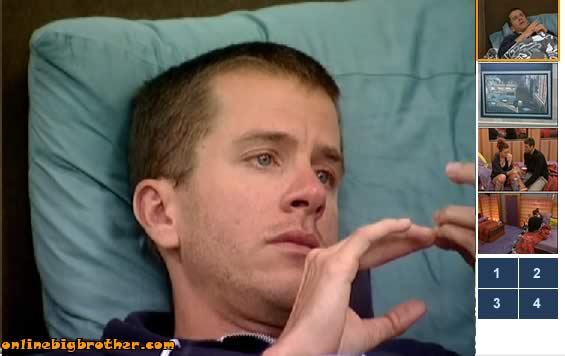 12:20am HOH Ragan Ragan is talking to himself trying to figure out how to handle with B/R. Ragan thinks Brendon's real target is Matt, Ragan: "These last couple days with Brendon attacking him and BRit has all been theatrics". Ragan says you can never get to the end if everyone likes you, everyone wants to bring a person with a lot of enemies tot he end. He decides that he needs to change his persona he'll have to make some enemies. He knows he's made 2 enemies that will not give him any votes (b/R) . Ragan asks " how much will it hurt me in the game if I go after Brendon and Rachel for real…give them a taste of their own medicine". He doesn't think in a house controlled by guys guys that causing drama will be beneficial. Ragan: "These guys don't like drama they'll get rid of whatever causes it"… "It's not a good idea for me to throw back the drama"…"I don't want to be the typical stereotypical drama queen, even though i cry every other second How do I deal with the gruesome twosome" feeds switch … when they come back Ragan is trying to figure out what the HOH is he's pretty sure it'll be a quiz, Ragan: "I gotta study".
12:46am Everyone beside b/r joking around drinking talking about there pool tournaments. Enzo jokes that they should go into the taj turn off the lights and rough Brendon up. Brit says that she's so disgusted in Brendon and Rachel she's just going to disengage from them, she knows she's said it before she has to do it tomorrow.
12:54am Kitchen Ragan, Brit, Enzo, KAthy, Matt and HAyden They are talking about Brendon's blowup.
Ragan: "I think he's attracted to you becuase why bring up Nick all the time". Brit doesn't know why she doens't get that feeling from him. kahty: "I think something happened in him in child hood I deal with folks like that something happend to him that makes him feel less then a man". Matt: "Brendon told me he use to be nerdy and stuff and people would pick on him thats why he started to work out". Enzo keeps saying yeah.. yeah.. nerdy.. yeah.. just what he said .. sabetour… yeah. Kathy leaves to go to bed tells everyone goodnight and gives out hugs, enzo tells her if B/R wake her up to tell them to shut the BLANK up. They start talking about the sab, everyone is pretty sure that it's rachel or brendon. Brit says it the video has anything to do about Matt, ragan or herself she's just going to get up and leave. Enzo says "i don't think there's a saboteur"Matt: "I heard that America knows who the sabeotour is".. Feeds cuts.. when we come back Brit is explaining her sab theory's to the guys, she's figured a lot of it. Matt: "the saboteur is exactly like America's player it's just like Big Brother to recycle BLANK".