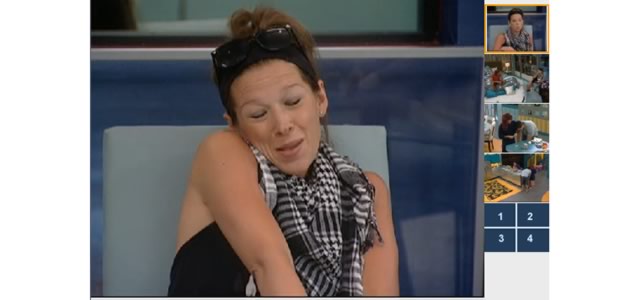 9:00pm JULY 12th HOH Annie and Hayden
Annie Explains to Hayden what Rachel did to here. She goes over it about 9 times. She is saying that nobody beleives her right now but when they get out of here they all need to go see the tapes and then thy'll know she is telling the truth. She does her Rachel impression using the pouty voice, Annie "I shit you not this is eactly how she sounded with the pouty voice and the eyes" (See the picture) Annie tells him how powerful Brendon and Rachel are together and how awful Rachel is. Hayden be very diplomatic agreeing with her just enough to calm her down and get her to leave. Annie says she can't stand talking to the bitch she's so awful "It lowers my IQ". Hayden tells her to calm down and make sure she does no more blow ups because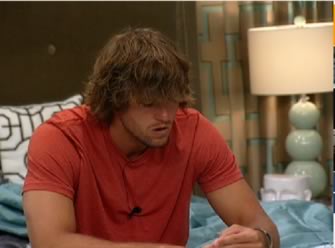 if she does it's game over theres nothing that will save her. Anni says she will control herself from here on in. She says its insulating to her when someone belittles her intelligence she's "smart and articulate" Annie again reminds Hayden that Brendon and Rachel are together till the end. She says that Brendon is a the weakest player and the strongest player… its a mistake for you guys to keep rachel. They start counting the votes Lane and Enzo are for Annie Kristen is a wildcard the floater Ragan, Monet, Kathy and Brit will vote with the house. Brendon will vote for Rachel. Annie tells him that Brit is quiet and goes with the majority because she doesn't want to stir up anything "She gets away with Alot in this house" She points out that Brit is always bitching about something and when she does nobody gives a rat but if Annie has a problem everyone is all up on her about it. Hayden tells Annie she needs to cool down and relax be nice to everyone and have a good time. He reluctantly tells her that a big part of this eviction depends on him because so many in the house will vote with the house. Annie goes back for the millionth time and reiterates what rachel did this time She adds some new things…. Annie gets ready to leave and asks Hayden to at least give her a heads up if she's the one going home. Hayden tells her he will but reminds her to chill the fuck out.
9:20pm Storage Room Brendon, Rachel and ragan Ragan is telling them he knows very little about the fight between Rachel and Annie. He's pretty sure that it's Annie last attempt to draw attention to voting rachel out. Ragan tells them the house has gone stir crazy.. Kathy walks in and asks them what they want to eat they start going through the options.
Share it YO!!
Tweet