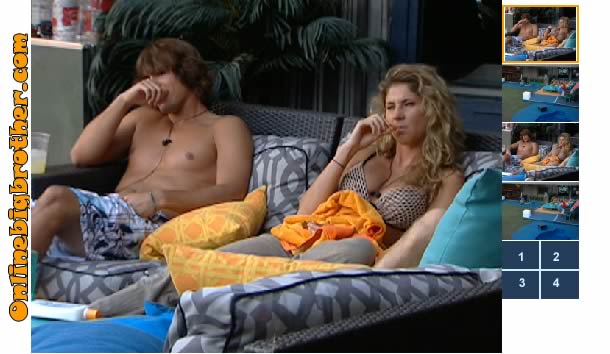 6:15pm Back yard couch Hayden and Lane Hayden doesn't know what is going to happen he thinks they might put up Andrew but seeing as the ceremony is tomorrow she'll probably put one of them up instead. Lane adds that if he wins HOH next week he's going to put Ragan up. Matt and Kristen join them They are. Wondering if they will get any libations tonight. Matt says that people have to start helping him drink the white wine because drinking a bottle a night is killing him. Kristen says she'll help him from now on. Throughout the conversations hayden and Kristen keep their distance. hayden gets up to play with his lasso. Matt says that tomorrow is going to be huge, Kristen tells them that she's not going to play personally she's going to play solely strategic.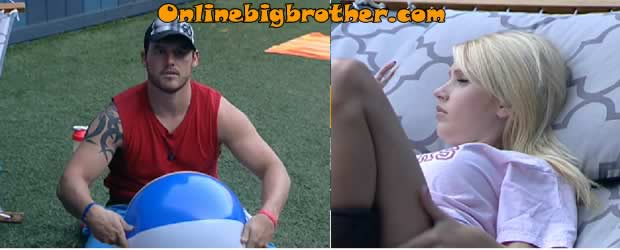 6:28pm HAmmock Lane and Brit Brit tells him she hopes that Andrew will go up it'll be the best case. She thinks Andrew is a great competitor and she's confident that if Andrew goes up against Monet He will go home. She starts listing off things that Andrew is doing that makes him such a strong player. Lane mentions if MAtt goes up what does she think will happen. She tells him the only way to ensure Monet is safe is to put her up against Andrew. Brit is terrified about going to sequester she says she wither wants to go home early or win the whole game, going to sequester would blow "I would absolutely KILL myself in a room with these people". Brit mentions that Kristen is following the power and whoever is HOH next week will be her best friend. Lane agrees but he still thinks she talks to Hayden.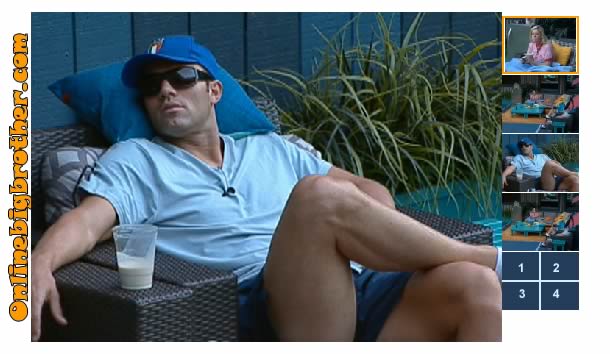 7:17pm Backyard Couch Enzo, Andrew, Kathy. Enzo brings up that he doesn't want to win HOH yet because you have to put 2 people up and make 2 enemies. Andrew says "The game has started you know" Enzo says he knows whats happening. They start to discuss oh the week starts on Thursday's while in the BB house not Sundays like outside. They mention theres nothing happening this week until Thursday and then everything goes to shit. …
Most the houseguests are walking around some are eating some are enegaged in chit chat.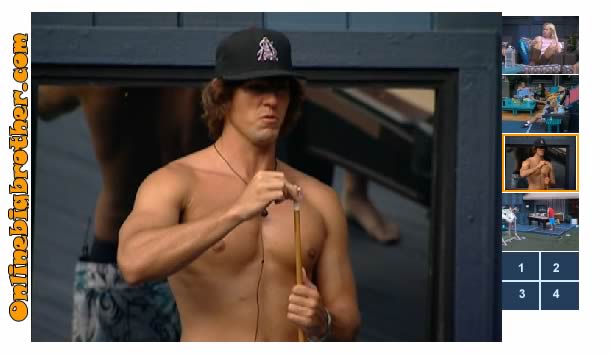 7:19pm POol table Zane and Hayden …
7:20pm Hammock Ragan and Matt Matt is telling Ragan about how he thinks it's dumb/weird that Brendon is always talking about shit everybody in the house has no idea what he's saying. "String THeory".."Super Cooling what the fuck man" Matt says they all know Brendon is smart why would he talk like that it's not helping his game play. Ragan says "Yaaa All i want to talk about is Pizza and Pepperoni" Ragan mentions how annoying some of the people in the house are. Matt agrees

Onlinebigbrother.com is around because of your donation every year the site costs us to host the images and run the 3 servers needed to handle the traffic. If you like the site then please consider donating to keep the madness going. Thanks!