6:30pm The remaining 4 sitting around in the kitchen talking about the comp. Enzo says it was a fun comp he wishes he had won but sometimes you win sometimes you lose. Hayden points out that he was up to 8 balls and Brit was at 3 but once he got to 14 she was at 8..
6:37pm Hayden saysing he requested Muscle Milk extra carbs and pepper. The rest of the houseguests don't like pepper they want eminem back. They bring up how insanely annoying Ragan was. Lane really never noticed it until MAtt left.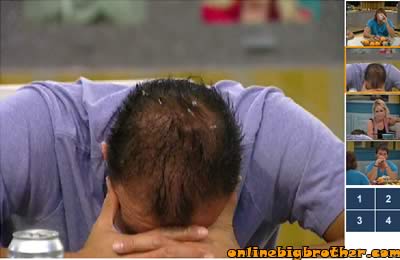 7:10pm Enzo BLANK that after all the crazy BLANK Ragan was saying this week he says "I was a pill". Enzo has no idea what he means "Whats a BLANK pill mean yo". Brit and Lane doesn't understand what he means. Enzo says that Ragan was a very good speaker he'll give him that but Ragan is going to hate him after seeing this season, Enzo said Mad BLANK about ragan in the DR. Hayden tells them that he requested Eminem if they don't have pepper.. The other houseguests are happy they don't think they'll get "amped" up enough if they have to listen to pepper. (you guys weren't very "amped" up all week). Hayden says he can't wait until there drinking coors light at STEAMBOAT..
HAyden saying he pulled a Will Ferrel and can't remember what his speech was about he asks them if it was any good. Enzo says it was great really sounded natural, he adds that Ragan saying he'll be waiting at the jury house with some ehhy gooey cookies was funny. Talk move back to Steamboat Springs.. Lane doesn't think Brit will have fun and won't be going. They all think Brit will complain and think it's too cold. Brit doesn't think so she thinks she'll have fun. .. Brit defends that she's a fun person it just this house doesn't let her be fun, she feels like she's being uninvited.
7:47pm Hayden, Enzo and Lane. Hayden wants to know who he should put up. Enzo says it really doesn't matter because unless she wins POV we're in control. Hayden thinks maybe he should put Enzo and LAne up and BLANK with brits head. Lane jokes says he'll be more salty then enzo if he goes up. Hayden wants to get some Brigade shirts made up with their names on the back, "Meow-Meow, Animal, Beast". Enzo: "the brigade was a power move since the beginning". Hayden: "If anyone asks us what our power move was it was the Brigade from the start". Enzo says soon there going to get there shirts and be back up in HOH. Hayden: "lets not get the shirts Brit will cry, enzo and Lane agree because brit cries at everything"