$5 off Discount – LIMITED Time OFFER! ONLY $9.99!
FREE for 3 Days!

8:13pm Kitchen Lane and Hayden. Lane: "I bet that POV is going to be faces" HAyden: "ME to study up". Lanes making turkey Burgers.. the the guys are excited about having some beers and drinking turkey burgers tonight.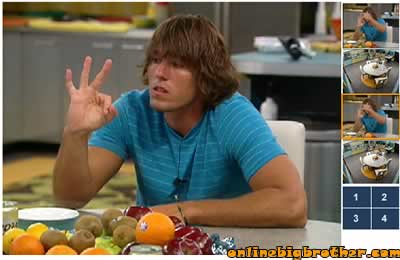 8:18pm Lane doesn't want Brit to know about the brigade he doesn't want to wear the shirts. HAyden says if it's him Lane and Enzo in the final 3 Enzo and Brit will take Lane. Lane isn't sure about Enzo but he's sure about Brit. HAyden brings up STEAMBOAT Springs again. (new drinking game.. every time Hair brings up steamboat DRINK)
8:25pm cabana, Hayden, enzo and LAne Talking about how the challenge was fair. Hayden thought that it might of favored brit because she had small hands. Enzo kept hearing Brit drop the ornaments, Enzo: "I was like OHHHH Shiiit". Lane says the nerves really got to her but she caught up quick. Enzo asks what is brit doing is she freaking out? Hayden says yes. Lane gets called into te DR. Enzo is scared that if he goes up with brit and LAne wins the POV he'll use it but he'll also control who goes home what if he keeps brit. Hayden doesn't know what will happen. Hayden says he's sure that no one will take him to the final 2 so he's pretty much screwed. Enzo says they are all in the same vote, "it's simple who you need to win the first HOH". Enzo tells him not to worry he's up against two dodos. HAyden says he's a dodo to. Enzo points out that lately Hayden has been winning a lot of competitions. HAyden brings up STEAMBOAT and how they are going to get hooked up because he told 8 million people about it. (DRINK)
8:56pm Cabana Brigade talking about how they are being asked to say the same shit in the DR over and over again. Enzo: "I feel like a broken record".. Feeds cut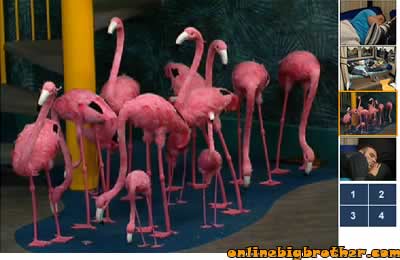 9:25pm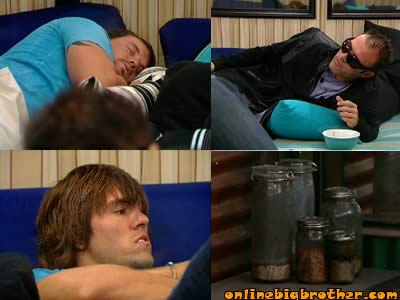 9:47pm Enzo wonders why there is so much fat in sun flower seeds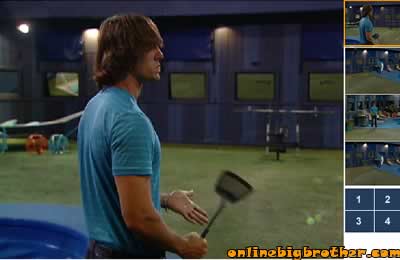 10:35pm backyard entire house Hayden is grilling the burgers, he can't find the metal spatula.. Brit, lane and enzo in the hot tub. Brit wonders why Lane's calfs are so weird.. Lane: "What do you mean weird I have no calfs.. theres nothing weird.. Do you have calfs". Brit: "Yes I do look" she shows him her calfs.. Enzo: "Ohhh Shiiiit she does". Brit: "Yeah from wearing High Heels" Hayden joins them and guess what… He mentions STEAMBOAT in Colorado.. DRINK!

10:46pm Brit leaves.. Enzo tells them he thinks Brit has checked out mentally. He went to talk to her in the jumanjii and her eyes were all blood shot she was whimpering that all she wants to do is see her family. Lane: "Its the same shit with her for the last 5 weeks". Enzo about Brit: "Enough already your going home this week now hit the red button". They head inside to eat..

11:14pm Lane, Enzo and BRitEnzo says Hayden is going to win this game if he gets final 2. Brit agrees she says it's rare that such a good person wins this game. Enzo would be happy if the kid won he deserves it. Brit: "He's good peoples.. I know becuase i'm not and I can see that quality in other people"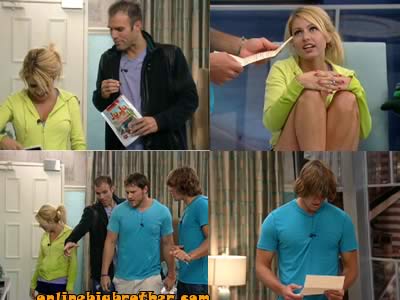 11:32pm HOH Hayden get his HOH room… Enzo gobbles down the beef jerky.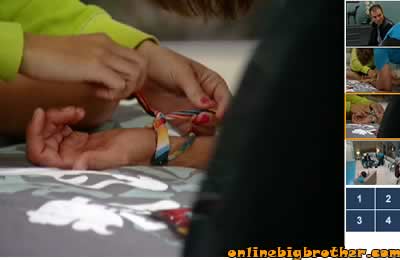 11:40pm Hayden gets a bracelet, his dad wrote him his HOH letter.. enzo is burning through the beef jerky. Enzo asks Hayden how old his younger brother is. Hayden: "He's 4". Enzo: "Ohhh Shiiit"… They find out that HAyden won 3rd place in a yo-yo competition. Hayden: "I've always been good at yo-yo's my friend won first place he was sick good"… not very much talking going on..