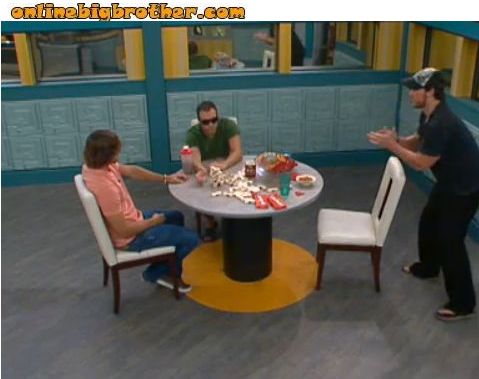 Watch the last few days of Big Brother 12 for FREE!
Superpass – 3 Day FREE Trial!

11pm The house guests are on an indoor lock down. Hayden, Lane and Enzo are playing with the jenga blocks. At first they play jenga and then they use the blocks like building blocks to build things and use them like dominos. They are all pretty bored. Lane then heads into the bathroom to take his shower. Hayden and Enzo join Lane in the bathroom and sit on the couch to talk while he takes a shower.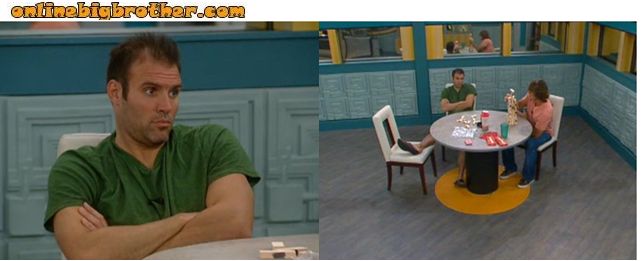 12:15am – 1:35am Big Brother calls an end to the lock down. They all head out into the backyard. Enzo goes over to the hot tub and sits with his feet in it. Lane and Hayden start throwing the football around. After throwing the football around for a while Lane and Hayden decide to play pool.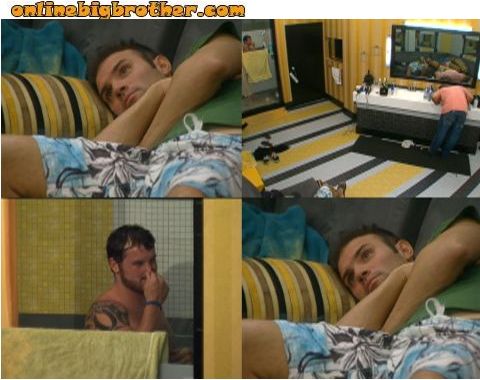 Enzo goes over to the backyard couch and lies down. Then Enzo plays Lane when Hayden and Lane are finished with their game. Enzo goes inside to go to the washroom. Lane and Hayden start talking about Enzo whining about losing and not making it to the final two. They talk about how he had two chances and didn't pull it out though. Hayden and Lane say that Enzo was always critical of the other house guests who got bummed out when they lost and now he is doing the same thing. Lane says that Enzo is going to win the America's Choice $25 grand and they talk about how he made the final three.  They hope his day of feeling sorry for himself is over tomorrow.  Enzo returns from the washroom. Hayden and Enzo play a game of pool. Hayden says to Lane and Enzo …best alliance ever… I can't get it out of my head!!! Enzo then plays Lane at pool and wins. Hayden says there is a new champ. Hayden says that at day 70 Enzo the Meow, Meow wins the billiard bowl! Hayden wonders what they are going to do now? Enzo says that he can't wait until Wednesday!! Enzo says that he thinks it is brutal that they make all three of them stay in the house this whole week. Lane says that they do the three deal when the season is really good. Lane says that last year was the first time they did it because the season was really good and this season was really good so they did it again. They all head inside to get ready for bed.

SEE what they CAN'T show you on TV! 3 Day FREE Trial
1:40am – 2:15am Enzo, Hayden and Lane are all in the bedroom. Hayden says that the count down begins. Lane says that after tomorrow there is only three more days left!! Lane gets up to go to the washroom. Enzo tells Hayden that there are just a couple more days. Enzo says that he just wants to get out of here!! They both say that they are looking forward to seeing their families. Enzo says that it sucks that he doesn't even have a shot. Enzo says that he would have liked to have a shot at winning in front of his family. Hayden tells him it isn't over. Enzo says that if Lane wins he is taking Hayden. Hayden says maybe…. Enzo says that it sucks to be in this position. Enzo says that he should have been faster on the second quiz. Hayden says no matter what happens we are going to be friends for a long time, the three of us. Hayden says just keep your head up, we've just got a few days to go! Lane returns from the bathroom and gets into bed. Lane asks Hayden why he sleeps with his knee up? Hayden says that he sleeps that way and that some times he taps his foot while falling asleep. Lane tells Hayden that Britney used to think that noise was one of the guys beating off. They all laugh. Hayden asks they what weird things Lane and Enzo do? Lane and Enzo do say anything. Hayden says that some times at night if he doesn't have a tissue he will pick his nose and wipe it on the floor. Hayden tells them that he knows its gross. Hayden starts talking about sports and basket ball. Then they talk about football.  After a bit they all roll over and try and go to sleep.  Hayden and Enzo cant fall asleep right away and end up laying in bed awake for awhile….

3:30am All the house guests are asleep…

6:45am Hayden, Enzo and Lane are all still sleeping..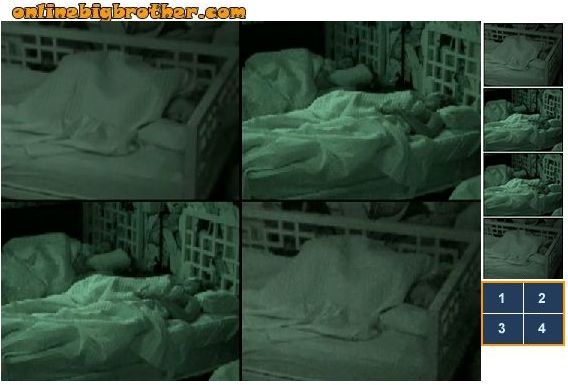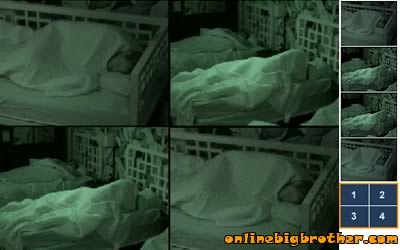 8:56pm Sleeping yo