12:15pm Lane and Hayden in jumanji room sleeping
12:19pm Enzo sleeping in the backyard.. he occasionally moves it's riveting
(Thats pretty much all they have been doing today in the BB house… )
12:53pm Lane rolls over..
2:00pm Still sleeping yo
2:35pm Enzo and Hayden are in the backyard.. Enzo tells Hayden even if Lane takes him, he thinks Hayden will win the whole thing. Enzo says that Hayden killed in the competitions in the end and that the jury will see that and vote for him. Hayden thinks each one of them has a good chance of winning it in the end. Enzo says that when the jury member's find out about the brigade, he thinks the jury will be mad at all of them. Enzo says that he thinks Matt, Ragan and Brendon will get over being mad and vote for who they think played the game the best. Enzo believes Kathy will vote for Lane. Hayden doesn't agree and says that he thinks Kathy will vote for him. Enzo says that it sucks to be in this position because he can't do anything to change it, It's all up to Lane and Hayden. Hayden says that it's a tough spot but you still got a chance, don't pack it in. Hayden tries to give Enzo hope but For the most part Enzo is feeling like he's out of the game. Hayden says that he thinks he would have beaten him in the last competition. Hayden says that Britney said that Enzo had the best social game out of everyone in the house. Enzo says I don't think so they are going to chew me out. Enzo brings up the Saboteur and wonders why CBS dropped such a weak power in the game. Hayden doesn't know he thinks things would of been more interesting if Annie had stuck around a couple more weeks or maybe closer to the end.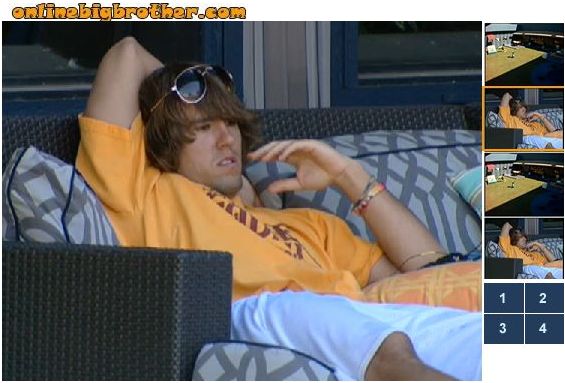 3pm Hayden and Enzo are awake and in the backyard. Neither of them are talking. Hayden is sitting on the backyard couch staring off into the distance. Enzo is across the yard stretching. Enzo then goes over to the pool table and starts playing pool by himself. Enzo starts walking around the backyard. After a long time of silence Hayden asks if it is hot on his feet. Enzo says no that he is just warming up and just going to walk for a bit. Hayden says that it would be nice to have punching bag in the backyard. Enzo says yeah to take some frustration out on … especially after this week. Enzo says that he doesn't understand why he has to stay around another week when they already know he lost. Enzo then says its almost over with man. Enzo goes over to the hot tub and sits down. Enzo asks Hayden if he is stressed out or something? Hayden says yeah … and that he is trying to block it out and just think about how next week he will be with his family…. Enzo says yeah .. Then back to silence..
3:20pm – 3:35pm Enzo gets called to the diary room. Enzo stands up and says DUH! Hayden heads inside soon after and looks around in the kitchen then goes to the jumanji room. Hayden then goes into the storage room looks in the fridge and then leaves with out getting anything. Hayden heads back to the kitchen and yells to Lane in the bathroom if he wants to grill for lunch. Lane says yeah. Hayden asks him if he wants turkey burgers for lunch. Lane says yeah. Hayden and Lane are in the kitchen complaining about how whinny Enzo is being and how annoying he has been since he lost. They talk about how he has just given up and that he is ruining their experience.
Watch the last few days of Big Brother 12 for FREE!!
Superpass – 3 Day FREE Trial!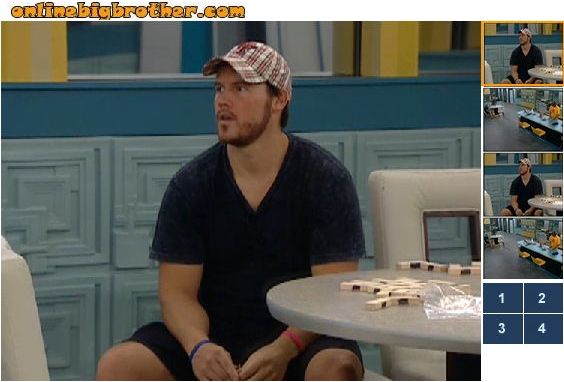 3:40pm Lane and Hayden are in the kitchen talking about how cool it would be to get to do amazing race like Jeff and Jordan. Hayden is making the turkey burgers while Lane sits at the kitchen table. Hayden says that even just to get paid to come back and host competitions would be cool. Even getting paid to go to bars. Lane says yeah we're gonna go anyways …we might as well get paid to go. Enzo comes out of the diary room and says those DR's! They talk about how they're making turkey burgers.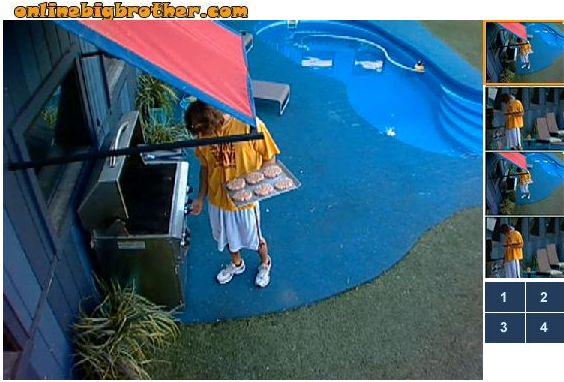 FLASHBACK and watch all of your favorite parts of BB12!
Superpass – 3 Day FREE Trial
Hayden goes out to put the burgers on the grill. Enzo says to Lane I am a BLANK do-do … I lost to Kathy in that competition!! Enzo says that no matter who Lane takes he is winning ….and not to let Hayden or the DR tell him anything different. Hayden comes back inside and Enzo is silent. Enzo says that today has gone by quick yo! They think that their families will be coming into LA on the Monday. Hayden heads back outside. Lane says that he knows he has a better chance at winning against Enzo. Enzo says that he loves both of them and wont talk bad about them. Enzo says that no matter what anyone says Lane will win against him (Enzo). Lane says that he knows Hayden wants him to take him if he wins. Enzo says that he respects Lane which decision he makes. Enzo says that he even asked Britney that both Lane and Enzo have a chance to win and that they should take each other. Enzo says that isn't upset but that he is just mad that he had it in his hands and he lost it. Lane says that now all he has left is a dinky quiz. Enzo says $500,000 is a lot of money think of your family bro! Lane says but he had all those people telling him that if he took Enzo ….Enzo would win. Enzo says yeah if I won the last competitions … but not now … Hayden comes back inside and then conversation stops.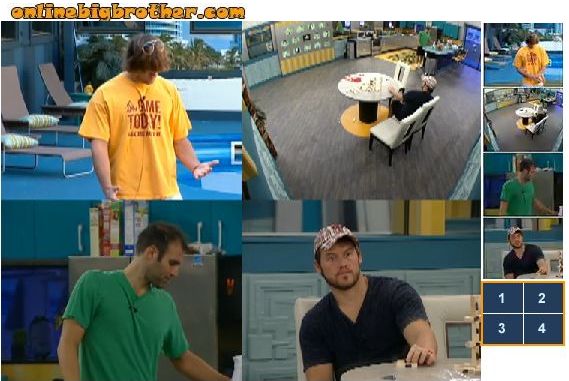 4pm Enzo asks if the burgers are almost done. Lane says that he thinks he will take 3 showers to day … that will waste like 3 hours. Lane says that showers are the best part of his day. Hayden leaves again. Enzo tells Lane that he has the power …and that its his choice. Enzo says that none of them want to take Hayden because he is the best player. Enzo says that if he thinks he can win against Hayden then go do it but thats a lot of money. Enzo says that you don't want to lose at the end and think back I should have taken Enzo. Enzo says that he has faith in Lane and that he knows he can win. Enzo says that at this point he has to think about his family. Enzo says that people wont vote for me, I only won one competition. Lane says that if he wins he will take Enzo. Hayden brings the burgers in and they start eating.. They talk about how the diary room has told them that Enzo's wife is hot.. Enzo says that Lane can tell her that she is beautiful but just leave out the name calling …like saying she is sexy.. Enzo starts talking about his wife and how she is a little taller than Britney. They talk about the family they will have coming to the finale.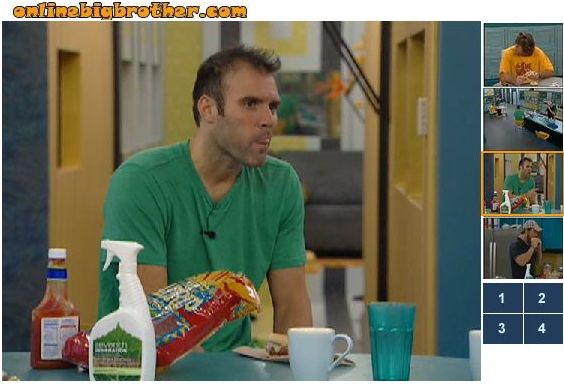 SEE what they CAN'T show you on TV! 3 Day FREE Trial
4:15pm – 4:30pm Enzo says that he has so much respect for his wife ….after you go through a pregnancy with a girl …I could never do anything.. even with Jennifer Aniston. They talk about how his wife is going to be more famous than he will be. Lane asks Enzo if his wife was asked to do a porno for a million dollars would he do it?! Enzo says is the dude wearing a condom yo?! They laugh. They head out into the backyard to toss the football around. They talk about going to football games together and being on the Jumbotron with fans screaming for them… They continue to talk about football as they throw around the football.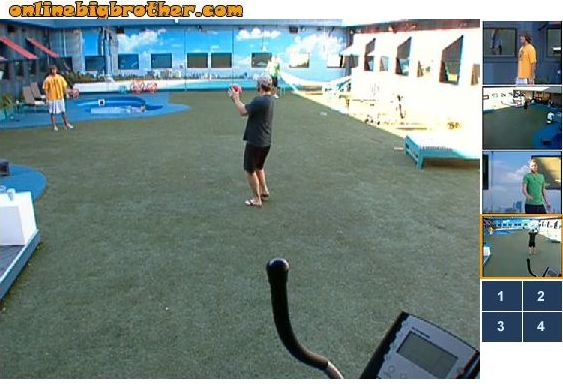 7:21pm Backyard Bragade Lane is telling them about flying and how he had to have g force testing. Hayden is asking lane if he can fly them around to make bar appearances. Lane says sure just cut what the time it takes to drive in half. Enzo wants to just drive, Enzo: "I don't want us to end up like bla bla lambaba". Enzo goes on about how much he love everything about Airplanes. He loves there smell, smoke, looks, even airports, he's always been fascinated by them. Lane tells him he should go and get his licenses it's not too hard. Lane explains that the only reason they bought a Cessna was because in order to get a license you need to rent a plane which is more expensive then to buy the plane and use that with the instructor.
7:36pm They start playing pool talking about how much money John Travolta has. Lane tells them about the 747 Travolta owns and flys… Lane says when they get out of the house there going to meet an all new group of friends. enzo: "I want to know important people after this I want to know people that know someone that can do important BLANK.." Lane and Enzo start joking about getting agents. Lane to enzo: "I'm telling you your going to have people approach you after this". Enzo: "Yeah you are to"…..