TRY the 24/7 Feeds Life Feeds 3 DAYS FREE!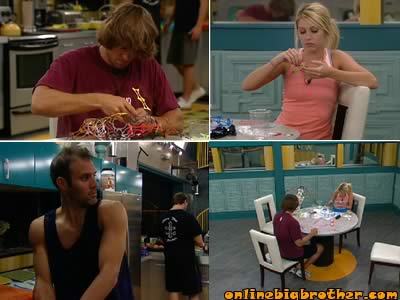 8:39pm Kitchen Silence..
<11pm> Lane: "His hump was that big.. his father was a show bull".. Hayden and Lane continue to share bull and cow stories. 11pm>
Enzo jokes: "I want my dogs to die so I can get a new dog"
9:19pm Lane and HAyden engage in some serious ranch talk.. "cutting horses", "bulls", "uncles", "hardcore", "dogs", are all terms used heavily. Enzo doesn't want to eat because he's feeling a buzz and wants to keep it going. Enzo asks them if they want to come visit him after this. He tells them he has a 65″ TV in the basement. Brit brings up the 3D TV Enzo won. Enzo says he's going to cash that in.. wonders how much he'll get. Hayden is certain he'll get 5grand. Enzo: "there you go BOOM… wifey's birthday present 5g's" Lane asks what is he going to get her. Enzo starts pretending to throw the money "boom boom just give her the money" Lane and Brit laugh. Brit: "I would spend it on furniture".
9:30pm Enzo: "Rats and aids thats 2 things that freak me out". Enzo about sex: "If I can last longer than 6 minutes we got a party yo… a white trash party..I like to talk yo.. i get crazy with it". Brit gets called into the DR. Hayden asks them when will they tell Brit about the Brigade. Enzo thinks they should just keep talking about it until she clues in. Hayden asks enzo: "you win who do you take it to the fianl 2". Enzo thinks Hayden deserves to go to the final 2 he's won 3 HOH and 2 POV's. Hayden says that BOth Lane and Enzo have the same number of comp wins…. Hayden says he has the POV whoever doesn't take me to final 2 he'll take them out this week. Hayden tells them that he's worried that no one will take him final 2 because he's won so many competitions. Enzo says they should worry about who take who later.
HAyden: "what are we going to tell brit?". Lane is concerned about losing his vote with Brit. Hayden tells Lane that in the POV ceremony he going to tell her. Hayden: "day 2 we had this 4 person secret alliance the only reason Matt is gone we wanted him gone and you got 10g's yesterday.. is that OK with you". lane: "ya ya ya". Hayden: "It's your call do I tell her now or tomorrow". Lane:" tell her now then she can sleep on it"

Hayden: "Do we do it now or tomorrow". Lane: "Lets tell her tonight". Enzo: "Lets tell her now". Hayden: "I'm going to tell you guys it's brigade final 3 even though I doubt you guys will take me final 2". Enzi: "Ehh don't say that we don't know what happens".