TRY the 24/7 Feeds Life Feeds 3 DAYS FREE!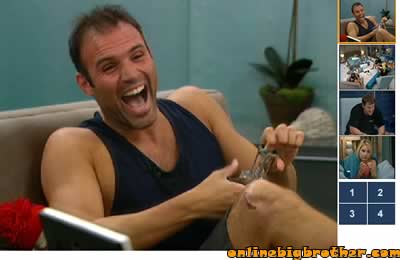 10:11pm HOH Enzo, LAne and Brit Enzo says he was in an alliance with matty Day 2. Lane asks who else was there. Enzo: "there was 2 other people". Brit says "oh". Lane: "thats why you always hear about the brains, Animal, The beast and the meow meow. Enzo says it's the greatest thing .. we controlled the vote since the beginning.. you don't believe me yo. Brit: "DUH of course I do". Enzo says it's the best alliance every the 4 horse mane never made the final 4 .. evil dick and his daughter were pretty good but there was only 4″. Lane: "All our DR seasons have been about that". Brit: "Now it all makes sense why y'all wanted Matty out". Lane laughs that he had to take over the brains after matt left. Enzo brings up Matty and how they new he wasn't a true member of the brigade when he won HOH and didn't put B/R up. Lane says he feels bad for Ragan because he has no idea what Matt was doing.
10:25pm HOH Enzo says what they did was a masterpiece. Brit: "everyone thought you and Hayden were in a alliance" Enzo explains that he knew that so that is why we got close to Brendon in ensure 2 brigade members never went up on the block. LAne points out that Brendon was winning BLANK so they wanted to be able to control him and to do that they needed someone close to him after Rachel went out. Enzo: "MAtt BLANK up because he got rid of Kathy…. I knew he couldn't be trusted". Enzo brings up how Brendon and Rachel didn't have a clue about what is going one, Enzo: "Nobody had a clue". Lane: "Ohhh BLANK Kristen told me all sorts of BLANKabout Hayden is was like ohh man I went to talk to HAyden told him to check that BLANK"
Hayden walks in, Enzo says that they already told Brit everything. Enzso explains the finer points of the brigade strategy to Brit and why they had to keep it secret. He says that They each had to have a pair so that the pair would be put up then they woul have th votes to safe the Brigade member. Enzo point out that there was Enzo/Rachel then Enzo/Brendon, Hayden/Kristen then Hayden/Brendon, Lane/Brit and Finally Matt and ragan. Hayden tells brit he's sorry for not telling her he's been truthful about everything. Brit: "Uhh so i'm going home is that what your telling me?" Hayden: "well i'm telling you i'm not using the veto".. Enzo: "People might not want to admit it but it was the best alliance ever made.. I may not win the 500K but i help made it… ". Enzo: "It's only right that we told you brit". Hayden: "would you rather we never told you?" Brit starts to cry: "I'm glad yo old me still it BLANK sucks"
TRY the 24/7 Feeds Life Feeds 3 DAYS FREE!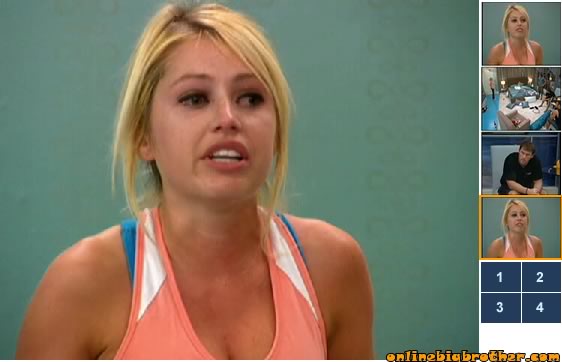 10:53pm HOH Enzo and Hayden Enzo asks HAyden straight up who do you think will win this. Hayden says it can go either way. Hayden says his social game has been the best in BB history so why does he think he doesn't have a chance against me. hayden trying very hard to tell enzo that he was a very strong player this year. Enzo doesn't understand why hayden is so worried he's not going to win the final HOH he's by far the best player in comps this year… Lane comes back tells them that Brit is either in the Taj or the DR.
hayden wonder if they did the right thing telling her. Lane and Enzo agree they should of told her… Lane: "She's not going to steamboat".. Enzo doesn't think that you never know how she'll feel. Hayden: "um no she won't be coming to Steamboat with us".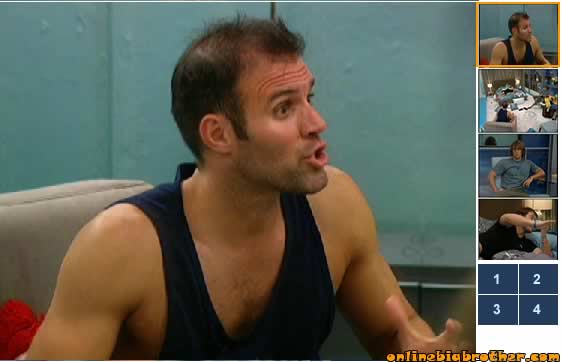 11:34pm HOH The Brigade talking about Brit and how she pissed at them. Enzo doesn't care because when it comes down to it they have to vote for one of them so who cares if they are all pissed off. Lane points out that they did promise her final 4 and thats what she got… Hayden brings up steamboat and how win or lose they will get hooked up. (basically the brigade wins Big Brother 12, it's the steamboat season). Hayden says he think Brit thought there was a chance he would use the POV on her. Enzo agrees he's sure she was trying to get Hayden to take enzo out thats why she was talking to Hayden last night telling him how Enzo was unbeatable in the final 2.