7:12pm Taj Room Hayden and Brit Hayden is trying to talk Brit into using the POV on him. Brit says if she does it and takes him down theres a good possibility that one of the people she wants to keep in the house will go home (lane and enzo). Brit "I have no guarantee that Kathy will go up". Hayden is positive that Kathy will go up cause rachel hates her and brendon wants all the floaters out. Brit says the best thing for them to do is for Hayden to go up and talk to B/R and give them a 2 week deal if they put kathy up. Brit says that if he has Kathy going up then she will use the POV. Hayden says that he thinks that if its him against Kahty then he goes home so Brit need to take him down and it will be Kathy vs Kristen he has the votes to keep Kristen. Brit is sure that Matt has a deal with b/r because he never put them up and is sneaky with them, Hayden agrees. Brit is really suspicious of Matt because he lied about Brit telling Kathy that she was going to use the POV. Brit "he's a little schemer he's working with a lot of people in this house".. "he's sitting pretty he's right in the middle". Brit wonders why hasn't anyone said anything about Matt not putting up B/R, now they are up in the jury and that is 2 vote. She says that B/R are playing on a strictly personal level and will vote for who they like. Brit tells him all her theories about Matt playing both side. HAyden asks if she's told Lane about it, Brit says no. Hayden i love lane i'm solid with him, brit "yeah me to he's a smart player he's got ideas about the game".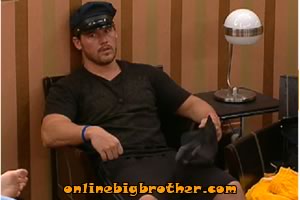 Lane walks in for a couple moments accuses them of talking game. They both agree that they need to take out B/R next week, but the problem is everyone knows the house id gunning for them so they are throwing competition because now they don't want B/R's blood on their hands. She keeps reminding him how bad they all screwed up letting b/r in the jury room because they vote on emotion and will never give a person their vote it that person evicted them. Brit thinks that whoever puts b/r up will win the respect of the house but will most likely lose to Jury votes. She hopes Matt or Enzo win HOH next week. She understands that Taking HAyden off the block is possible but he needs to work B/R to get Kathy up.
7:37pm Bathroom Hayden tells Lane his plans to go to B/R and tell them Brit will take him down if they put up Kahty as a replacement. Lane asks if he's talked this over with brit Hayden says Yes it's all set in motion all he need to do is talk to B/R.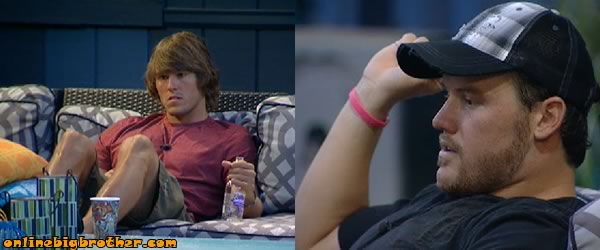 8:00pm Backyard lane and Hayden Hayden wants confirmation that Lane is cool with what he told him in the bathroom. Lane says yeah as long as theirs no chance another brigade member goes up. Hayden says the plan is to keep Kristen and have her win HOH next week and put B/R up. Hayden asks again if he's cool with it, Lane says lets be careful and not risk losing a brigade member at this point but he's fine with the plan just wants them to be careful. Hayden goes over all parts of the conversation with Brit how they need to take out B/R but ideally they would get another player to do it so they didn't lose the jury vote.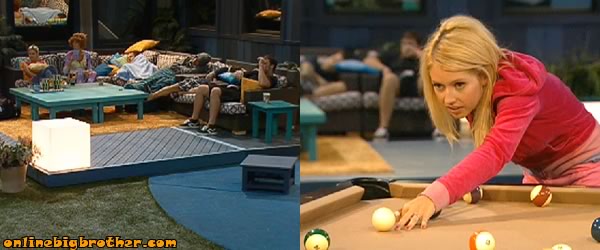 8:19pm Backyard LOCKDOWN