8:50pm Taj Room Hayden tells Kristen the only chance they have to keep her is to talk to Rachel and tell her that brit will take Hayden down only if they pull Kathy up. hayden will also offer them 2 weeks protection. Kristen isn't sure about doing this she thinks Rachel will put up Matt anyways then tell Kathy what Kristen said and laugh at her. Hayden doesn't wouldn't put it past Rachel but knows that this is the only chance they have to keep her in the game. Kristen doesn't like going something like this to Kathy. Hayden doesn't either but he would rather see Kristen in the game then Kathy. Kristen is sure it won't work asks if he wants her to do all the talking, hayden says no he'll do it all he knows what to say. She agrees to do it. Brendon walks in and hayden asks him if Kristen him, Brendon and Rachel want to talk. Brendon says sure thing he's going to go work out with big red and maybe later tonight they can talk and keep it on the down low. Hayden says that he wants to talk about a deal and maybe Brendon and Rachel will be receptive and if not one of them are going home. Brendon really wants to talk he telsl them he'll find them later tongiht. After Brendon leaves he tells Kristen Wouldn't be epic if it worked Kathy goes home and we win HOH and put them bot up next week. Kristen says yeah but I really don't like doing this to Kahty, hayden doesn't eaither.. but if they don't she's going home. Hayden says if this works there plan for the next week is to become B/R's best friend, If they have HOH they will continue to be nice and spend all their time with b/r and right at the nomination ceremony Kristen can get up and say "Bitch you embarrassed me on national Television bring it" Kristen lets out a big Sigh "You think this is going to work" hayden "I dunno but it's all we got" They agree that it's going to be tough being nice to B/R they are very annoying… Kathy walks in Looking like death. (I think she knows something is up there is a strange awkwardness in the room that wasn't there 6 hours ago when they were hugging each other and crying) Right before ahyden leaves to hang out with his "Boys" (4 deep yo) He tells Kathy she can keep his stuffed monkey.


SEE what they CAN'T show you on TV! 3 Day FREE Trial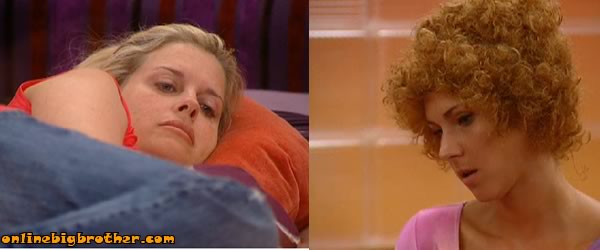 9:10pm Taj Kathy and Kristen Kristen tells Kathy that Hayden want sto offer the same thing to Rachel that Kristen offered a couple days ago. Kathy : "Oh"… then silence.
9:19pm Kitchen Brit and Lane Lane asks him if she'll use POV it they will put Kahty up? Brit isn't sure what does he thinks he should do.. She knows that if she does it Hayden and Kristen will protect her. Brit: "I have nobody that I can count on 100% i feel disposable". Lane "your not disposable i'll protect you" Brit says this is our chance now to split Hayden and Kristen up maybe we should take it? Hayden has already told me he won't be mad at me he wants to save Kristen but he also wants to save himself more. Brit: "I fucking cannot stand that Rachel but for some reason she likes me (rolls eyes)", She must be happy with this deal otherwise i'm not doing it i'm not ready to burn the bridge with b/r right now but when she wins HOH she's burning that bridge and putting them both up. Brit says that if its double eviction the following week she's going to throw this weeks HOH comp as soon as Brendon is. Lane "i don't know what will happen all i know is Kristen has to lie like crazy and kiss some ass for rachel to accept this deal". Lane "B/r are easy as fuck to manipulate it might work..fuck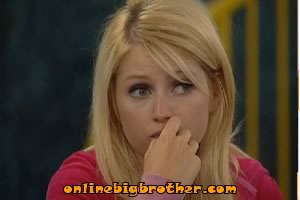 look where i'm at" The only good thing about Kathy being here is she a pawn so it makes HOH easier. It's going to get harder to think of people to put up. He thinks having a pawn around may make the later weeks easier on them. Brit I think if Kathy left Ragan will become the new Kathy. lane yeah but the difference is he can win HOH and he's smart. Brit agrees. Lane tries to explain to her that having Kristen around till the end might be trouble for them. Brit points out that Matt is getting a bad reputations he's sneaky and people are catching on. She's sure he'll be gone in double elimination. lane tells her that Kristen promising you her vote for as long as she stays is worthless people forget things all the time in this house. Brit tries to weigh in the pros and cons of the two choices. Kristen – wins stuff is a fighter and a competitor she has a target on her back and she'll carry Brit further in the game. Kathy – can be beat in every way, but she's dependable, cleans up and does the chores… Kahty walks in .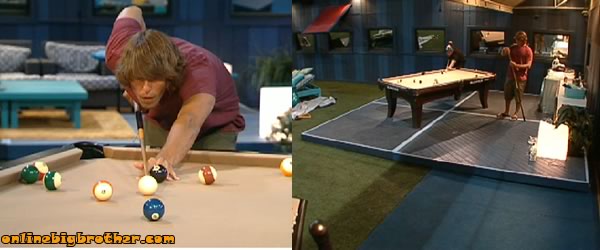 9:45pm Pool table Lane and hayden just going over the plan