This Tweeted From @agrodner22.. The houseguests are in they are competing for competitions.. the Feeds will be active on Thursday biam 2 more sleeps.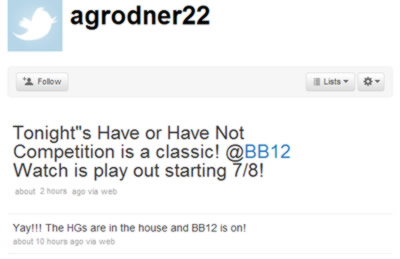 LIMITED TIME OFFER Expires July 7th
When you sign-up for the Live Feeds, you will be able to watch the entire season of Big Brother 12 for ONLY $29.99!! That's $10 OFF the regular price! You only have 2 days left to take advantage of this offer: Big Brother 12 Early Bird Special Discount! We'll still capture the juicy parts of the feeds but for the full effect sign your shit up.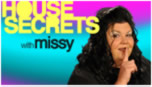 Events Calendar START YOUR BB ADDICTION A DAY EARLY
Happy Hour Pre-season Special
July 7 at 6pm ET
Jordan and Janelle join Chelsia and Missy in a special edition Happy Hour. They're taking your phone calls in a live video chat! Call 877-448-6639.

BIG BROTHER PREMIERE PARTY
Happy Hour
July 8 at 6pm ET
Chelsia and Missy kick off a new season of Big Brother with a big, new online call-in show. Call to (877) 448-6639 with your questions and comments on the new season.

EVICTION FRIDAYS
House Secrets with Missy Z.
Friday, July 9 at 6pm ET
Missy goes online with a new webchat hour for Big Brother fans. Join her in the Big Brother chat room to dish about House happenings.