SEE what they CAN'T show you on TV! 3 Days FREE No Commitments
10:00pm Kitchen, Brendon, Enzo and Lane There talking about the HOH cmp and what parts were harder for them. Enzo really playing up the fact that Lane did so well even though he a Bigger guy. (Last night Brendon said otherwise) Brendon is big time complaining that the HOH competition was bullshit because the ledge was less then 6 inches, he wants there to be a HOH contest that a bigger guy can win. Enzo and Lane laughing hard. (every second word from Brendon is fuck every second word from Enzo is shit) Brendon says all the little people in the house were saying that the competition was geared for tall people but thats incorrect because there centre of gravity is higher.Lane brings up how badly Hayden was hit with paint, enzo calls him the silver surfer.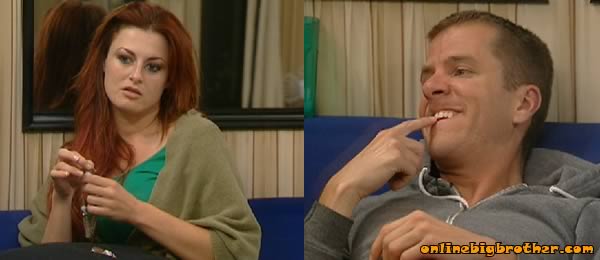 10:00pm Cabana Room Rachel joins brit, ragan, matt, kathy and hayden. She says this
"wouldn't it be cool if we get botox shots we could have a botox party" Conversation revolves around botox and teeth.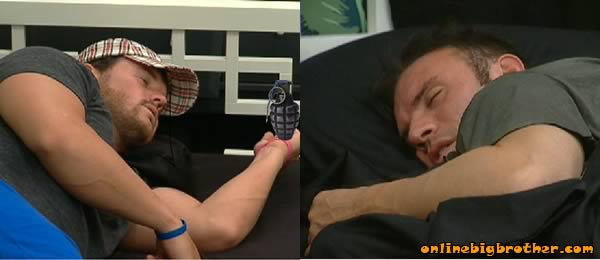 11:00pm Lane and Enzo Jumanji Room They start talking about next weeks HOH, Enzo says jokingly that if it's lane and him left he'll cut a deal. HE offers Lane into a secret alliance that Enzo made up called the BRigade (yo). Enzo is laying in Matt's bed says "Why does it smell like ass in the cave" (Matt's Gremlin cave). They start laughing at KAthy for asking them all to promise them if she falls she they won't hold it against her. Enzo says if anyone would of tried to convince her to stay on he would of cold them to shut the fuck up.. he was dieing up there he didn't want to be have nots though. Production come son the PA tells them that the storage room is open they rush up to find out no Alcohol.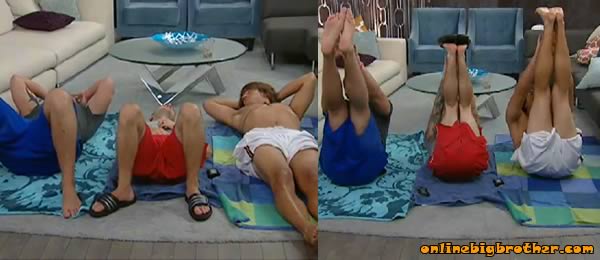 11:17pm Brigade in training