8:53pm Have Nots room, Rachel and Ragan Rachel is crying saying that she feels like they've been getting further apart since last week. She didn't want Kristen's eviction to come between them. Ragan says that Kristen and him were close he thought she was a good person and is on of the people whose conversations he enjoyed. Ragan is pissed about what Andrew said he feel like she never deserved that because she is nothing like what Andrew said, "She's a class act". Rachel starts to cry again tells him she had no other option. Ragan doesn't blame her for what she did, he's not pissed off at her and he hasn't been distancing himself from her. Rachel is scared she'll lose one of her only friends in the house. Rachel: "I know I won't be able to replace Kristen but i still want you as a friend". She starts complaining about having to see people go each week and how hard it is being her. He tells her he kinda wants to chill out with his thoughts for a bit because he's had to deal with Kristen's eviction and the HOH competition. This doesn't atop her brings up the HOh COMP. ragan says it was by far the hardest one, he thought he was going to drop off when it started. HE was glad that Kathy had fallen first he didn't want to be a have nots and he almost dropped early. He tells her he needs to gather his faults so please can I have some time… Rachel leaves tells him if he every wants to talk she'll listen and she offers him tickles.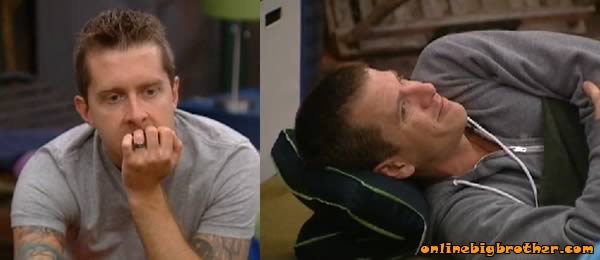 9:00pm Have Nots Ragan and Matty Ragan rehashes the entire conversation he just had with Rachel says that she had "crocodile tears", he sums it up "basically she came in here to see if I was OK because one of my friends left and started to cry because she felt responsible for for it" Ragan rolls his eyes: "So i started consoling her about it" Matt thinks she's trying to get back on Ragan's good side to get to MAtt. Ragan: "Exactly". Matt asks if she's brought up being scared about the week. Ragan "No but its coming.. these 2 are going to work every angle and they are going to work me the most". Matt says he's been trying to stay around people because he doesn't want to get stuck in a conversation with them. Ragan recommends him to make his speech about sportsmanship because B/R have none and it needs to get out. Matt says it's not going to be a big made for TV speech he's going keep it simple and logical he'll bring up the fact that b/r are the strongest couple. He explains that B/R have won either HOH or Veto every week and sure theres lots of pairs in this game but b/r are the strongest pair and thats why there going up on the block. MAtt thinks it's a logical speech it's basic game play and anyone of the houseguests would make the same choice. MAtt isn't sure he'll bring up poor sportsmanship.. but he might because "that what America wants". ragan says Kristen leaving makes him very sad she was the only person that has left so far that he had a connection with. Matt: "Lets cry over a bottle of wine tonight". (Like chima, lydia and PP in bb11) They start breaking down strategies to survive B/R's rampage when they are both go up in the block. Ragan says that there are 2 people that are going to get it bad, one of them being ragan the other being the person to win POV. ragans plan to stay sane is to stay in groups of people. Ragan thinks from now until Monday it's going to be a constant barrage from b/r. MAtt thinks after the POV meeting B/R will hole up in the hammock…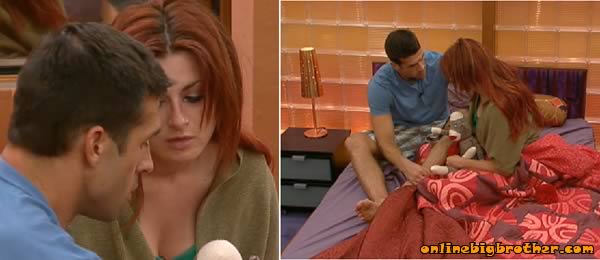 9:40pm Taj Room B/R Brendon tellign her how sorry his is about losing that HOH he tried so far but just couldn't stay on. Rachel can't live in this house without him she can't fend odd 5 guys. She wants Brendon to stay next week because if he's gone she doesn't stand a chance.