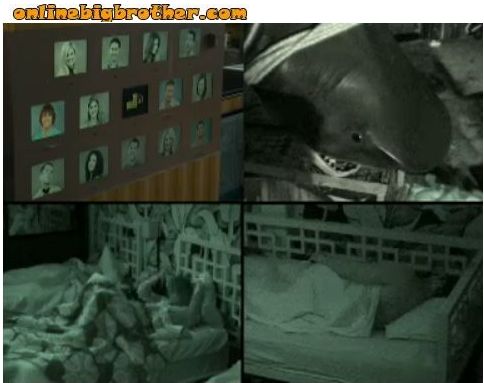 Watch the last few days of Big Brother 12 for FREE!!
Superpass – 3 Day FREE Trial
11:25pm – 12:35am Hayden, Lane and Enzo are all in the jumanji room awake with the lights out talking. Lane says that he thinks Big Brother will let them drink because it will be the last day. Enzo says that he might start drinking in the afternoon just to have something to do. Enzo says he will get BLANK blasted tomorrow. Lane and Hayden take off their mics to go to sleep. Enzo gets up and heads into the kitchen. Enzo grabs the cards and sits at the kitchen table. Enzo stares at the memory wall and then heads back to the bedroom.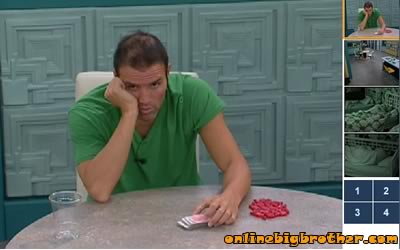 Hayden tells Enzo that he feels like making some eggs. Enzo says that he does too. They both head into the kitchen. In the kitchen Hayden notices that it is 12:30 and says maybe they should wait until morning…. Enzo says that 12:30 is nothing! Enzo says two more BLANK days man… that's it!!! Hayden says that he is excited for Wednesday and can't wait to get out of the house. Enzo tells Hayden that he is going to win the game, no matter what. Enzo says that Hayden is going to win vs. him or Lane. Enzo tells Hayden to go ahead and take Lane if he wants to because he has them both beat regardless. They look at the memory wall and try to figure out the jury votes. Enzo tells Hayden that if he wins that final HOH then Hayden needs to think hard about what the jury is thinking and where each of them stand. Enzo tells Hayden that if it's the two of them then he thinks he (Enzo) would only have Ragan and Britney's votes. Enzo says that he thinks the rest of the jury would vote for Hayden and says that no matter what Lane has Britney's vote. Enzo says that he is a donkey and says that the $500,000 is out of his reach now. Enzo says that he thinks if he could have won that last HOH then he would have had a chance at the money. Enzo says but he didn't and that's why he is so disgusted with himself.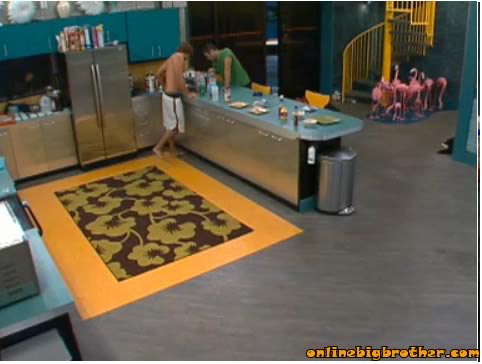 Hayden says that it is going to be big decision and that it isn't going to be an easy one. They both tell each other they have been straight up with each other this whole time. Enzo tells Hayden that if he is up against him (Enzo) then Hayden is going to be a lock to win the game. Enzo says that the Jury may sway towards voting for Lane. Enzo says that is why in the end you take the donkey, who only won one POV. Hayden says that he thinks if Lane wins the last HOH though then he has a good chance to win the game. Hayden tells Enzo that if Lane were to beat him and took Enzo to the final two, then Enzo has a chance at winning the game. Enzo says that there is no one who has won Big Brother by just winning a POV. Enzo says that you have to at least win a HOH. Enzo tells Hayden that he may make people laugh but he hasn't won anything and people aren't going to vote for him just because he made them laugh. Enzo says that he has already accepted that he isn't going to win the $500,000. Hayden again tells him that if Lane takes him to the finals then Enzo does have a good chance at winning the $500,000. Enzo says Lane played a great social game, he had a social game like Enzo except he also won competitions. Enzo says that I didn't bring my A game at the end. Enzo says that he expected to do a lot better in the endurance competition….BLANK.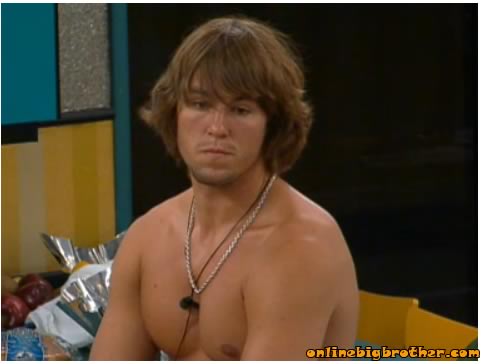 Hayden says that he can see himself losing against Enzo and Lane, even if he wins the last HOH. Enzo tells Hayden that he is being too paranoid. Hayden says that Enzo may have Rachel and Brendon's vote because he thinks they liked Enzo more than they liked him. Enzo says that Hayden won 5 competitions and he thinks everyone is going to be voting for the best player of the game and he says that is you (Hayden). Enzo says that its a lot to think about… Hayden says that he doesn't know. Enzo says that you just have to look at the facts, I have never won a HOH. Hayden says that it's so hard because it is a decision between Lane and Enzo. Enzo says that he hates that one of the three of them is going to be on the outside looking in. Enzo says that Lane has won two HOH's now because he won that last one. Enzo says that the Jury is smart, they're going to vote the right person to win. Enzo go back to the jumanji room.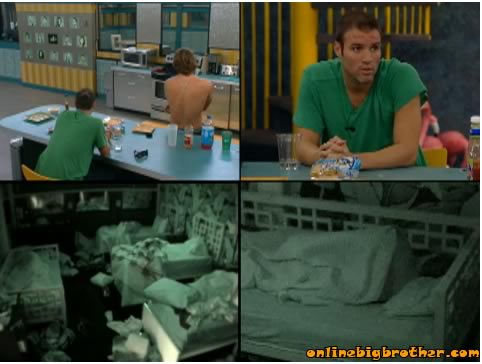 Watch the last few days of BB12 for FREE!
3 Day Trial!!
1am – 2am Hayden and Enzo talk about getting out of the house and cant wait to see what has gone on while they were inside. They talk about how all three of them are going to remain close friends. Enzo starts reminiscing about the other house guests and talking about which ones would have been really good competitors if they were still in the house. Then Enzo starts talking about his wife and baby. Hayden starts talking about the girl he was seeing before he came into the house and says that she is the coolest chick ever. Enzo says that he bets the girl is sitting there waiting for him to get out of the house. Hayden says that he hope so… The conversation changes to talking about BB11 Jeff's around the world show and how cool that would be. Hayden and Enzo both talk about how they are going to be super Big Brother fans now. They talk about having an allstar season and who would be brought back. They both head to the bathroom complaining of stomach pains … They then head back to the bedroom and go to sleep…
8am They are all still sleeping..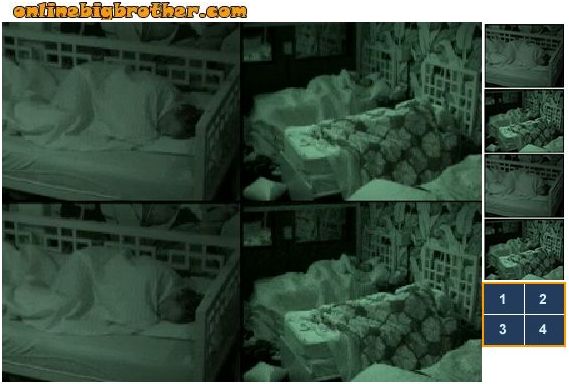 10:10am Hayden, Lane and Enzo are all still sleeping… no wake up call yet..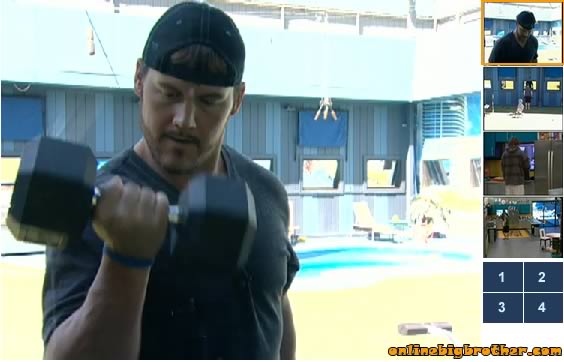 11:14AM WOW biggest shock of Big Brother 12 the surviving members of the Bragade wake up before 4pm. Lane is working out Hayden having a short conversation with him. Tells Lane that the eggs are good and he has requested the song cleaning out my closet.. feeds cut.
Hayden and Enzo both join Lane in the backyard.. Enzo is joking around when would pick up girls and have sex with them and not remember where they are from. Enzo shovels his Eggs into his mouth trying to make the most noise humanly possible.
Enzo start talking about going to clubs and when he was young him and his 5 buddies would go to neighboring towns and party. Lane asks if he ever got in fights. Enzo says they got in some serious BLANK before.. When they went to these parties the guys were always territorial about the women. They would Tell enzo and his friends to back off the girls because they were not from the same neighborhood. Hayden starts to doze off.. Lane tells him to wake up. Enzo: "This is nice.. we're up right now and in like 1/2 a hour we'll take a nice long nap. Hayden: "5 hour nap".
1:23pm Sleeping YO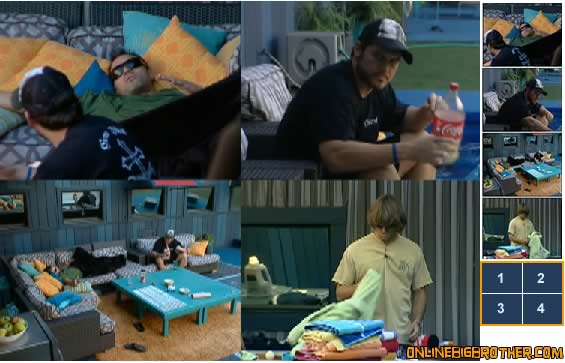 5:03pm Backyard Bragade OutSide Lockdown yo… General Chit Chat.
5:30pm A plane flies overhead. Enzo says he like those planes it looks old. .Lane says it's a twin engine. Hayden asks if one engine goes what happens.. can they fly off one. Lane: "Yeah.. actually in order to get your twin engine license they make you fly it with on engine". Hayden: "Is it hard… do you have to compensate?" Lane: "Yeah but it's mostly like flying a single engine plane". Enzo: "What happens in the throttle snaps off.. breaks" Lane laughs.. "we'll then your screwed but that would never happen". Enzo is shocked he though there was a backup plan for everything. Lane says the throttle is made of steel it would never break.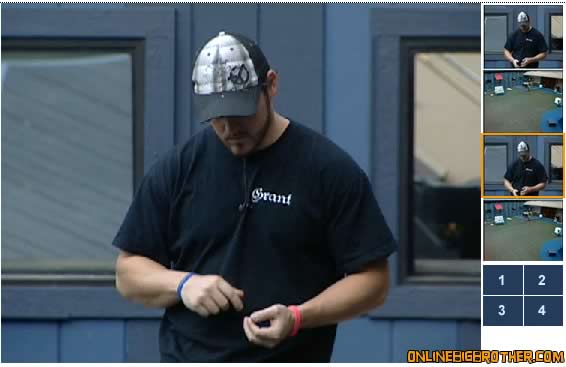 6:16pm BackyArd LAne and Enzo. Enzo is getting pissed at Hayden because he told enzo that enzo has a chance and Enzo know that is BLANK. Enzo is mad that BRit and Ragan threw him under the bus telling them that Enzo is unbeatable in the final 2. Enzo doesn't understand why they would say that he has no chance to win. Enzo points out that HAyden is stressing big time, he's trying to look good in front of Lane and Enzo and enzo doesn't think it's right. Enzo told Hayden all he has to do is win this next HOH and he has 500K dollars, Enzo tells LAne that they both have no chance against Hayden.. And Enzo doubts he has a chance against Lane. If Lane wins the final HOH he's got the money if he takes Enzo. Lane says that 50K is still a BLANK load of money. Enzo tells him that they both played the game the same way except that Lane won more competitions.. Lane gets called into he DR, hayden joins enzo and they start talking abotu how much enzo misses his daughter.
7:30pm Brigade throw the football around talking about highschool.. Hayden and enzo periodically check on the turkey burgers on the grill.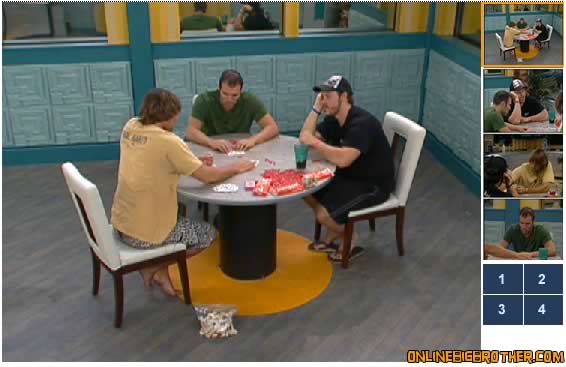 8:00pm Cards Standard 8pm bragade activity….