Watch the last few days of Big Brother 12 for FREE!
Superpass – 3 Day FREE Trial!
12:45am Lane is taking a shower, while Enzo and Hayden work out. Hayden is on the elliptical and Enzo is jogging around the backyard. After a while they head inside. Hayden goes to take a shower and Lane and Enzo go to the jumanji room. Lane and Enzo talk about random stuff. They talk about having their own reality shows after Big Brother. Enzo says that his could be called the Meow Meow Down South. Enzo says that he could travel all over the South eating weird things and hitting up bars. Hayden finishes his shower and comes into the jumanji room. They are now talking about Texas. Enzo says there are college campuses every few blocks in Texas. Lane and Hayden name some of the colleges in Texas. They continue to talk about the different school. Lane starts talking about his brother Gunter getting in a fight and beating up a linebacker.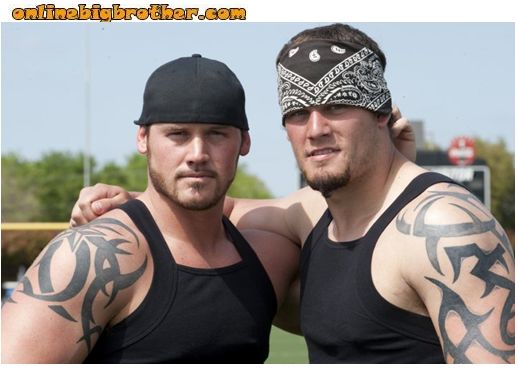 Photo source: Uncle Daddy Design's Facebook Page
Texas State football player assault under investigation
Bloody assault probed
Bobcat football player accuses team member of attack
Lane says that Gunter's wife Georgia was dating another guy before Gunter and after she broke up with this guy she started dating Gunter. Lane says that this guy started calling her a BLANK. Lane says that they were all at a bar and that guy was there too.. (Big Brother cuts the feeds) When the feeds come back Lane says that when football players fight they fight in packs. Lane says that this guy hit Gunter and knocked his tooth out and then Gunter started beating on him and the guy started to cry. Lane says the guy was a huge 250lbs linebacker. Lane says that he got Gunter off the guy and they were about to leave when the guy sucker punched Gunter in the back of the head. Lane says that Gunter nailed the guy one more good time. Lane says that the next day in the paper they were reporting that Lane kicked in this Linebackers door.. (Big Brother cuts the feeds) When the feeds come back … Lane tells Enzo and Hayden about how Gunter had to have surgery to repair his tooth. Lane says that the anaesthesia didn't knock him out and they had to strap him down in the doctor's office to operate on him. Enzo and Hayden start telling Lane about their experiences with anaesthesia. They talk about howBLANKed up you feel after you wake up from it. They all talk about how they hope Gunter makes it to the finale.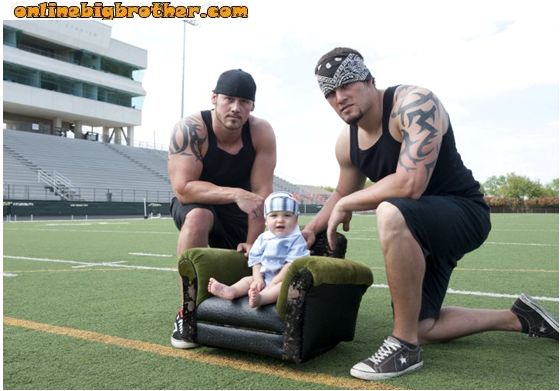 Photo source: Uncle Daddy Design's Facebook Page
SEE what they CAN'T show you on TV! 3 Day FREE Trial
2am Hayden, Lane and Enzo talk about life after they are finished with big brother. Enzo talks about how he can't go straight back to work. Hayden suggests that they could just fly out on the weekends to make appearances. Lane and Enzo think that would be a good idea. Hayden starts talking about a girl from the Real World that makes $10,000 to show up for an appearance. Lane says that's how they make their money after this is done. Hayden says that he would make an appearance every day of the year. Enzo says that he would bringing baby Gia out on the road. Enzo says that the wife has to always be around because he would be worried someone crazy might take her and asking for ransom. Hayden says this Big Brother dream is ending on Wednesday. Enzo says that this isn't a dream its a nightmare and he is ready to get out of the house. Enzo says that he thinks the dream will come after the game is over. Enzo says that this is what they have to do to get to the dream. They start to reminisce about how Annie was in the house for such a short time. They talk about why Annie would chose to be the saboteur and how it ruined her game. They all still think that Matt was the second saboteur and that he made it far. Lane asks Enzo why he has so many wet dreams in the house. Enzo says that he thinks it is because he sleeps with three blankets on and gets too hot. Enzo says that he probably has twenty wet dreams a year but when he was younger he says he used to have like 300 a year. Lane and Hayden laugh. Enzo starts talking about himself in high school. Enzo says you were all BLANKed up in high school YO!! Enzo talks about how crazy it is to be that age.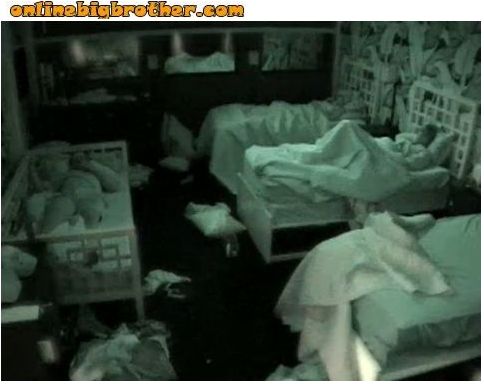 2:20am – 3:20am Hayden, Lane and Enzo talk about the live shows. Lane says that in the beginning the live shows made him nervous but now he really likes them. Lane talks about how many people there were in the beginning and now they are the spot light. Enzo starts talking about how in the beginning when he asked everyone if they had nicknames and he told them all he is the meow meow. Enzo says that he had to tell then immediately because he was worried someone else would have the same nickname. They reminisce about the first few days of being in the house. Enzo says that he couldn't remember anyone's name and remembers thinking that he thought he wouldn't have any friends because they were all so different than him. Hayden says that he just wanted to not be the first one out and then he wanted to make it to the jury. Hayden says and now we're in the final three with the people we wanted to be with in the final three. They start talking about what the jury house thinks of the Brigade. They all think the jury members think the brigade is awesome. Enzo says that he can see Rachel trying to BLANK on the Brigade at the finale. Enzo says don't even say it Pelican…. don't even say it! Enzo says that they made side alliances and controlled the votes. The conversations changes to talking about past competitions. Then they talk about football and Howard Stern. Lane asks Enzo how he can take Howard Stern seriously?! Enzo says that he is actually a really smart dude and that he knows what sells. Enzo says he's got a beautiful wife and tons of money. Enzo tells them that Howard Stern likes to jog and loves to play chess and he loves having sex with his wife. Enzo says that he even bought his wife Sirius Radio at Christmas just so he could listen to Howard Stern. The conversation dies and they all go to sleep….
7:25am Lane, Hayden and Enzo are all still fast asleep….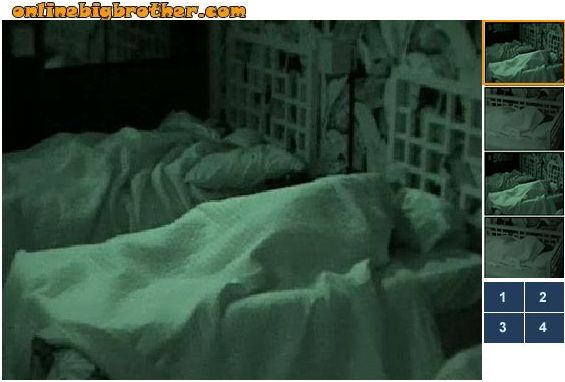 Watch the last few days of Big Brother 12 for FREE!
Superpass – 3 Day FREE Trial!
10:15pm Sleeping yo
10:40am ZZZzzzz…
11:25am Big Brother switches the live feeds to the "We will be right back" screen to wake up the house guests. When the live feeds return…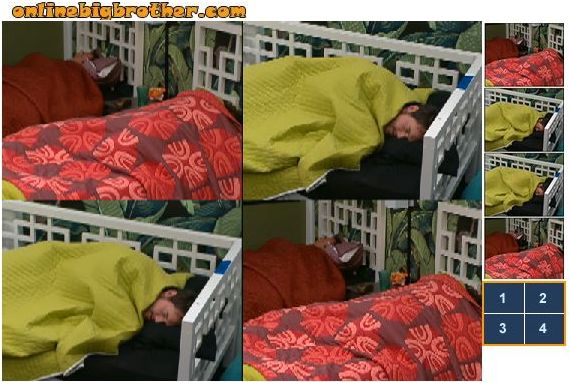 12:45pm They are all still sleeping …even the camera men are bored…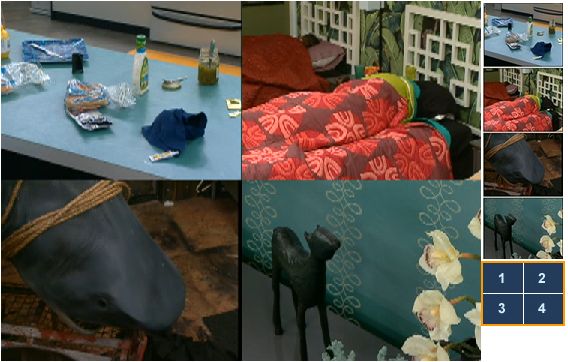 1:10pm Enzo and Hayden moved … all back asleep now…
1:40pm Still dreaming of how to spend their BB money…
2pm More of the same …No movement…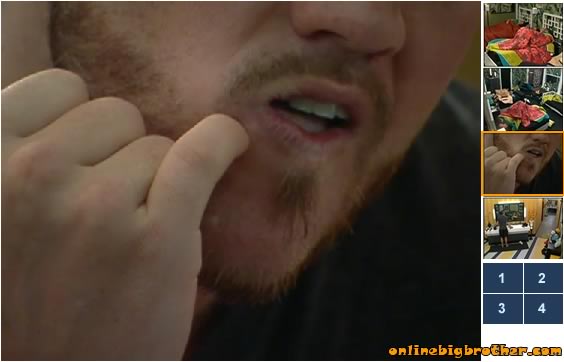 2:48pm Lane wakes up uses the washroom.. starts picking his face then back into the kitchen to make some cereal. Hayden and Enzo are still in bed sleeping.
3:44pm Lanes doing the dishes. Lane: "Dirty ass BLANK". He ends up clogging the sink with grease while he washes the greasy frying pans. Enzo joins him and starts cleaning the counter tops.. Lane tells him he's going to use the washroom then he'll finish the dishes, they need to soak for a bit first before he tackles them.