11:09pm Brigade playing blackjack with the tamales. Hayden keeps eating the tamales, enzo tells him he better stop or he'll have nothing left. Basically there just talking about the card game.. Hayden is pretty excited that the show is almost over he keeps saying they have only 3 more days to go. Lane is destroying them in the game of cards. Hayden has to keep heading back to the candy drawer for more tamales. He has very few left from losing hand after hand to Lane and gobbling down like PP did last year.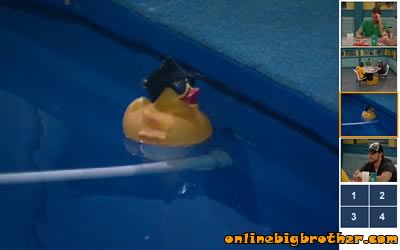 11:30pm The most exciting thing going on right now is ducky chilling in the pool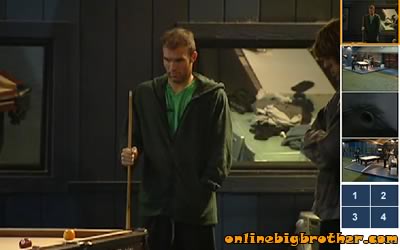 12:00AM Brigade playing pool, Enzo: "FOOTBALL sunday tomorrow yo.." Hayden: "I wonder who the cards play" Enzo: "the 49ers".
12:26am Brigade passing the football around. They are talking about football team names. Enzo brings up the Tennessee titans and how they were going to be called the Tennessee tuxedos enzo thinks titans is a tight name. Hayden thinks the Broncos have a good name.
CRIPT CODE –>