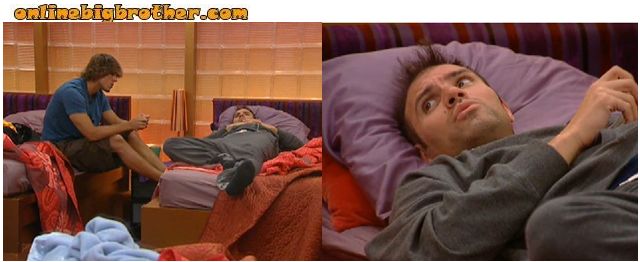 11:35am – 12:10pm Enzo and Hayden are talking in the bedroom about next weeks HOH. Hayden says that he doesn't want Matty to get too close to Ragan. Hayden says what if Matt gets HOH and doesn't put up Rachel and Brendon. Enzo says fuck that …he has to put them up ..or he's out of the Brigade. Enzo says that we gave him a chance last time and it didn't work out …so now if he gets it again he has to do it. Enzo is still pissed about have Brendon and Rachel swear on his family but he says if they are putting someone else up he can just say he swore on his family so they can't put him up. Enzo says that he is going to win this thing today …he feels good …he is more than focused… hes not playing any more games with these people. Enzo says that if we survive this week..one of the brigade members is winning this thing. Enzo starts talking about the movie and says that he will have to hear her fucking laugh through the whole movie. Enzo says that he is getting so tired of Kathy, Ragan and Britney. Enzo says that he is tired of Britney kissing their ass. Enzo says that Britney is lucky she won the POV last time. Enzo says that she goes up puts on Rachel's hair, …stop kissing ass. Enzo impersonates Britney saying I don't like confrontation. Enzo says well then why are you here? ..go be on wheel of fortune then!! Enzo says that after this week the Brigade is half of the House because Kathy doesn't count. They both laugh. Enzo says that he would be embarrassed if Kathy wins $500,000. Hayden says if she is up against Rachel. Enzo says that she has to win at least one competition… I don't think she has it in her. Enzo and Hayden then join Britney, Matt and Lane in the other bedroom. Enzo asks then if they could hear Hayden and him laughing. Britney says no ..and asks what they were talking about. Enzo says that they were laughing about the luxury competition they played yesterday. They all talk and laugh about what they can remember. Ragan comes out of the diary room and joins them in the bedroom. Britney says that once Brendon goes in to the diary room …then the POV will start. Soon after Enzo gets called into the diary room. Enzo says thats what yeah gotta do when you have fans yo! Enzo goes into the diary room and there is a diary room leak.. Enzo saying that he feels good, he is fed and that he is ready to win this thing yo!! Enzo says bring on the uni-tard, bring it, I am ready yo!! I am ready to win it!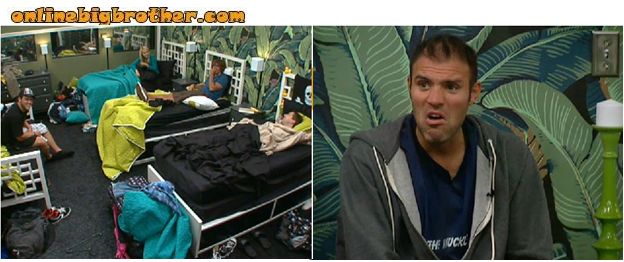 Enzo says that he wants to win the platinum power of veto so that he can bring Andrew back because he went ape shit. Enzo says that then Captain Kosher can't win or vote but he can write their speeches. Enzo asks Britney if she wants to win? Britney says yeah! Enzo says but what if there are prizes? Britney says well everyone knows I want to get a vacation or letter from home. Lane makes fun of Kathy and how in the luxury competition she thought she would win because it had a cop theme, but she lost anyway.

12:30pm Kathy and Kristen are in the lounger room laying next to each other. Hayden comes in and asks if Kristen is nervous. She says yeah. Hayden says yeah me too. Kathy then starts rubbing and scratching Hayden's back … right then the feeds cut to the we will be right back screen…. when they come back Kathy says that if one of them gets the POV and gets off the block she is going to tell Rachel to put her up and send her home so that they can stay. Kathy says that she would sacrifice her two children, as long as her two babies (Hayden and Kristen) are okay then she is fine. Kathy says that its just like jail in here …its nicer but it's just like jail and then says that if she wouldn't go to jail she would beat her ass… Hayden says no you dont want to do that you would lose your job.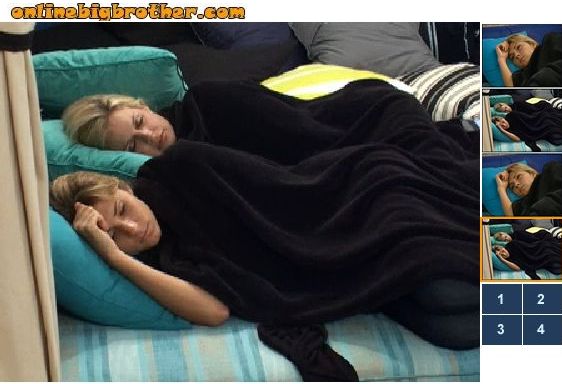 12:40pm – 1:20pm In the bedroom Enzo, Lane, Britney, and Ragan are talking about being circumcised. Britney says that if she was having a one night stand and a guy wasn't circumcised she wouldn't do anything. Enzo says that's what makes him different and that some girls like that, but his wife hates it. Enzo says that he has a son he will fight for it not to be done. Enzo says if he wants he can have it done later. Ragan says yeah but it can really hurt later because if you get an erection while its healing it can hurt. Lane asks don't they put you under?! Ragan says oh yeah but I'm talking about when its healing. Enzo says let him have a dog dick and that's it. Then they start talking about cars …]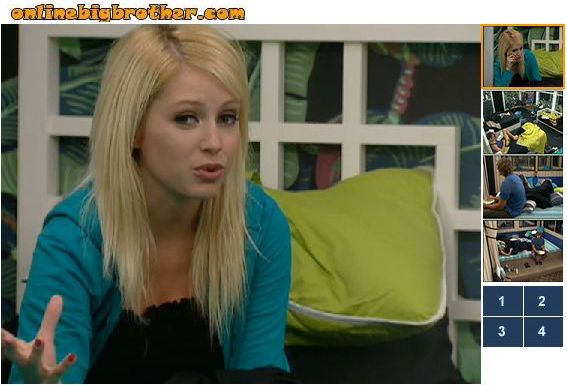 Britney and Hayden move to the kitchen and continue to talk about being circumcised. Britney talks about this guy in 11th grade that had it done then and everyone knew about it. Hayden asks so he told everyone. Britney says yeah …I guess he thought the girls would want to try it out. Hayden asks if any of her friends tried it out. Britney says that she doesnt know. The conversation changes to the POV competition. Hayden says that he is more worried about Thursday and Britney says that she is more worried about the POV because it changes everything. Britney whispers to Lane and says that he might have to be a Bouncer next week If she wins HOH and Puts Rachel and Brendon up. Ragan, Lane, Matt, Britney, Enzo are in the kitchen eating lunch and making protein shakes.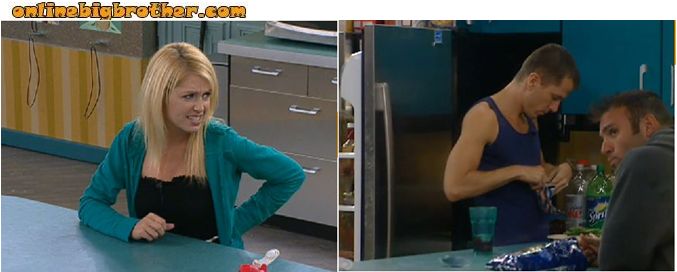 1:35pm Matt and Hayden are in the lounge room talking. Matt asks so if Kristen is up on the block against one of the Brigade are you okay voting against Kristen? Hayden says oh yeah of course that he will vote with the brigade. The go over the possible replacement nominations and who has the votes. Matt says that Kristen can't win the POV …that would be horrible… we would be fucked if she did! They talk about America voting for one of them to get something since they are not have nots this week..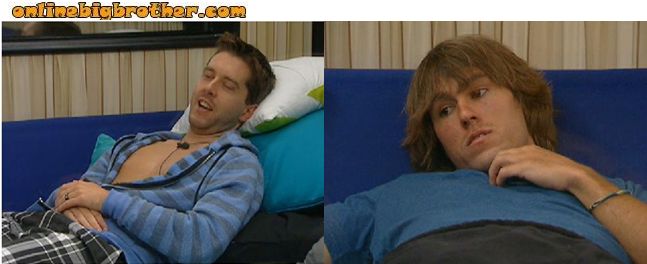 2pm – 2:20pm The feeds cut out to the we will be right back screen… when they come back Kathy is running her fingers across Kristen's shoulder ….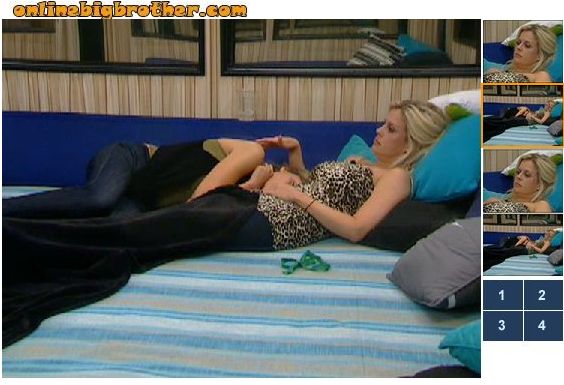 4:25 Trivia..
5:01 Trivia..
5:13 Trivia.. STILL NO POV RESULTS
5:21pm BRIT WINS POV