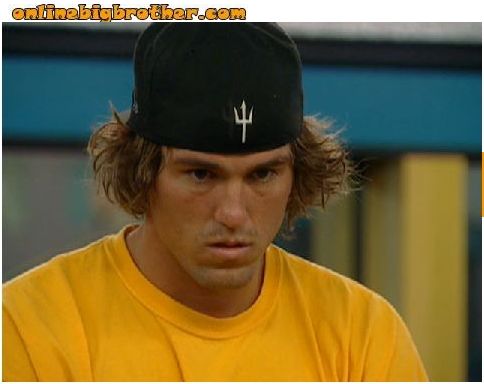 10am Enzo says that he has been in every POV, that his name loves to be picked. Enzo says that he needs to win this one. Kristen, Rachel and Hayden are also playing in the POV. Britney says that she is also playing in the power of veto competition. Britney is getting tips on how she should play that the pinball game. In the bedroom Ragan, Matt, Rachel and Brendon are talking about the POV competition. Rachel and Brendon leave to go up to the HOH room to nap. Ragan and Matt talk about their strategy for the POV competition. Ragan thinks that if there is any prize that it is really cool it would be better to not take it so that it doesn't give people a reason to target. They think there will be a uni-tard in the competition and someone will have to wear. They think that if there is a trip that Brendon will pick it. Ragan thinks that if there is a slop pass it would be a safe choice because no one will try and take it from him.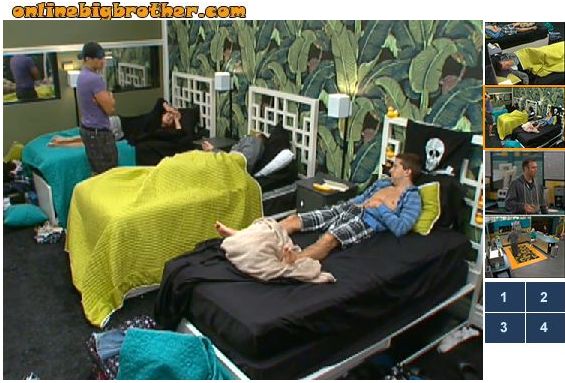 10:15am Rachel and Brendon are talking up in the HOH room. Brendon is talking about hosting POV. Rachel feels bad, because she thinks she should have picked Matt since its his birthday. Rachel says she didn't though because she thought Brendon would get mad because he gets mad at everything she does in the house lately. Britney comes up to the HOH to talk to Brendon and Rachel. Rachel Brendon Brittney in HOH. Rachel says that this couldn't have gone any better. Britney says I know. They laugh about how Kathy didn't get picked since she practiced for like 10 years! Rachel tells Britney about the conversation she had with Kathy this morning in the storage room. Britney asks so she said that she would use the POV? Rachel so but she said she wasn't sure so that basically means that she will. Britney says that all Kathy wanted was to get to jury and if she had won veto then she would have guaranteed herself jury. They think Kathy would have used it if she won and they don't get it because it would have guaranteed Kathy would leave following week. Rachel is pissed off at Kathy right now. Brendon and Rachel think when Kristen is gone Kathy will try to be their best friend again.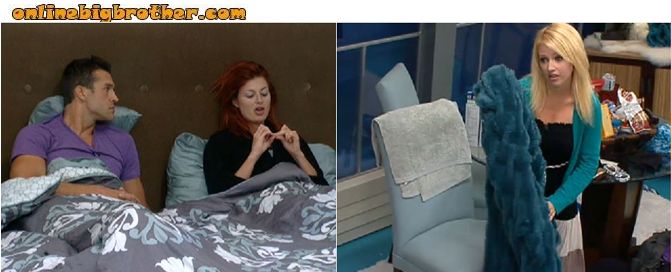 10:30am Enzo and Lane are in the kitchen talking. Enzo says that he wishes competition was now. Enzo and Lane are tell Hayden to just make sure Kristen doesn't win. Enzo says tackle her, spit at her, put a banana peel in front of her, just do whatever you got to do man!! Hayden, Lane and Enzo are in kitchen. Enzo says that he hates whos upstairs right now, Fucking Rachel, and Fucking needle dick. Enzo says that he doesn't give a fuck he'll talk game right in front of them right now. Hayden tells Enzo that if he wins the POV he should use it to take him down and then push for Rachel to put up Kathy and that Kathy would then go home. Enzo says that if he wins he will propose it to them but its only Kathy and the brigade left to pick from and that it is kinda risky but even if another brigade member goes up Kristen will go. Enzo says we got a big day today to Brendon as he comes down from the HOH … we have a lot to do today …POV picks, POV hosting, POV, and the movie…

SEE what they CAN'T show you on TV! 3 Day FREE Trial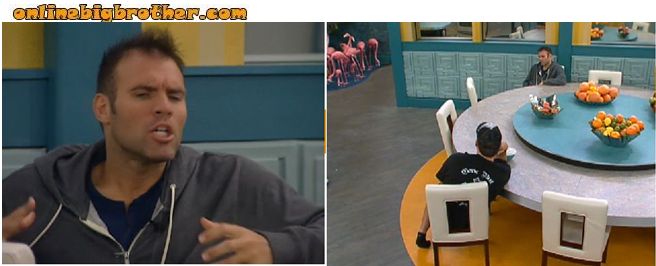 Ragan is up in the HOH room talking to Rachel and Britney. Ragan tells them what he thinks the game will be like. Ragan says that he thinks last night was just a learn to hit it kind of thing and thinks there will be way more slots on the game when they play. Rachel says that she is very happy with the draw they got for POV and they are really glad Kathy didnt get picked. Rachel says that she hopes you guys all get really cool prizes. Rachel asks Ragan if he would take letter over trip or money and he says thats one of the things he'd really have to think about because he really really wants to hear from his sister. Britney says that she always hears people on the show say how bad they want a letter and she says Psycho but… Brendon returns and Ragan leaves the HOH room. Rachel asks Britney if she'd really take a letter over a trip and Brendon says no for her, and says that Nick would kill her. They talk about how last HOH Kathy unpacked Rachel's suitcase for her and would not leave her room last time, and how she slept in the bed every single night. They say that now she wont even talk to Rachel. Brendon and Rachel wonder why anyone would come just to make it to the jury house. Brendon says that Kathy in the jury house is bad, because she will vote for whoever talks to her last. They joke about Kathy saying that she says she puts her life on the line everyday. Brendon says that he is concerned with Matt. Rachel agrees and points out that Matt wouldn't make a deal with them and that when he was HOH he said we weren't his target but he would still put us up. Rachel says that she doesn't trust him. Brendon thinks Matt is going to blindside them and Rachel says they are all going to do that. She doesn't trust Matt but doesn't want to put him up right now. Brendon tells Rachel that sometimes this game isn't all about playing hard. Rachel says yeah sometimes it is. Brendon says sometimes it's about playing smart.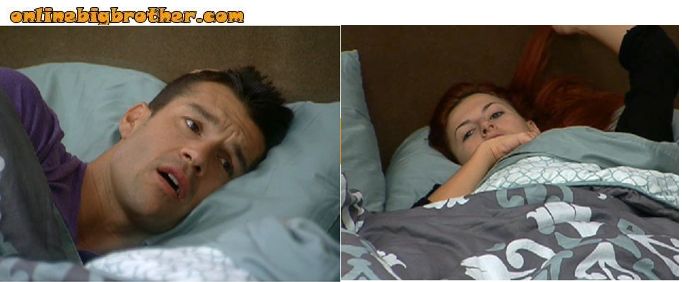 Free Live Feed Trial! Superpass
11am Brendon and Rachel are talking about how Kristen was throwing every houseguest at Rachel in the last HOH competition. Rachel wonders why she first put her up against Kathy? Brendon says because she's dumb. Rachel says that all of their cards are dealt, we are the powerful players and we cant go backwards. They start talking about Lane, and Brendon says that he doesn't trust him. Rachel says that she does. Rachel says that she thinks they could make an alliance with him. Rachel says that she thinks Hayden is going to come for them. Rachel says that if she could vote, she would happily vote out Kristen! Saying see ya! Kristen is not nice to other girls, she wants to be the cool girl, and really all she does is eats spiders and farts. Brendon says that Kristen and Hayden are easily distracted, so all she needs to do is get under their skin. Brendon says you can beat them. Brendon asks who do you want to win? Rachel says that she wants to win. Brendon says well good stop talking about it. Regan is right. Every time you say you don't want to win it happens… it's a self fulfilling prophecy. Brendon says as much as I want Kathy gone, once she's gone they're right back after us. Rachel says that we just have to tell them all either your with us or against us. Rachel says that she doesnt know who Enzo or lane would put up and that she is scared they'd put up Regan. Brendon says but then they would put up Matt. Rachel says that Regan has to stay.



11:20am – 11:35am In the Lounge room Kathy and Kristen are talking about what the possible replacement nominations would be if Kristen wins. Kathy says they might put Matt or Enzo up against Hayden. They say that either way Hayden stays and they are a team again. Kathy talks to Kristen again about the threatening talk that Rachel had with her this morning. Kathy says who wants to talk about that at 8am in the morning… and now I'm not even playing, she could have saved that talk. Kathy tells Kristen that she wishes her friend was here because she would pull that Rachel's hair weave out… Kristen laughs.