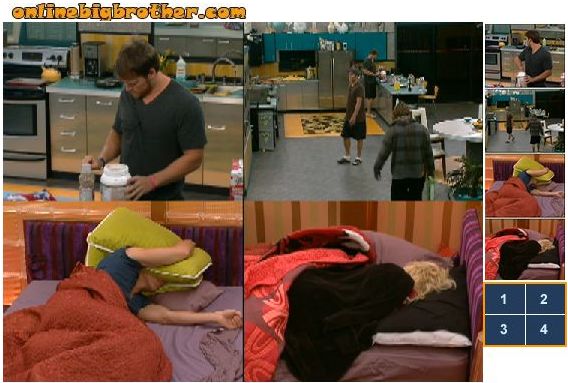 $5 off the BB12 Live Feeds – LIMITED Time OFFER! ONLY $9.99! PLUS try it FREE for 3 Days!
9:20am – 10am Big Brother switches the live feed s to the "we will be right back" screen to wake up the house guests. When the feeds come back all the house guests are still trying to sleep. 9:40am Lane, Enzo and Hayden are in the kitchen. Enzo keeps saying today is the day!! Lane goes to the fridge and says that the milk says sell by Sept 15th ..We will be out of here by then. Both Enzo and Hayden are studying the memory wall thinking that tonight the competition will be the faces competition. Enzo looks at Rachel's photo and says that she looks like she's 48 …yo, look at all those wrinkles. Lane tries to dig something out of the sink drain with tongs. Lane heads back up to the HOH room. Hayden tells Enzo that he hears them building out in the backyard. Enzo tells Hayden and Lane to guess where some cereal was made ….and that they will never guess it .. its from some broke ass country. Lane and Hayden start guessing Enzo finally tells them that its Sweden. Then Big Brother says did you know that Sweden is slightly larger than California. Enzo says What?! ..okay!  Britney, Lane, Hayden and Enzo talk about random things.  Enzo then tells big brother to give them another fact finder … give us some more facts.  The conversation changes to talking about music.  Britney says that all old music just sounds like a cheap version of todays music.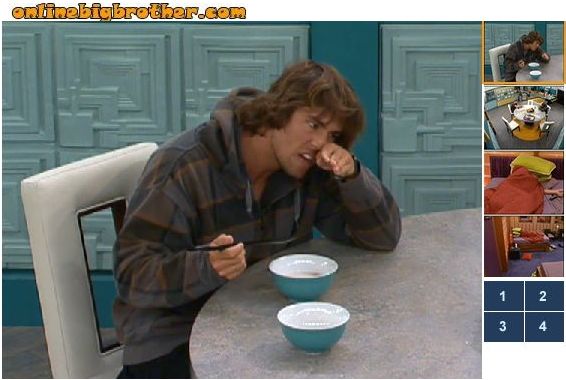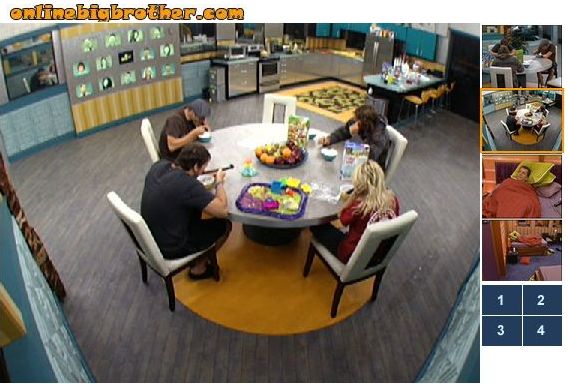 10:15am – 10:50am Lane, Britney, Enzo and Hayden are sitting around the kitchen table. Lane is arguing with Britney about music. Lane says okay okay princess. Enzo says that he bets they aren't even building anything in the backyard … they just act like it when they hear something. Britney leaves the kitchen and heads up to the HOH room to sleep in the bed knowing that the HOH lock down will be soon. Enzo says who doesn't like Biggie… he pioneered rap. Enzo says that if he wins HOH tonight someone's gonna cry. Ragan gets up and goes to the kitchen to get a bowl of cereal and takes it into the cabana room to eat by himself. Lane and Enzo make fun of Britney for not liking things because they are old. Big Brother switches the feeds to the "we will be right back" screen. When the feeds come back all the house guests come up to the HOH room for the HOH lock down. They all find a place to lay down and go back to sleep.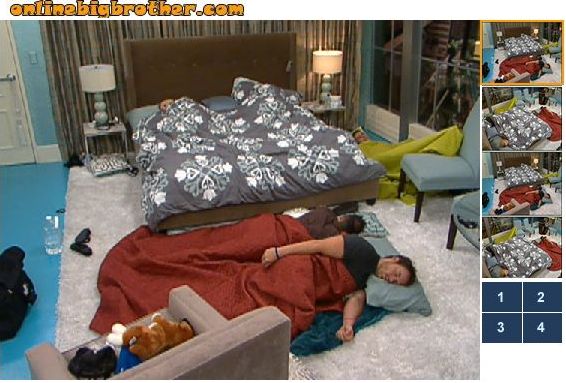 Watch the last 2 weeks of BB12 for ONLY $9.99!!
FREE 3 Days TRIAL

11:15am All of the house guests are sleeping..

11:45am Silence in the HOH room.. Enzo is listening to the Eminem CD with the headphones on …while the rest of the house guests sleep…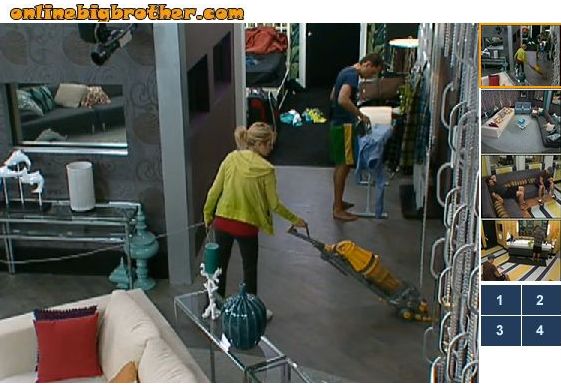 12:20pm – 12:40pm Big Brother calls an end to the HOH lockdown. Britney is vacuuming, Ragan is ironing his shirt, while Lane Hayden and Enzo hang out in the bathroom. Hayden is trimming his hair. Enzo says that he just trimmed off some of his good luck. Hayden says you'll see he will see tonight. Hayden says don't wanna lose a half a mil cuz he couldn't see. They talk about how Britney is cleaning because she's nervous. Enzo asks Hayden if he going to make something to eat. Hayden says yeah baby! Enzo asks your gonna eat a baby …YO! Enzo says shes vacuuming now yo! Enzo and Lane are in the bathroom fixing their hair … Enzo is trying to convince Lane to spike his hair all up.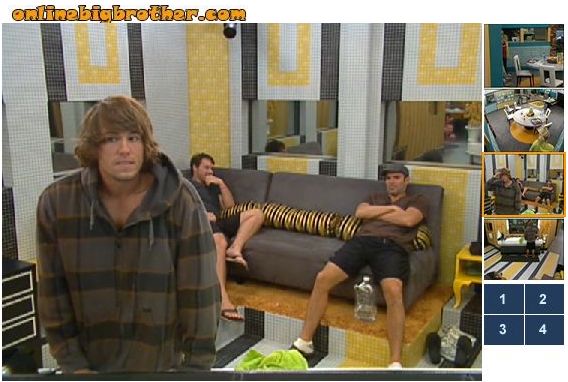 TRY the Live Feeds for FREE!!
Superpass – 3 Day Trial!
1:15pm Enzo and Lane are in the kitchen. Lane is doing the dishes. Enzo goes over to the memory wall and asks is it faces today?! Britney, Lane and Hayden and Enzo are in the kitchen cleaning and making lunch. Ragan is packing in the bedroom. Then he goes to the Taj bedroom gets into bed and says only four more hours …..then another house. Enzo goes to the washroom to take a shower. Britney and Hayden sit at the kitchen table in silence. Ragan is in the kitchen making lunch. Enzo is now out of the shower and getting dressed.
3:25pm Trivia YO