TRY the 24/7 Feeds Life Feeds 3 DAYS FREE!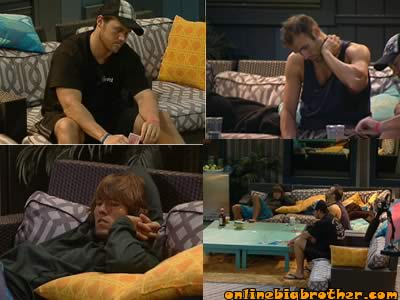 7:00pm to 7:45pm Backyard Hayden, Enzo, LAne and Brit Nothing but random card talk.
Enzo: "I feel tired yo I might go take a nap" Hayden says he's going to work out then take a shower. Enzo says he should probably work out tonight. Hayden asks Lane if he wants to do weights tonight, maybe they can help each other with the bench press. Lane says sure, Enzo in the background saying that he wants to join them he needs to work out… Hayden to Lane: "you want to start in 30minutes".. Enzo: "A hour".. Hayden to LAne: "You want to start in a hour?" Lane: "Sure".
Big Brother calls Brit into the DR.. She groans Brit: "I'm getting evicted theres nothing I want to talk to them about".. Hayden heads in to take a shower (Showers before and after he works out)
8:01pm backyard Lane and Enzo Still playing cards.. Enzo says he hopes Brit plays her part and goes home quietly. After tomorrow enzo doesn't care what she does she can throw him under the bus play the game it doesn't matter to him. They stop playing cards.. Enzo: "You and me still have a chance I think we can beat Hayden". Lane: "I dunno man" Enzo laughs.. "Ohh C'mon". Lane tells him how much Brit hates Hayden right now because apparently brit and hayden made a deal and went back on it. Enzo: "Ohh Shiiiit". Enzo and Lane agree it's a guaranteed 50K if they take Hayden to final 2. Lane points out that he thinks he'll lose against Enzo as well because enzo is friends with everyone in the jury. Enzo thinks if its the two of them they both have a good chance but against Hayden there is not chance in hell.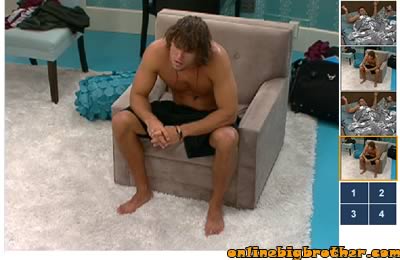 8:25pm HOH Hayden and Enzo Hayden says that Brit is acting differently with him. Enzo tells him that Brit is trying to get him to use the POV. Hayden knows, he thinks that Brit honestly thought Hayden and LAne would use the POV on her. Enzo says Brit is just being salty because we told her she's going home, Enzo: "what does she want us to do tell.. play her along tell her she has a chance c'mon now get out of here". Hayden brings up the conversation with Brit when she told him she never expected someone like HAyden to deceive her like he did.. she doesn't care about Lane or Enzo part in the brigade she expects that from guys like them but hearing about Hayden's involvement was a real shock to her.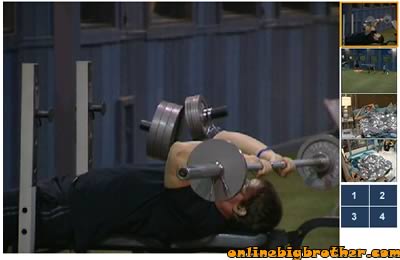 9:26pm LAne and HAyden working out. Enzo upstairs in HOH listening to music.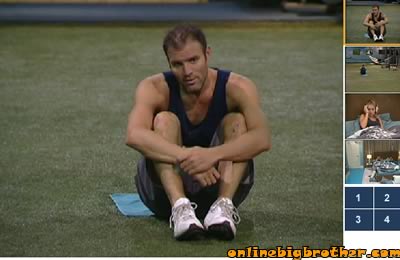 10:12pm Backyard Brigade Hayden is wondering why they can't put fish on the feeds and let the brigade watch a movie in the living room. Enzo tells them how much he loves greek mythology tells them all about Achilles.







Big BRother 12 Poll Whose the hottest BB chick