TRY the 24/7 Feeds Life Feeds 3 DAYS FREE!
10:20pm Backyard Brigade They are talking about how popular they will be when they get out. Lane and Enzo in particular are pumped at getting hooked up at bars. Enzo thinks it'll all hit them when they are at the hotel bar and someone comes up to them for the first time. LAne brings up the "DR People" all want to go get "BLANK up" with us after. Enzo brings up Vegas and how he thinks it'll be fun if they go off and do there own thing as a group. Hayden agrees. Enzo mentions that they might want to hang out with Rahcel a bit, Enzo: "you never know with Rachel you might get some crazy BLANK.. big titty BLANK that want to BLANK you.. she's got connection over there". Hayden: "You think Vegas will like Rachel though". Enzo: "Oh yeah.. Vegas will love her but the general American public hates her she was the villain this year.. Brendon tried to be villain but he was lost. Enzo thinks even though they are happy to leave the house they may miss parts of it. Enzo explains how hard it is to be in the house, how he describes it makes you think he's talking about going to war. He says that no one will understand what it's like to be in the house only other players that made it this far will know what it's really like. Lane Agrees he says he told his mom that it was nothing like what you see on the show.
They go back to talking about how awesome they are and how they were able to pull of this masterpiece alliance. Enzo thinks the main contributing factor was trust.
Enzo is talking about the jury questions.. HE thinks Matt will ask him if he threw him under the bus, enzo: "Yes.. next question". They joke that they won't let Kathy ask a question because she has no clue about what is going on. Enzo: "What will brit question be". lane: "What did you do for me why should you get my vote". Hayden says he's screwed if she asks that because he didn't use the POV on her and sent her home. Hayden brings up that Brit talked to him a bit this afternoon but she still pissed at him.
10:40pm Hayden asks Enzo if he threw the paint bucket comp, Enzo says he got dizzy and felt sick. Enzo asks Lane if he could of lasted longer on the paint can. Lane said he probably had 20 minutes left in him but once he saw Brendon fall it didn't matter who won they were just having fun. Hayden: "I would say Brendon had a excuse for everything.. small feet…". Lane: "What comp do you think was the hardest.." Enzo: "The rope" Lane: "The paint can".. HAyden thinks it was the rope he tells them that lane and him could of done much better then they did. Talk goes to the final HOH comp. Lane thinks the endurance will be fun and more focused on balance. Hayden thinks there will be something for Strength because theres 3 guys competing.
10:55pm Hot Tub Brit tells them when they had the bowling comp Rachel was talking to Jordan and it was so obvious that Jordan wanted nothing to do with her. Enzo brings up that Rachel was barking out that her and Jordan would hang out in Vegas and Jordan was shaking her head. Brit says that Rachel told Jordan that her, Brendon and MAtt were the only people in the house playing the game. Hayden says that they weren't winning because they didn't have to. Brit tells them about the live show when julie chen asked them what the most underestimated player is and Rachel told her she thinks that everyone can try a bit harder. Hayden comments that if they were such non competitors why are they still in the house and Rachel was the first jury member.
They start talking about Brendon being a have nots. They all agree he BLANK and moan the most about it. LAne says his farts were so stinky yet they sounded like a little girls farts. They all laugh at how Brendon would try to hid his farts but they were so stinky you could smell them across a room. Hayden tells them when he was HOH the first week Andrew would come in at 5 in the morning site at the foot of the bed and talk to hayden. Enzo: "BLANK yo thats creepy".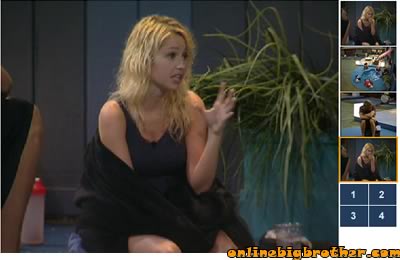 Brit: "Lane would always make me laugh when he said Brendon is the 4 people that annoy him the most in the world combined into one person". Brit remembers when Lane and Brendon got confrontational at the sink.. and Brendon was trying to back track fast. Lane: "I wanted to punch Brendon sometimes". Brit says that she threw the knock out comp because her and Hayden were the first 2 up and if she got the question right she would have to put B/R. If she was the one to put B/R up on the comp and one of them would win HOH then she would of been put up on the block. Brit: "That is exactly what Happened to HAyden and Kristen". Enzo: "Why did Kristen put rachel up against Kathy". Brit: "that was dumb".. BRit tells them that the DR called her out on Throwing the KNock out comp.. Enzo says the same thing happened with him and the Rope competition. Brit: "I didn't throw the rope one I would still be here doing it".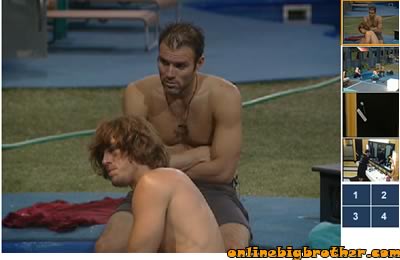 11:47pm Hot tub Brit telling the guys about "B-Spears", she's a huge fan and goes on and on about "B-Spears".