TRY the 24/7 Feeds Life Feeds 3 DAYS FREE!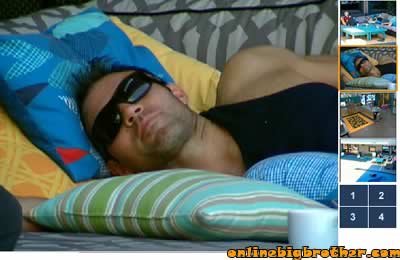 2:40pm Backyard Brit and Enzo There talking how annoying Ragan was his last week in the house. Brit says she didn't want to be that way so she went to them last night and started talking to them. Enzo: "We didn't want it to be weird we all really like you so we knew we had to tell you upfront and get the awkwardness". Brit says that a lot of things ragan said was messed up but she thinks most of the things they said about Brendon were funny. Brit: "Sometimes I think Ragan went a little too far with the vulgarity". Enzo: "Yeah he says shit that he can get away with cause he's gay". Brit: "Like people would walk up to him and say hey Ragan whats ups.. and he would say MY DICK". Hayden joins them and throws a bunch of food on the Grill. Brit mentions that Ragan would Always say "your ass" when you ask him what he wants to do. Enzo says he's feeling beat up today he drank a whole bottle of wine by himself last night. Lane comes to join them. Enzo says that they all need to get together and watch a baseball game next year. Hayden brings up his friend who plays first base for the New York Mets. They all agree to do it, Brit says she loves NY. Enzo says being a baseball player is the best kind of athlete to be you get paid a lot and all you do is "scratch your balls, spit, you hit the ball and run to a base". Brit: "Yeah baseball is a pansy sport". HAyden says he liked football more when he was a kid but he was a lot better at baseball.
3:00pm Kitchen Final 4 joking about Enzo cheating while a have nots. They bring up the Chicken, chocolate and cheese cubes. Enzo: "I never did that". Lane: "You had choclate in your pocket when you would sneeze you popped on in". Hayden: "did you sneak that chicken in your mouth when you went to bed?" Brit: "The second time I was have nots I tried… Feeds Cut to bubbles..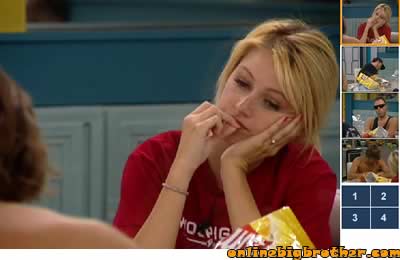 3:10pm Brit giving them advice about hotels. She tells them if the hotel screws up they should complain because then they will get free stuff. She explains that the surveys in rooms is very important to the hotels because it gives them valuable feedback. Brit: "I guarantee that those surveys are read by a person and action is taken if it's needed".

Enzo is telling them how much he's missing his Wife and Baby, he wonders if he should kiss the baby first then hug his wife or grab the baby first and then kiss his wife. Enzo is worried if he holds the baby he might drop her. Lane: "Just give wifey a pat on the back".
3:37pm Backyard Enzo and Hayden. Hayden is worried that Brit will hate him when she finds out that he took all the prizes during the POV. He says he feels terrible it's his only lie in the house, He wishes he could go back. Lane comes out asks them where they are going to nap, Hayden doesn't care. LAne heads up to the HOH to listen to some 25 to life. Talk goes to production warning Enzo to watch the F bombs. Hayden says that Brendon must of got a lot of warnings then, he must of said it 30 times when Rachel was evicted. Enzo thinks that the reason production was hard on them was because of all the fines from the "FCC" because of the f-bombs. Hayden starts to sing and the feeds are cut.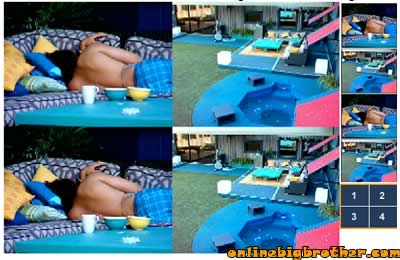 4:55pm Feeds back everyone sleeping.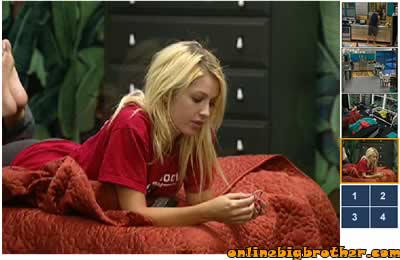 5:36pm Jumanjii, LAne and Brit. She is telling him how pissed she is at hayden and she'll vote Enzo over HAyden if they go final 2. Lane tells her Hayden is a real good person the best in the house. HE is surprised she's not more mad at him. Brit says she knows he wanted to take her to final 2 and she knows he wasn't malicious with how he conducted his game. She really loves Lane and she sill wants to be good friends with him after the show. Lane says he wants to be friends as well. Hayden joins them they start talking about music they like and the album 25 to life.


6:00pm Jumanji Room Lane, Brit and Hayden hayden is telling them about Rachel how HUGE of a hypocrite she was. Hayden mentions how Rachel was always saying she's donating her future kids birthday presents to a orphan but then she talks constantly about drinking 20thousand dollar bottles of Tequila. Lane: "there is not one part of rachel I find attractive… she walks around like she's the hottest skirt.. if she was in a bar in Texas no one would go near her". Hayden: "She gross.. she wouldn't be considered attractive there". Brit: "She better not move to the south cause people will hate her.. I can't believe Rachel was saying to everyone she's from the south.. She's born in North Carolina I don't consider that part of the SOUTH". Lane mentions how before Brendon hooked up with Rachel he was always talking about wanting to find a good girl who would make a good mother and wife, Lane: "Shiiit then he hooks up with Rachel". Hayden brings up the fight Brendon and Rachel had when Brendon said he wanted a prenuptial. Brit says Rachel got so mad that day and it was when she started hating on Kristen because Kristen was saying she wanted a prenuptial as he'll. Hayden laughs that B/R inly knew each other for 14 days and there fighting over getting married.