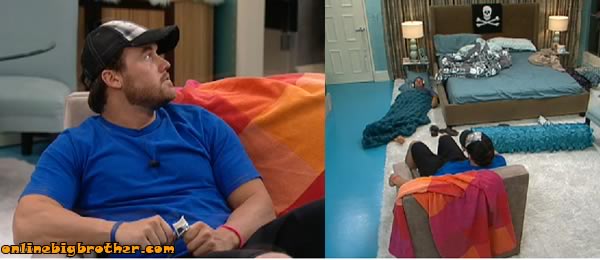 SEE what they CAN'T show you on TV! 3 Days FREE No Commitments
7:40pm HOH Enzo and Lane They are making fun of Rachel transfering her "Powers" to enzo and Brendon tonight, Enzo wonders how it'll feel. Enzo: "she knows what she's talking about though yo she knows what questions are coming up… She knows to study the peoples faces on the wall..her BLANK is solid yo i'm about to study off that BLANK yo.. for real yo". Lane bring sup that everyone seem to be studying tonight. Enzo mentions that Kathy is getting weird, Enzo: "I use to be tight with her but now she does her own thing now". Lane agrees she never goes up to him to talk he always has to go to her. Enso: "kitty kat is starting to evolve she keeps getting like 4 or 5th place in competitions we'll have to get rid of her soon".
Enzo: "ragan tells us the same BLANK over and over yo"
Lane: "yeah he does"
Enzo: "we get it yo we all know you dated a guy that was in prison for 10 years and was a molester"
Enzo: "If I win HOH i'm putting Ragan up I want him out"
Lane: "What about Brendon"
Enzo: "I want both of them out"
Lane: "watch who you put up because it might piss someone off"
Enzo: "I can put brendon and Kathy up and Backdoor ragan….Yeah yeah I could tell Brendon that I heard him spreading rumors about me..Then if the POV is used he'll backdoor Ragan".
Enzo isn't sure if they need to win the HOH this week he thinks the brigade is in a good position. Even if Brendon wins it'll be Kathy/Brit, Ragan/matt, or Raga/Brit up on the block.
Enzo: "In this game you don't have to win HOH to move forward all you have to do is Win hoh when you need to"
Enzo asks if there is any drama downstairs, lane says no everyone is trying to be nice. enzo: "ahhh yo cmon man"
They both can't wait to get the BLANK out of the big brother house the bordeom is killing them… feeds cut when they come back they are heading to the pool table to play in the tournament.
8:00pm Rachel and Brendon with a sprinkle of Meow Meow Rachel has been talking about getting drunk for the past hour maybe longer. Brendon asks her at on point if these are the only stories she knows. Rachel: "Breeeendooon NOOOooo" Then she goes back to talking about drinking, She asks him if a strange girl walks up to him and asks him to buy her a drink would he. Brendon says no he wouldn't because any person that wants him for one drink isn't truly interested in what he has to say they just want the drink out of him. brendon would first talk to the girl and if they had a good conversation going and was into her he and she into him then would then buy her a drink. He explains that he's not a cheap person, he's on of those people who doesn't like to spend their money. Rachel brags that she never has to worry about buying her own drinks. Enzo walks in and Rachel tells him about the story about passing out drunk shirtless with a wad of 100′ sin her hands. Enzo just listens says the odd "Ohh.. crazy… liquor muscles.. crazy up in here.. YO.." He asks Brendon if he's playing pool and brendon says yes.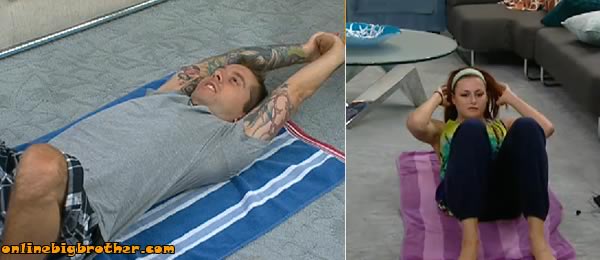 8:17pm Abs by hyena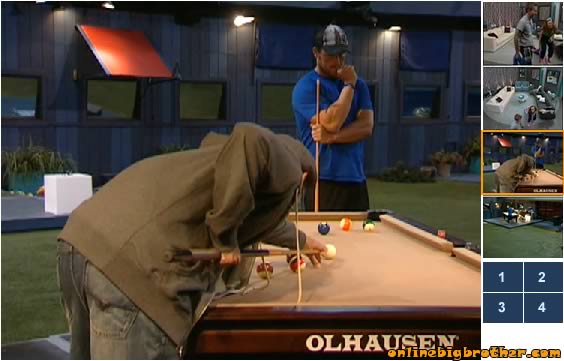 8:23pm Pool tournament underway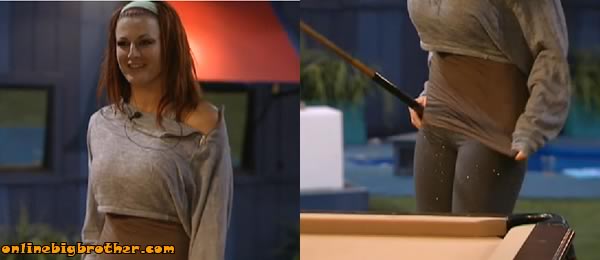 8:38pm Everyone minus brendon button and Kahty playing pool. Rachel is wearing her "Church Leggings"