SEE what they CAN'T show you on TV! 3 Days FREE No Commitments
8:55pm Backyard pool
Britney says: "They always hear us talking about production but they never hear us talking about being out of milk".. Everyone laughs.. Enzo asks them what songs do they all want to hear in the morning, Brit wants some Michael Buble, She asks Rachel if she like him. Rachel says she doesn't know who that is she only knows Vegas performers. Matt asks about the highest paid Vegas performer is. Rachel thinks it's Celine Dion and it costs 200 a ticket… Enzo shares a story about when he went with his wife and how much it all cost. Rachel: "The most money i spend is for sporting events.. this is expensive because it involves a lot of travelling because Vegas has no sport teams" Enzo wonders why theres no sport teams. Rachel explains that they're not going to because all the players would end up getting drunk and hanging out in the casino. They start talking about sport teams in their home towns, Brit says theres no major teams in her home town. Enzo and Lane list of all the professional teams.. Lots of sport talk between Brit and Lane.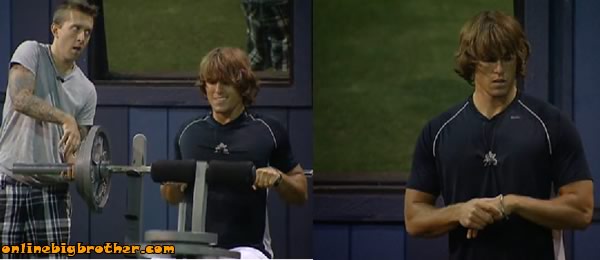 9:07pm Matt and Hayden working chest Ragan on the hammock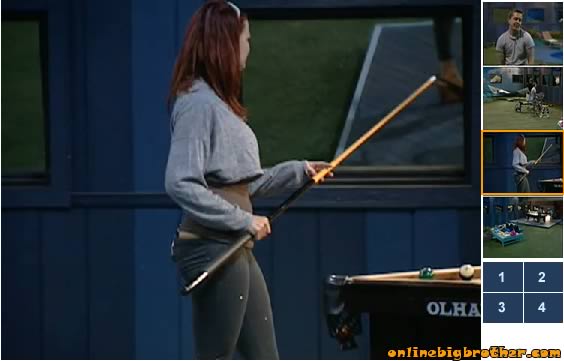 9:16pm Rachel and Brendon playing pool.. they briefly talk about El Salvatore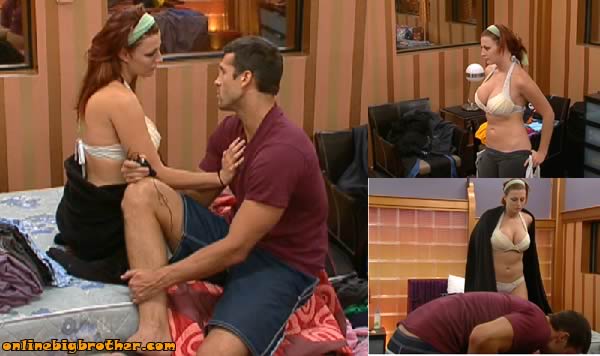 9:33pm Taj Brendon and Rachel what you thinking? Brendon i'll be your knight in shining armor and let you stay here.
Rachel: "I'm going to ask Brit one more time to use the POV on me.. she doesn't want money what else can we offer her"
Brendon thinks they can pin the sab on MAtt becuase there is too many inconsistencies in his story, Rachel has been trying to tell people but few want to listen.
Brendon: "do you think people would vote you to stay?" Rachel: "I dunno"
Brendon: "I'm going to ask Lane, enzo and Hayden to keep you here, Me and enzo are tight i'll talk to him first. I don't get why brit doesn't want you here".
Rachel: "Brit told me that she will tell me where the house will vote but she hasn't said anything yet"
Brendon: "I asked matt where the vote is going.. and he said it could go either way and he's not controlling the vote. Matt brought up your emotional issues and them not helping you"
Rachel: "WHAT MY EMOTIONAL ISSUES"
Brendon: "no no.. whatever I'm going to DR and i'm telling them i'm stiring up shit becuase I want Rachel to stay"
Rachel: "They'll tell you not to"
Brendon says he is going to be a dick to people to keep Rachel in the game, Brendon: "nothing personal I can say that to them"
Brendon: "You more important than some fake friendship"
Rachel: "I don't want you to look like a dick"
Brendon: "if anyone has been watching the show and if they know me they know i'm not a dick (douche?)
Brendon tells her that Rachel is fiesty and a master oft his game if she stays she'll win. Rachel whimpers though most of this a Brendon tells her how much he loves her and how he's ready to try and get evicted. Rachel keeps whimpering that Brendon has a good shot… He tells her whoever wins wins for both of them. Brendon tells her she has a bond with Brit which will keep her safe for a couple weeks plus he can get Enzo and Hayden. (oh man they have no clue) .. Rachel is not sure it's a good idea she thinks maybe she'll talk to brit first.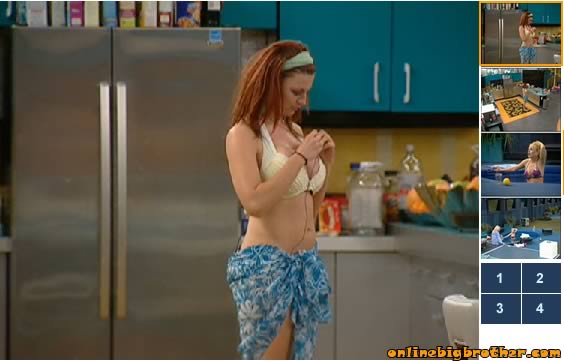 9:50pm Brendon's going to throw the game to a girl that at 7:30 told him this story
I drank a bottle of tequila in a bikini contest woke up shirtless with vomit all over her and a death grip on a wad of 100's