Watch it happens as it happens!! Superpass 3 Day FREE Trial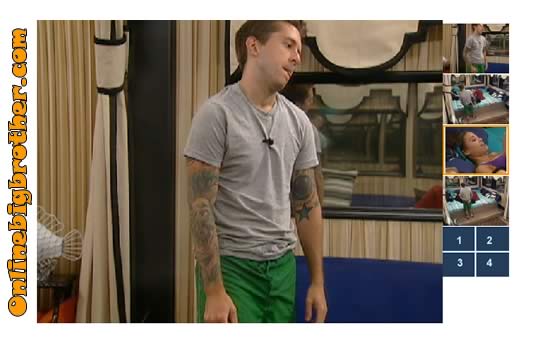 2:00pm Cabana Room matt, Monet and Brit Feeds start up and we hear Brit: "Everytime Rachel wears a bikini I am afraid Gonorrhea has gone airborne and we all need to run for cover" (Comedy gold)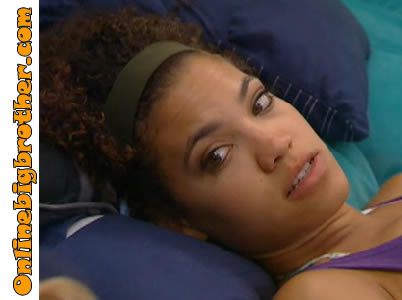 So the bashing continues.. They wonder why the entire house doesn't see that Brendon and Rachel have a final 2 and they are the biggest threat. matt thinks everyone see it "we just can't do shit about it right now" Brit says she's going to win HOH next week and tell Kathy that she won't put her up if she crawls across the backyard wearing caramel. They all agree that the Rachel's speech during the POC ceremony wasn't in very good taste. Brit "I've been working for 2 days to secure the votes… HUMMM you should of worked for 2 days to cover up the cracks" Matt tells them he feels that Brendon and Rachel are in alot of trouble "I know it doesn't help Monet and I right now but next week they're in trouble" Brit she should of just won HOH that is what we did wrong. Brit "If we won HOH we would have fresh sheets delivered to use" They comment on how weird kathy has been this week, they says she's been up there in HOH the entire time and it is pissing Rachel off. Matt tells them the fact that Brendon is a have nots is there best chance to win HOH.. Monet "it is but Brendon knwos that if he doesn't win he'll go home" Brit OMG this thing is soo drawn out cmon . Monet "everyone is so fake and up everyones ass i'm not like that".. Brit "for the most part this show is awkward and boring this game isn't very much fun " Monet "rachel is such a bitch why did she have to say what she did. Monet "She also should of worn a shirt during the POV ceremony.. Brit " but we cannot make all her decisions we can't dress her it's not our place. " Monet oh how unfortunate i'm going to flush her extensions down the toilet"
Monet calls her a dirty who why doesn't she go back to being a stripper.
Matt she's making science sexy
monet no she's making it trashy
Brit she shold of been on rock of love she so trashy



2:14pm Storage Room ragan and Matt. Ragan asks him how he's doing. Matt says that he's doing about as good as anyone can when there on the block. Matt says he's going to campaign for himself and he's not playing dirty. Matt asks if things change and he's in danger he would like to know from ragan. ragan says he will keep him in the loop. Ragan says that he's is now figuring out the game, "It's about pairs that periodically come together to accomplish a goal… "the pairs i see right now hayden/kristen, brendon/ rachel, kathy/ andrew and the two girls".
Matt tells him he knows for a fact that Brendon is lying to 2 people becuase he has told everyone that wasn't part of the meeting last night that if they voted his way this week than they won't get put up next week, "unless they've changed the rules You have to put 2 people up if your HOH so who's he putting up" Matt tells him he knows that everyone in that room last night are not buddy buddy with rachel and brendon there just there to survive. Ragan agrees and goes back to what he was saying earlier about the game is all about pairs. Matt says he watches a lot of BB and he personaly thinks that Rachel and brendon are playing a very bad game they have such a giant target on their back. ragan agrees he tells Matt lets just let them do that. Ragan adds that the best thing for Matt to do is not come out looking like a floater. Ragan says eventually they will be putting us two up together so we have to prepare to take out these strong players. They agree to keep talking and move forward to benefit each other.
2:25pm Backyard couch Enzo and Hayden talk game for a few moments they are saying that brit is the primary target for most of the other side. Enzo says that Rachel and brendon are freaking out right now because they're the target of so many people now. They both decide that Unless brendon wins HOH they are most likely safe next week.

Onlinebigbrother.com is around because of your donation every year the site costs us to host the images and run the 3 servers needed to handle the traffic. If you like the site then please consider donating to keep the madness going. Thanks!