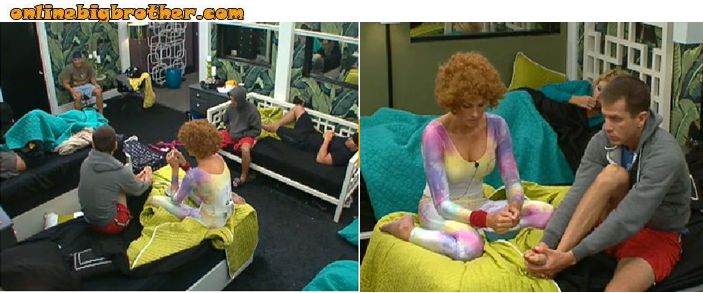 Watch all the DRAMA for the next 3 days for FREE!!
3 Day FREE Trial – With NO Commitments!
12:20pm Britney, Ragan, Hayden and Lane are in the bedroom talking. Rachel and Brendon are taking all their stuff out of the HOH room. Brendon comes into one of the bedroom. Lane asks him if he is moving in the taj-room. Brendon says that he isn't sure. When Brendon leaves the room Britney says imitates Brendon and says..or I will just leave my stuff at the bottom of the stairs. They all laugh. They make fun of Brendon saying that he's going to eat more carbs to secure his victory. Britney says that they need to eat something else to secure their HOH victory. Britney says lets put Visine in his water. Hayden asks can we really do that? Ragan says no you can do anything to hurt any one. Britney says lets just pull a Tanya Harding right before the competition.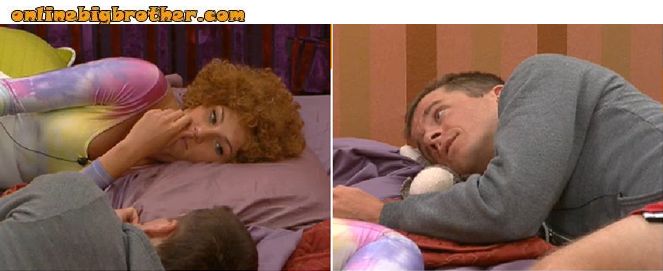 12:40pm Brendon, Kristen, Ragan, Hayden, Matt, Lane and Britney are all in the bedroom. They're talking about the car wash competition again. Ragan asks Kristen if she wants to talk in the other bedroom. Kristen asks so no one gave you a definite answer? Ragan says no. Kristen asks is it because Rachel and Brendon are threatening people? Ragan says no …and that he doesn't think any one cares what they think. The cameras switch back to Britney, Matt and Lane in the other bedroom. Lane asks if Britneys boyfriend would be jealous if he came up to Britney and hugged her real tight with his pecks pressed up against her and then he smells her hair. Britney laughs and says god and rolls over. Britney then says that she needs to go eat some fruit loops to secure her HOH victory.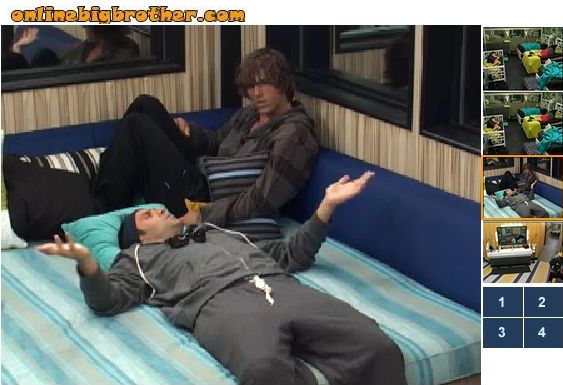 12:50pm Hayden and Lane are talking in the lounge room. Ezno says that they have to get Brendon out of the house …and says that they'll be going up if Brendon gets HOH because he (Brendon) likes Britney, Lane and Matty. Enzo says so we are down to 9 people after today. Enzo asks do you think there will be some kind of a twist or something today. Hayden says yeah there's a good chance there will be something today. Enzo says that Brendon thinks he's winning. Enzo says that he has had enough, that he wants everyone in the house to be booted. Enzo says that he is sick and tired of Brendon, Kathy, …everyone and that he can't even listen to their conversations any more.
They complain that Rachel might use up all the water in the downstairs shower when she could have used the one in the HOH. Hayden says that Rachel is doing her hair again in the bathroom. Enzo says why do it today .. why not do it in the HOH bathroom yesterday. Enzo says that Rachel a fucking bitch, get the fuck out already. Enzo says now he can see why people snap in the house. Hayden says its selfish. Enzo says yeah! They start making fun of Brendon and his skin tight jeans. Enzo says that Ragan keeps talking to him saying that he is terrified …Enzo says shut the fuck up …I'll put you up ..yo!  The feeds cut out for a few minutes.  When they come back Enzo is talking about Kristen saying that she's going home … and that you just cant go off telling people that you're coming after them. You just can't do that, yo!  Enzo says that you have to be fake in the house.  Hayden says yeah, Kristen is hot though.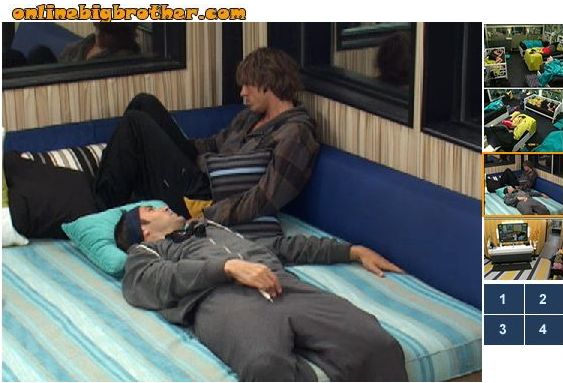 SEE what they CAN'T show you on TV!
3 Day FREE Trial – With NO Commitments!

1:10pm – 1:20pm Brendon is cleaning up and vacuuming for the live show tonight. Britney, Matt, Ragan and Lane are all taking a nap in the bedroom. Enzo is taking a shower, while Rachel and Kathy get ready in the bathroom. Britney joins Rachel in the bathroom and eats a bowl of fruit loops while Rachel gets ready. They talk about how they think the competition tonight is going to be crazy. Britney says that she doesnt want to do her hair all up because she doesn't want to go through all the trouble just to have it mess up.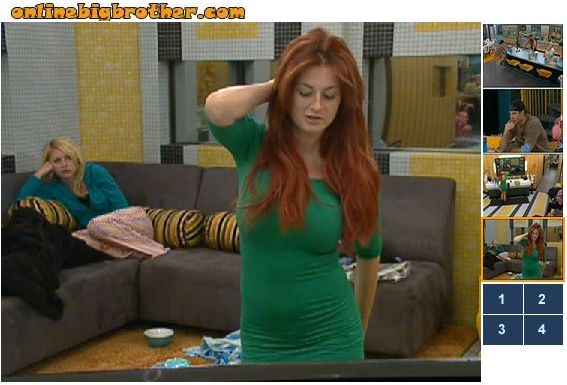 1:30pm – 1:50pm Brendon, Ragan and Hayden are in the kitchen making lunch. Ragan's making pasta, Brendon and Hayden are making a pizza and slop. Lane and Enzo are in the lounge room talking. They say that they can keep Britney around. Enzo says that Ragan is talking to everyone and that if he gets HOH two weeks from now he will probably put up me (Enzo) and Hayden. Ragan comes in and talks to Enzo and Lane. Ragan leaves and Enzo says he's always brown noising… just like Annie. Enzo says that Matt is too close to Ragan. Enzo says final four baby. Enzo says that he thinks Kathy will be here for a while. Enzo says that we're going into war now with all the heavy weights… Kathy will be around till final 5 yo! Lane says it will be a close vote …6-1 …they laugh. Lane says sorry (Kristen) but you're going up against the Brigade. Ragan and Matt join them in the lounge room. Enzo asks Ragan if Kristen knows that its a wrap. Ragan says that she was crying, but that she is being a good sport. Enzo says that Kristen doesn't deserve to be booted out 6-1 and especially not before Kathy. Lane says that's Big Brother for ya. Enzo says that Kristen is a cool girl. Enzo starts talking about how he was going crazy being locked up in the HOH room and having to listen to Rachel and Brendon. Hayden and Ragan leave. Lane talks about how Brendon alienated himself by getting with Rachel and how no one likes him.. Enzo asks why would you align with someone you arent even going to have a relationship with outside of the house. Enzo says that once Brendon is evicted, Rachel will have another showmance with someone else in the house. Enzo says that once they get Brendon out …they should keep Rachel around as a target and go after someone else like Ragan. Enzo says that Ragan and Britney are playing the best game other than the brigade.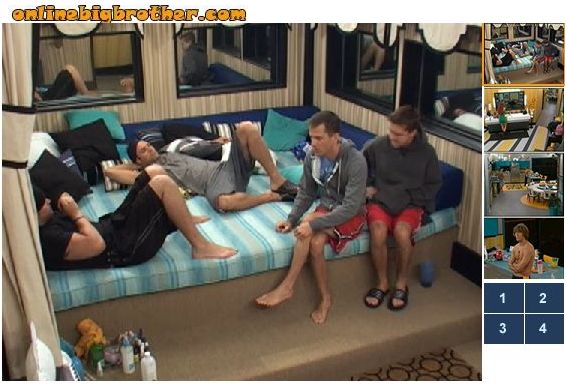 1:50pm – 2pm Britney and Brendon come into the lounge room. Brendon says that he made slop because it has carbs and protein. Britney tells him to tell everyone why she will lose tonight because she ate fruit loops. Brendon says because your body will burn through it too quickly. Britney says that she is going to go eat another bowl just to jazz it up ..biam! The camera guys zoom in on Brendons messed up toe. (Last night Britney was making fun of him calling him the saber toe tiger)