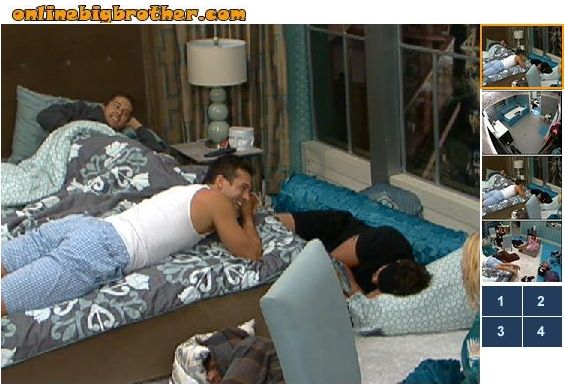 10:15am – 10:50am All the house guests are laying around the HOH room. Brendon is talking to Matt about his job he quit because they mistakenly fired him. Brendon and Matt talk about Scientology. Britney, Matt, Lane, and Brendon talk about bar fights. Britney talks about her ex-boyfriend who got jealous at a bar because she was talking to some other guy. Brendon says that if a guy grabbed his girlfriend's ass he would go fight him to defend his girlfriends honor. Rachel and Britney both tell Brendon NO! …and laugh saying defending her honor?! They both says that some guy grabbing their ass isn't something to fight about. Brendon, Matt, and Lane ask Britney a ton of questions about her boyfriend Nick. How tall he is, how much he weighs, what type of clothes he wears. They start making fun of him when she says that he wear golf clothes all the time. Brendon, Matt and Lane all say that they can totally picture what he looks like. Then Rachel asks her if he has facial hair. Britney says that he has a beard like Lanes. All the guys say that they didn't picture that … They ask him how hairy Nick is, if he has any broken bones. Britney says that he broke his back on the 4th of July jumping into a pool. They ask her what kind of music he listens to and she says Jack Johnson, and John Mayer. All the guys say oh now that's the Nick I know … that matches the golf tees and sweaters. They all say that the beard still doesn't match and that they don't like it. Lane calls him the poser beard guy. Matt asks if they are talking about the same Nick because his Nick doesn't have a beard. They all say that they want her to win HOH tonight so that they can see the beard. Rachel says that she thinks she has met Nick and that she thinks she dated a guy like Nick. Rachel says that the guy she dated wore three shirts with all three collars popped. Britney says Rachel I think you have the wrong idea about her Nick …he would never do that.

12pm The talk turns to Rachel talking about Vagas. Rachel talks about the people she knows, the places she goes, how much to tip in Vagas…. Rachel says that she gets in trouble all the time in Vagas, but that everyone still loves her …she figures that they love her because she gets in trouble. Matt says that something seriously fucked up is going on with the show tonight, why else would they need over 2 hours to get ready. Matt says that they do this week after week …something is going to happen …something is different. Rachel says what if they aren't evicting anyone? Matt and Britney say no.. Britney says that they are already setting them up for a double eviction.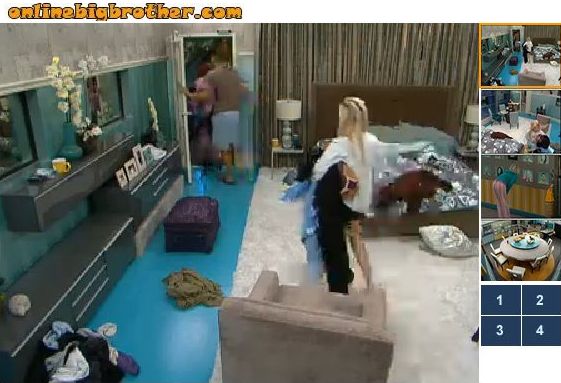 12:13pm Big Brother lets them out of the HOH room.