11:10pm Rachel and Brendon continue to talk their relationship and what they have in the house. Both Rachel and Brendon agree that while they're in the house they won't stage a fight and break up. They both agree that would not work even if they wanted to. They say that once they get out of the house they will go on their first date. Rachel tells him that he owes her a few dates. Brendon says this isn't a showmance. Brendon says that he wants them to have as natural a relationship as humanly possible in the house. Rachel says that she isn't a fast slow relationship person, she's more a whatever happens, happens person. Brendon says that he's not saying that he doesn't think they are going too fast. Rachel thinks that Brendon might think she is too wild. Brendon says that he has trust issues.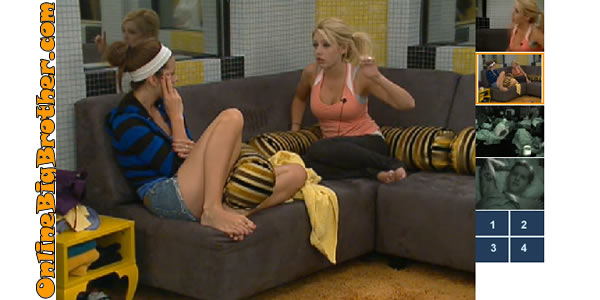 SEE what they CAN'T show you on TV! Superpass 3 Day FREE Trial
Britney and Annie are talking in the bathroom. Annie tells her that Hayden was going to start talking to people one on one about who they want to evict. Britney tells Annie that Kristen hates her and has no idea why. Lane joins the conversation. Annie says she talked with Hayden and she thinks she has a chance to stay in the house. Annie says that she is going to keep talking to people and tell them again why they should keep her. Annie says that Hayden wants people to vote for themselves. Annie has the impression that people wanted to vote for her but they were scared to because they thought they would be sticking their necks out. Annie says that if she stays, her only target is Brendon. Annie leaves the room. Britney and Monet talk about her. Britney says that Annie thinks she is going stay because of her conversation with Hayden, but that Hayden probably just told Annie what she wanted to hear so she would shut up. The conversation changes, Britney says that she came into the house chubby, and now she's obese. She says that Jordan was so skinny when she started and when she won everyone was calling her Shamu.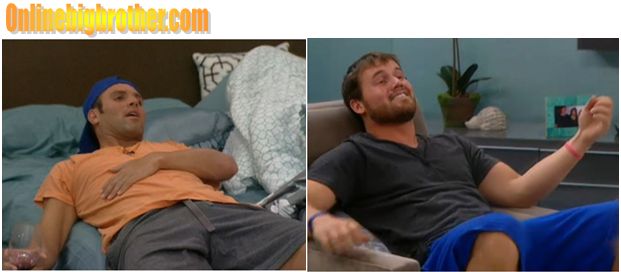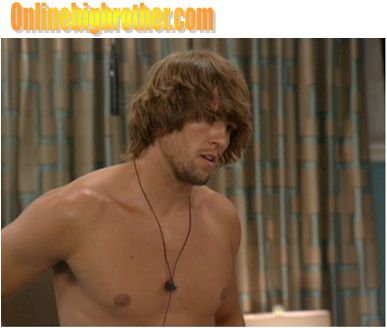 Up in the head of household room Hayden is talking to Lane about the votes. They discuss the possibility of keeping Annie. They don't think Enzo would agree to it though. They say that Enzo is a loose cannon, and that they will probably have to backdoor Enzo once they get to voting people into the jury house. Lane says it might be better to keep Andrew around for now. Hayden asks Lane about the saboteur and the life long friendship message. Lane says that he really thinks Brendon is a part of it. They say that they don't believe their four are the saboteur. Lane says that it could be Matt because Matt moved from the couch to the chair during lights out. Hayden says WOW, and Matt is always bringing up stuff about the saboteur.

Try the live feed streaming video of the house for free! 3 Day FREE Trial
11:45pm Monet, Kristen, Hayden, and Britney are talking about Annie. Hayden tells them that he didn't want Annie to go off on anyone tonight, so he told her what she wanted to hear. Hayden says that Annie made some good points about keeping her, but Hayden has doubts. Kristen says it's too late to turn back now. Hayden agrees and asks if Kristen thinks Annie is definitely going. Kristen says yes. Britney asks Hayden if he was just saying good things to Annie to get her to shut up. They laugh about how much Annie talks. Britney says that she should have told Annie to go talk to Enzo, because he's torn about this decision. Britney says that Enzo needs you (Annie) to figure out some things for him. Britney laughs. Britney asks Hayden again about Annie staying, and he says they will talk tomorrow. Hayden leaves the room. Monet asks Britney if she thinks Rachel staying would be better for them. Britney says she doesn't know. Monet says that Rachel will be coming after them 100%. Annie comes in and talks to Monet and Britney again. Annie says that she thinks Hayden is for her. Britney tells Annie that Monet, her and Kathy would vote for her. Annie says that Lane and Matt would too. Annie says she really wants to get rid of Brendon. Britney asks Annie where her loyalties would lie once Brendon were evicted and Annie says she would have to clear the air with everyone first.  Britney says that evicting Annie would waste a week and that she wants to get people out in the first 4 weeks that she doesn't want to be in the jury house. Britney says that she would rather have Annie get into the jury, than Rachel. Britney and Monet says that they are worried that Annie would go back to Brendon. Annie swears on her mother's life that she wouldn't. Britney asks what if Rachel were to get out, Britney wins HOH, and then uses Annie as a pawn to backdoor Brendon? Britney says that she would put Annie & Andrew up and whoever wins veto saves either Annie or Andrew and then they put up Brendon up. If Brendon won POV, then Andrew would go home. They tell Annie that she would gain everyone's trust if she agreed to be a pawn next week. Britney says that people thought Annie was making a lot of alliances. Annie says she understands why people thought that and she learned her lesson even though that wasn't what she was doing. Britney tells Annie if we save you and you win HOH, you cannot put me on the block until final 6. Annie asks final 6? And Britney says okay jury. Annie agrees to not go after Monet or Britney safe until jury. Annie says her targets are Brendon, Andrew and Kristen. Britney says that Andrew is shady; he is smart, weird, and good at competitions. Britney says that Andrew is bipolar, half the time he's kosher Jew, and the other half he's satan. They are still thinking he is the saboteur. Britney says if she votes for Annie to stay, she'll have a favor in the bank with Annie that she can cash in at any time. Monet and Britney both say that if it comes down to one of them and Annie in the HOH, Annie has to throw it to them.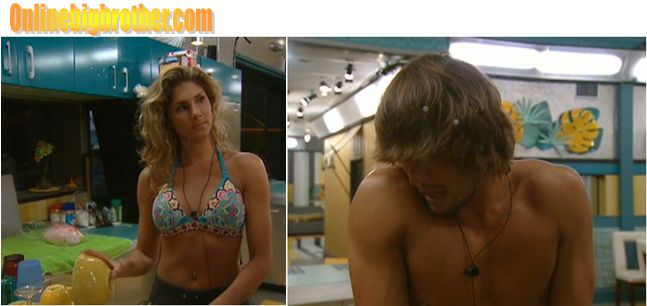 Up in the Head of Household are Hayden, Lane and Enzo talking about Annie. They all think that Annie needs to go this week and that Brendon should go next week. Lane says that he feel fishy about Brendon, that he would not be good in the brigade alliance. They agree that they won't let anyone know about their brigade alliance till the end. They say that they need to watch Britney.

1:30am In the backyard, Hayden and Kristen are talking and flirting. Hayden calls her weird, he asks her to tell him some stuff about herself. Kristen talks about her high school. Kristen says that she is kind of predictable once you get to know her, she has a shield up but once you break through it's a different story. Hayden asks why she didn't look at him the first day when they were going to enter the house. Hayden says that Julie asks them to look around at the people around them and you wouldn't look at me even though I was standing right next to you. Kristen says it was all so awkward, she was nervous. Hayden says that he can see her being manipulative. Kristen says no, not really. Kristen says that she is complicated. Hayden says that can be a good thing, he tells her he likes that she is weird. Hayden says that girls like Britney drive him up the wall and would never date her. Kristen agrees and says she could never be friends with a girl like that. Kristen tells Hayden that he is a little weird too but that she is more weird than he is… Hayden talks about them having a showmance would be bad for both of them. Kristen tells him it sucks that they can't hang out together during the day because people might catch on. Kristen thinks that Britney and Monet are big threats than Brendon. Kristen says that she hopes that Andrew wins HOH, she says the house would go crazy. Hayden says that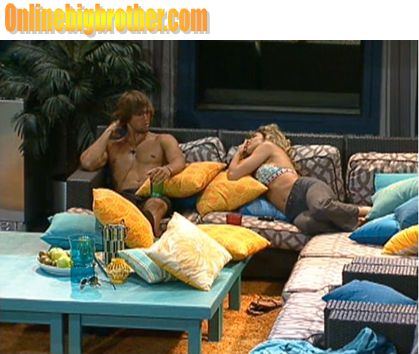 Brendon thinks he has Andrew is in his back pocket. Hayden says that Brendon kind of threatened him today by telling him if Andrew wins I'll try to convince him not to put you up. Hayden says UUHHh, yeah thanks. Lol Hayden thinks the saboteur's message today about escaping the block this week means that its Brendon.

Live Feed 3 Day FREE Trial
1:50am Hayden asks Kristen what she is like when she goes out to a bar, if she's stand-offish? Kristen says yeah, even when she tends bar she is the same way. Hayden asks her what type of guys she likes. Kristen says that she likes guys that aren't cocky, and that those are usually the type of guys that approach her. Hayden says a guy would have to be cocky to approach a girl like you. They start talking about game again. Hayden says that Britney should go next week. Kristen says that even if Monet went home and Britney stayed, the next week I'd go full force against Britney. Hayden agrees that it is a good move to eliminate them. Kristen says that in a perfect world she would get all the girls out except Kathy and Rachel. Kristen wants the evictions to go Britney, Brendon, then Monet. Both Hayden and Kristen really wants Enzo to get HOH to put up Brendon so that the blood is on his hands. Kristen says that she loves Ragan as a person, but you never know, he is one of the smartest people in the house, and he's a floater. Hayden is worried he'll float to the final three. Kristen comment that she thinks it was fishy the way Brendon won the power of veto competition. Hayden and Kristen decide to go to bed….

2:15am All the houseguests are asleep….
Share it YO!!
Tweet