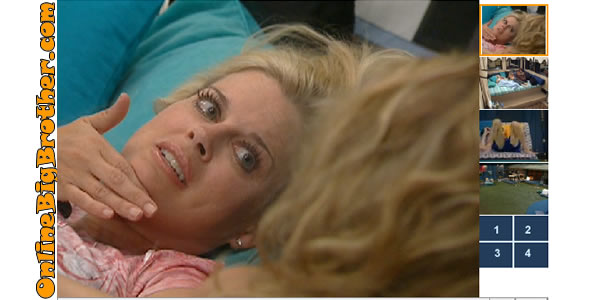 10:30pm Cabana Room
Hayden, Kath and Kristen are laying down chatting. Hayden and Kristen share stories about when they use to wrestle their siblings and Hayden hurt his sister once and every since she doesn't wrestle him. Kristen busted her brothers chin open and it start to bleed everywhere. Hayden "Chin cuts bleed all over" Enzo steps in at one point tells them they have liquor and their thinking about saving it to get fucked up tomorrow… he leaves and the 3 go back to chit chat, counting the fish, bratty kids etc etc.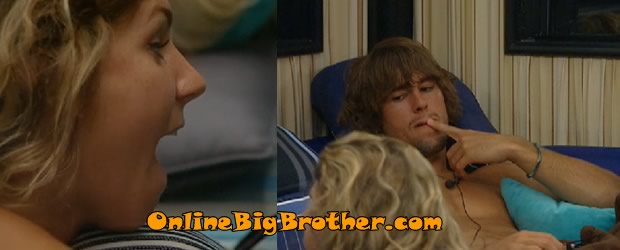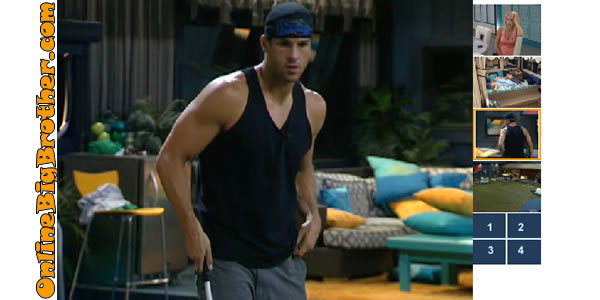 10:35pm Backyard Brendon and Ragan Talking about the poltics in the house/ Brendon is talking about Enzo and how he doesn't know what he'll do with the vote, "He might go with the house he might not i dunno" ragan agrees, ragen says that a lot of people have Brendon's back and he shouldn't be worried. ragan points out that Brendon will most likely be backdoored to prevent him from winning POV. ragan admits that he's not a big game talker and he's only talked to a small group of people in the house. Ragan mentions how Enzo is kinda iffy to him because he they don't talk. Brendon says in this game if their not talking with you there talking about you. ragan agrees. Brendon says he wants to keep genuine people in the house. He's hinting that Britney and Monet are fake. Ragan says he would love for Andrew to win HOH and get back at all the people that mess with him. They both agree that Lane is genuine, he's a strong player but genuine. Rachel comes back from being in the DR and Brendon is practicing with the golf clubs. He tells her he's like Tiger Woods but he doesn't cheat on his wife. Rachel asks him if there was 30 girls in vegas if he would… "you know a lot of the girls in vegas have little Morals"

Onlinebigbrother.com is around because of your donation every year the site costs us to host the images and run the 3 servers needed to handle the traffic. If you like the site then please consider donating to keep the madness going. Thanks!