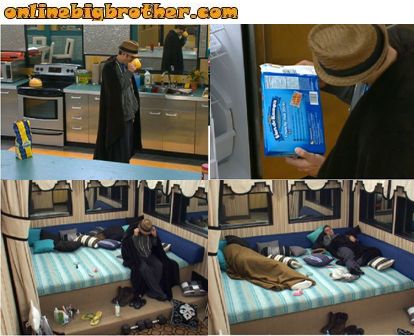 8:30am Enzo is up and waking around the house with his black blanket draped over his shoulders. He wonders into the bathroom, goes to the washroom then heads to the kitchen to make a drink.  He grabs the fish sticks box and looks at whats in them, then goes to lay down in the lounge room.  Not long after Brendon joins him and lies on the bench completely covered by his blanket. Enzo talks about the fact that they can't sleep well and how cold it is in the have not room. Enzo says that there is some shit going on in the backyard. Brendon says yeah you were right about Godzilla. Enzo says that next week he has to be able to eat and that he can't be on this not eating for two weeks. They talk about how bad fish sticks are for you. Enzo says that they have to eat something because they are going to have a challenge.  Enzo says that he hopes they will let them have a meal before. Brendon says he doesn't think so. Enzo says that they just have to bang it out tonight. They talk about how shitty it is being a have-not, the showers suck, food sucks, they just want a real bed.  Britney, Hayden, Matt and Ragan join Enzo.   Britney says that people in jail should have to eat slop.  Hayden says that he wants to know why people that are in prison sit around for thirty years before they are executed.  Britney say amen, just kill them.. she says if she was in prison for killing a whole family or something …she would want them to kill her.  Lane then joins them in the lounge room.




9:40am Up in the HOH room Rachel is stretching on the floor while Kathy gets ready in the bathroom. Brendon joins her up in the HOH room. Brendon and Rachel talk about tonight's HOH competition and what will happen if certain people win HOH. Brendon says that he only trust Rachel and Andrew and that they don't know what Kristen would do if she wins. Brendon says you can only guarantee safety for a week. Brendon says that his biggest fear is if Britney or Kristen win HOH. Rachel tells Brendon that he should make a deal with Kristen for this next week only. Rachel tells Brendon that he or Andrew has to win tonight. Brendon says that Andrew is only other person he trusts.

9:55am Lane, Britney and Monet are the only ones left in the lounge room. Lane and Britney start to play fight and Lane gets on top of her and pushes her head into the mattress.  Monet asks him what he is doing and Monet says that he's a jerk.  Lane stops and says why am I an jerk she started it.  Britney asks Lane if he is impressed by how she got away from him.  Lane says no.

SEE what they CAN'T show you on TV! 3 Day FREE Trial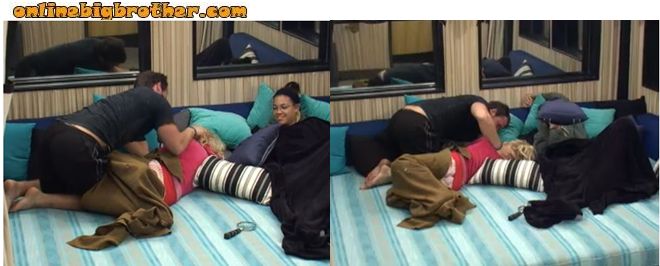 11am All the house guests are on HOH lock down.   Brendon, Matt and Hayden are talking about video games. Kristen and Rachel are getting ready in the HOH bathroom. All the other houseguests are laying down trying to sleep or staring at the wall….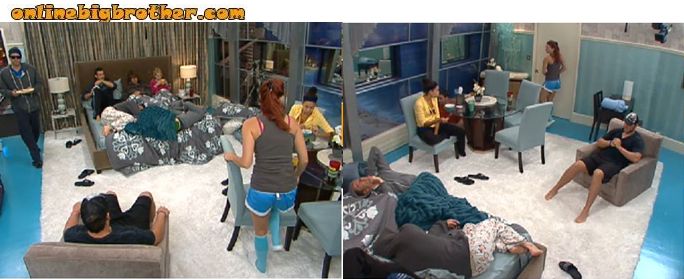 Share it YO!!
Tweet