11:40am All the houseguests are still on HOH lock down. They laugh and joke about Natalie. Britney says that she is probably the most hated houseguest ever. Britney says the comments under her wedding photos were all really mean. She says the messages where like who would spend their life with her. And how her husband wore a white track suit. They joke about how Kevin was the only one to show up to the wedding, that's how much the other houseguests hated her. Britney jokes that Natalie's garter belt was Jessie's gym shorts. They talk about how they called her sea hag on the show but that she nicknamed herself Portuguese Princess. They talk about how Jessie & Lydia banged in the HOH bed and so did April & Ollie. They all talk about how gross that is, but glad there is a new bed this year. The conversation changes to the Rachels HOH blog and tweets.

SEE what they CAN'T show you on TV! 3 Day FREE Trial
12pm – 12:15pm They start talking and joking about Annie. Britney says that if Annie if she won the veto. Britney says that she would replace her with the old Annie. They all laughs. Britney jokes about Annie calling her out and saying she said spiders weaving tangled webs, while we weave.  Britney says that after Annie came up to apologize for saying what she did and Britney and Britney says she was like thats okay I didnt know what you meant anyways.  Britney laughs about how Enzo had told her that he is going to freak out if Annie comes up to her again to talk to her about the votes, and Britney says that she then started telling Annie to go talk to Enzo because she thinks he is still undecided about which way he will vote.  They all laugh.  They talk about how Annie said she doesn't smoke and the last week she was smoking Kathy's cigs like crazy.  Matt asks if Annie said goodbye to Britney and Britney says no …she called me a weaving spider.  They all laugh.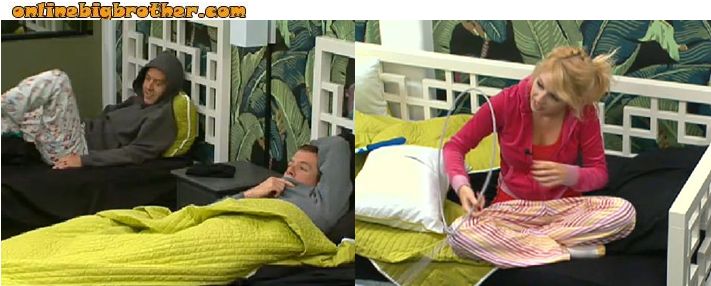 12:30pm The HOH lock down is over.. Kathy heads to the bathroom to get ready, Kristen goes to the kitchen to make make some food, Lane is vacuuming the bedroom while Lane and Britney talk about the endurance competition they think is happening tonight. Ragan says that he is going to bundle up so that he isnt cold. Britney says that this week has been really bad for her and really emotional. Matt asks her if she is all done with her PMS'ing. Britney says yeah. They start talking about the competitions and whether they are predetermined or if they pick them after to alter who wins based on people strengths. Britney says that there was no way a girl could win the first HOH. Hayden agrees that it was built for someone bigger. They then start talking about all the clothes that they brought but Big Brother wouldn't let them bring them into the house. Britney says that she was told if it had a logo or something on it that was less than an inch wide, they would just try and cover it up with marker. Big Brother keeps cutting out the feeds when they talk about production.
Share it YO!!
Tweet