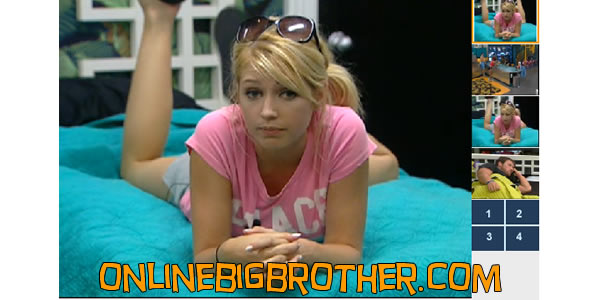 1:45pm In the bedroom, Lane is having a conversation with Britney. Lane wants to see what Britney is thinking. Britney says that she really wants Annie to be evicted this Thursday. Britney says that its not personal but that she just doesn't think that Annie's word is any good. Britney says that there is less of a chance Rachel would come after her. Britney says that Annie just starts drama and that if Rachel said anything last night, it was much more toned down than the way Annie said it. Britney says how she thinks how the confrontation went and that Annie is the type to exaggerate what happened. Britney says that Brendon needs to go but Rachel isn't a threat. Britney says that she was told by Annie that Britney was badmouthing her. Britney really wants to know who is saying things about her. Britney can't figure out who did it, she could be a target. Lane says that he hopes Britney isn't going home next week.
Britney says that there are so many wildcards in the house, she lists off Kristen, Andrew and Ragan could be after her and she wouldn't know. Britney thinks Rachel isn't making her own decisions, would do what Brendon wants as HoH. Britney and Lane try to figure out who Brendon would target. Lane worries that Brendon would want to put him up. Britney says that Brendon wanted her and Kathy up but that may have just been his way to not go on the block, not because Brendon was after her Lane says that everyone thinks that Britney is playing the retard card and that he's not sure if she is or not. Lane starts flirting with Britney. Lane and Britney both agree that it's really hard to refrain from making out together. But that Lane knows its going to happen.
2:20pm – 2:30pm Lane says that they need to plan for jury votes, and to figure out which three people to get out before that. Britney sometimes thinks Andrew likes her and sometimes not and that she doesn't know about Andrew, so she's not sure if he would vote for her. Monet comes in. Britney and Lane joke about different scenarios of Monet's bed situation, like if his arm or leg were to fall on her during the night …how would she get out of it. Britney and Lane tell her to show them how she would get out of it… and she does. Monet gets on the bed and she shows Lane how she would get his leg and arms off of her. They are having a really funny conversation. Britney asks Monet to make it to the final 6 would she touch the tip of her tongue on his balls sack? Monet asks on or off camera? Britney says off camera. Monet says yeah I would do it. Lane says YES! Britney asks to make it to final two would you like his gouch? Britney says something to think about… Monet debates it and finally says yes she would to make it to final two. They continue to talk about some really funny sexual scenarios to be guaranteed a spot in the final two. Britney asks Matt, would you let Monet drop a grenade …butt hole to mouth for the final two. Britney asks Lane …would you let Jerry superman that hole …you?
Share it YO!!
Tweet