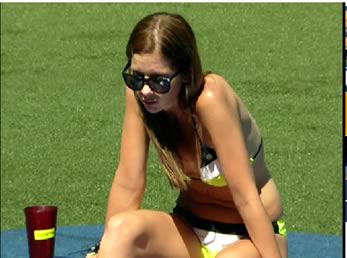 3:20pm JULY 13TH Backyard Pool Annie and Kathy. Annie is trying to explain why she is the one made out to be a target. She says she started talking to everyone early on because she wanted to get to know people she thought this is how you play the game. She says "Don't think all i ever did was talk game" she goes on and one about this. . At one point Kathy tells her she doesn't want to talk about game anymore she wants to know more about who Annie is and about Annie's girl. Annie goes on to explain her partner. She says she's a administrator at target and that she's totally different than Annie. Her partner Jen, is the most kinds generous person, there always giving out money to strangers and making sandwiches for the poor.



3:45pm Main bedroom Monet and Britney Sleeping after all their sex talk.

3:50pm Backyard Enzo and Andrew joins Annie and Kathy out side near the pool
Annie is telling them that lane told her he wants to eat a peach while he shits.. Enzo "he's a ogre that kid he eats when he shits". kathy "Uh what?" Andrew "A ogre"… "A O G" (lol what?) talk drifts around Andrew tells them that he was a member of the pie of the month club and they shipped him a pie every month… Like apple pies and cherry pies etc.. Enzo is planning on making chicken Parmesan… He's complaining to Andrew, Kathy and Annie that he can't stop eating.. .he starts to get up to go get more food and they talk him out of it. Eventually Annie leaves to go bug ragan and the talk between them shifts to Annie. Both Kathy and Enzo agree that Annie has to go this week. Kathy says whats she's doing isn't helping her out one bit.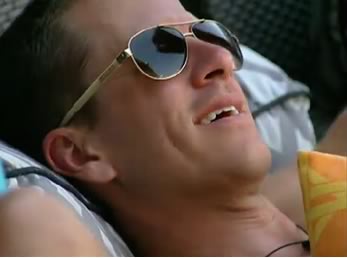 4:10pm – 4:30pm Backyard Hayden 100% tuckered out… until Annie goes and wakes him up.. poor Hayden listens to the same thing Annie has been saying for the past 36hours. (Annie's trying hard but it's pissing all the houseguests off and pissing the live feed viewers off) Ragan is there as well, Annie tells them she's willing to do whatever it takes to get to stay in the house. She says she'll throw the HOH, she's 100% trustworthy. Hayden tells her that she's up on the block becuase she's such a big threat and that is the only reason. He says physically your on par with the other girls and mentally you are equal to some of them but socially you are very string. Monet joins them eating a nectarine. Ragan does a good job of the changing the subject, they start talking about going on a trip after BB is over. Hayden suggests they do it right away after the show because after 6 months nobody will care about Big Brother.
4:35pm Kitchen Monet cutting up fruit and making a salad.
Share it YO!!
Tweet