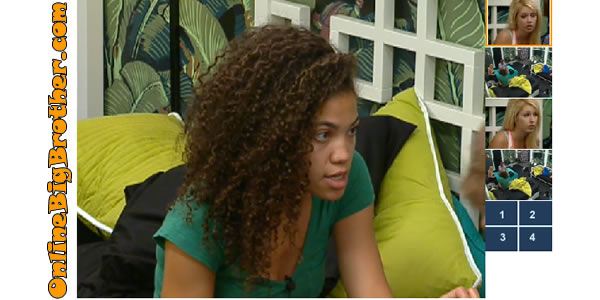 4:28pm bedroom Brit and Ragan
Brit: "Andrew has been meticulous listening to all these noises preparing for the HOH challenge "they said he sat here for 15minutes trying to calculate the sounds". Ragan says that he needs to start studying for those and he leaves.
Monet comes in and brit tells her that Andrew is studying all the sounds he's spending so much time doing it that she's getting worried, he's the one that CANNOT GET HOH next week. They start comparing notes about the noises.
Brit starts counting the noises she counts 4, "thats not enough for a competition questions so there must be more"
They agree that they'll need to count things in the house.. all of a sudden a buz starts.. Brit says "see it's lilke a high pitched bell"…"listen something else will follow".. Monet: "theres not going to do it on just these 4 sounds there has to be more to it" Lane walks in.. asks if brit knows where Hayden is Brit tells him he needs to get off Hayden's balls he's not HOH after tomorrow" right then theres a cricket theres a high pitch buzz theres a straight beep. Hayden
www.onlinebigbrother.com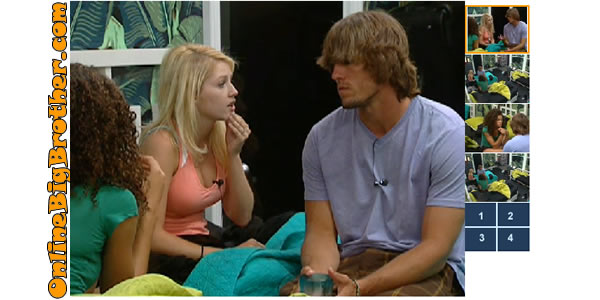 walks in and Brit tells him that Lane thinks he's hayden's boyfriend. Brit starts telling hayden about her concerns about Andrew and the recent news about Brendon and Rachel being the couple. Brit and monet start going over all the things in the house they have really memorized everything. "8 fake lemons 6 yellow leaves 6 long ones 5 green candle holders 6 pottery sculptures things are missing off the table there was 6 fush but some are missing.. 8 big flamingos 8 small flamignos" Brit warns them that Andrew is at the top of his game right now they need to make sure he doesn't win HOH. Monet now start explaining her conversation with Annie last night (I won't bother retyping it just follow the links). Brendon is not what he says he is his job is different.. . They tell him that Andrew, Rachel and Brendon are all together and that Brendon and rachel are the pair.. they go over all the evidence. They says that Annie knows all the secrets and she's going to bust it out tomorrow when she leaves. Brit mentions that they are trying to get her to shutup so they can use the knowledge to their advantage. hayden says that is alot for him to think about. Brit says they wantted to talk to him last night but he was in the hottub… at that point Annie walks in and they go back to talking about where the cricket sound is coming from, Lane says it comes from that corner brit says the other Annie thinks it's from the ceiling.
www.onlinebigbrother.com
4:20pm-4:55pm Kitchen Rachel, Brendon making dinner hayden comes in and starts talking about the sounds.. rachel tells him her theory about how the HOH comp will go.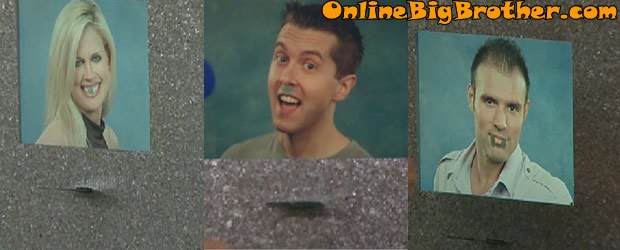 5:00pm Brendon fucking with the memory wall

Onlinebigbrother.com is around because of your donation every year the site costs us to host the images and run the 3 servers needed to handle the traffic. If you like the site then please consider donating to keep the madness going. Thanks!