SEE what they CAN'T show you on TV! 3 Days FREE No Commitments
5:50pm Taj Room Brendon and Rachel Rachel tells him she talked to Brit and she's not using the POV. Rachel had offered her any deal imaginable and the 5 grand but Brit thinks it's going to ruin her game if she uses it.
Brendon doesn't want to see Rachel campaigning to leave, Rachel isn't going to do that. Rachel doesn't want to see Brendon trying to get people to vote for her either she knows she's leaving she fine with it. Rachel says it hasn't been bad on Big RBother she won 2 HOH's and Won 5 grand. Rachel: "i'm going to have to give you all my knowledge of big brother and we're going to practice and that is all we're going to do". Brendon: "You have a better chance to win this then me you have to stay it'll be easy for me to get them to vote me out" Rachel really doesn't want him to do that she thinks it's best for her to just leave, this house doesn't hate him as much as they hate her. Brendon disagrees he thinks she whold attach herself to Brit they can spend the week dumping everything on Brendon (this is a funny conversation because a hour ago Ragan said this was going to happen to Hayden) Brendon really wants Rachel to stay he's not confident in his ability to success in the game. Rachel tells him he has to be nice to everyone he has to work his friendships with Enzo and Hayden.
6:00pm Backyard Brit, Ragan, Hayden and MAtt. Brit tells them about her conversation with Rachel, Matt asks why was there yelling. BRit had told Rachel she was not using the POV and Rachel was fairly normal about it. Then Brendon had walked into the the room and was telling Brit how awesome she had done in the POV and how proud he was of her. Brit: "I think they actually thought i was going to use the Veto on them". Brit then left the taj and a few minutes later you hear brendon yelling. Brit says I told Rachel i'm not using the POV she can do whatever she wants but she's not using it and she's done talking about it. Brit told Rachel they can talk about other things all week but the game is off limits. Matt thinks that was a good way to approach it. BRit agrees she says at one point she saw the crazy look in Rachel eyes but it didn't last for long. Brit brings up the money and how Rachel thought that 5grand would save her, Brit: "Umm Rachel it doesn't matter if Annie was up against you one of you are going home" Brit explains that she told Rachel over and over that one of them (b/r) is going home this week regardless of what happens. Matt jokes "Rachel would still go home if it was her up on the block right beside the saboteur in full saboteur gear". Matt starts doing the saboteur voice and does a mock eviction speech "I really want to get to know you all It was nice meeting you.. with a vote of 6 to 0 Rachel is evicted from the big brother house" Brit tried to explain to Rachel that theres not much they can do she needs to act like herself this week and try and show people the good side. They all hope Brit presenting everything to her logically will prevent Rachel from being a psycho. Brit: "oh well… They'll probably come after me hard throw me under the bus and make me look like shit" Ragan tells her not to worry everyone sees it coming, just don't take their bait. They start talking about Kathy taking out Rachel right out of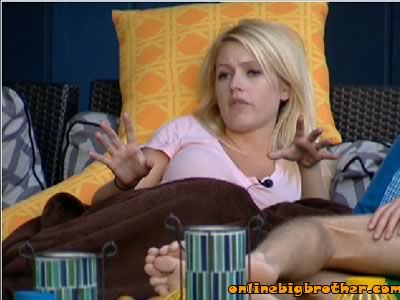 the gates during the POV. Hayden "that was great to see Kathy do well at something and something that was so important" they are all proud of kathy. Brit thinks it's funny that B/R were so happy earlier today when they found out Brit and KAthy were the ones playing on the POV and they were the ones that knocked them out of the game. Brit: "think of it this way imagine how much food will be left in the house if we get Brendon and Rachel out these next 2 weeks". Enzo walks out to the backyard "Yo i've come up with a new alliance name for b/r it's called whaa whaa". Everyone is getting in a good mood they think the drama is finally over. They start talking about Brendon's constant complaining about the competitions Brit: "If i have to hear him talk about small ledges i will jump off a small ledge". Matt: "Big feet small ledges twisted webs of deception". Brit mentions that Brendon is now saying the bar was not in a good position during the last HOH comp. Both Matt and ragan think that is totally bullshit the bar was favoring him big time.

6:49pm Backyard Rachel Sad in a unfair Game