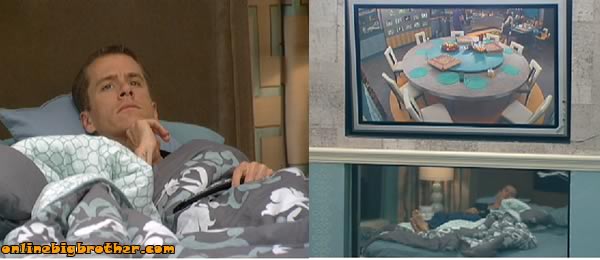 SEE what they CAN'T show you on TV! 3 Days FREE No Commitments
7:30pm HOH Ragan
Feeds ckip to the HOH ragan starts talking to the camera: "good love conquers all immediately b/r jump up ecstatic (regan impersonates Rachel hideous laugh) they jumped into the taj which makes them look so super duper suspicions and the down side is now everyone else is kinda freaking out because the fear is that Rachel was given a coup d'etat power and as sab she is leaving this message to taught us"…" Now B/R is walking around the house all peppy and smug"…"Brit is walking around pissed becuase of the sab message, she knows that if Rachel has the coup d'etat then lane and ragan will go up which puts brit in a bad situation"..
ragan: "Rachel who is dressed like a call girl but call girls are the ones that make money so she more like a street prostitute" ragan: "her vagina is poping out the back of her dress.. my v neck is longer then that dress"
Ragan: "The sab message is kinda cool becuase it's brought a calm into the house b/r think they will be safed and everyone is too scared to cause drama" Ragan: "so this is the last night for Rachel Reilly before she's booted out extensions and all".."before i stop talking to you tonight i'll tell you the cooelst part of the day is we got to listen to music through the entire pizza party".. Feeds cut…when we come back Ragan's still laying on the HOH bed looking at the HOH CCTV, ragan: "rachel rilley's last night in the house…. yuck it's like looking at a venereal disease in a microscope". All of a suddent he sees her coming up to the HOH room, "BLANK i'm not going to get caught in this trap he runs out"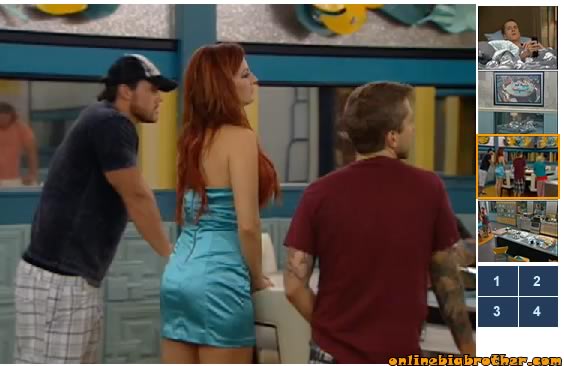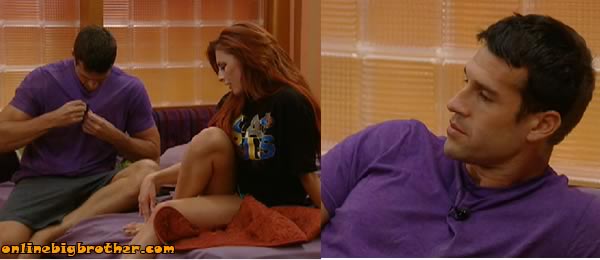 7:52pm Taj Brendon and Rachel Rachel i'm going to be best friends with the sab.. Brendon: "go talk to him he's out there". rachel: "Excuse me lane… hehehe" Rachels is talking about having kids and how cute they will be (please don't breed) They are trying to figure out who is going home, Brendon is sure that Kathy will vote him out. Brendon doesn't know what the house will do all he knows is the sab message has BLANK the other players up.They hug and kiss Rachel tells him that they are experiencing a once in a life time love.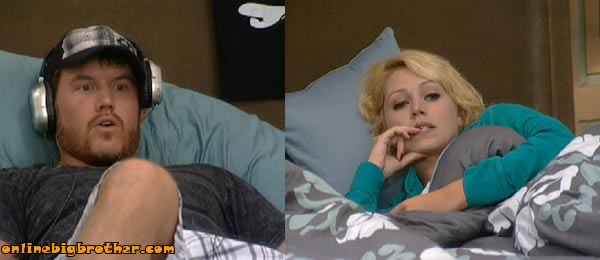 7:57pm HOH Brit, Lane and Ragan they are wondering why Rachel was called into he DR during the party Ragan: "Maybe her vagina was showing.. production told her to roll it up and hide it away" Brit and Lane are thinking that Rachel will be staying this week because she's the sab but she can only save herself. Ragan: "as long as we have the votes I don't care which one leaves this week" All three would like Rachel gone first but as long as one goes there happy.
brit: "rachel is being nice because she thinks she's going stay and she's making friends, she terrified of being in the house without any friends Brendon wasn't nice he just wasn't being a douche bag". Both brit and Ragan agree that if Rachel stays there not playing into her games and are not going to go out of there way to be nice to her. Ragan: "I only want to do things with her in Vegas that we are contractual obligated to do". Lane: "Oh for sure i don't see anyone wanting to hang out with her except for Brendon". Kathy joins them.. They all agree to just ignore rachel if she's around next week, Kathy: "well what if she wins HOH" they decide to ignore her HOH room (lane is just listening to music he's not engaged in the conversation) They start going over previous years HOH competitions they are starting to think that maybe it's skill this week because of all the construction outside.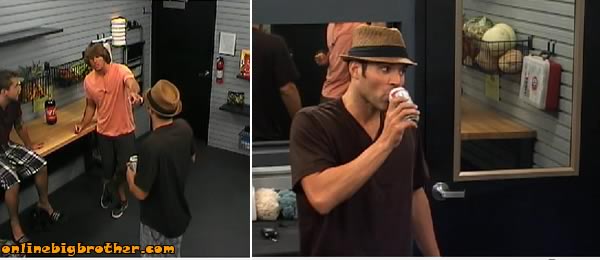 8:10pm Hayden, enzo and MAtt talking in brigade code (makes life freaking hard for us transcribers)
They decide that BG needs to take out BT before RG because she's better at comps and stirs BLANK up. Matt doesn't care the order people leave but he's worried that if they leave Brendon for too long he'll cause them problems.
CT= Covert meeting
BG = Brigade
RG = Ragan
BT = Brit
TG = The gremlin
ST = ?
PV = POV
HD = HOH
CB = Cabana
Matt asks enzo why CT stands for covert meeting it should be CM, enxo explains that it rythms, Enzo: "YO the BG needs a CT tonight yo"
Production gets mad at them.
Enzo :" BG goes CT TT about this ST in the BB about the HD.. it's either the HD's or PV's that the BG has to win" (WTF)