Watch all drama on FLASHBACK! FREE 3 Day Trial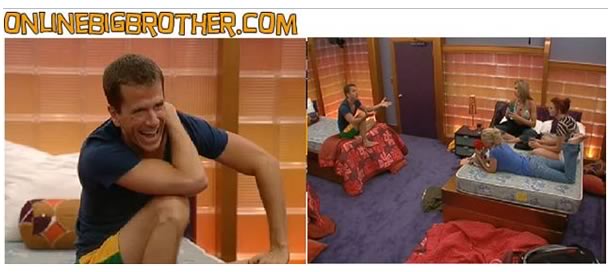 8:20pm Taj Rachel, Kristen, kathy and Brendon Kristen is trying to convince them that Monet still needs to go she explains that Matt now has a huge target on him and people will be trying to take him out because he's sneaky. Kristen thinks that Monet and Brit are a much more dangerous duo than whatever Matt has cooking. Kristen says she thinks that because of what happened tonight no matter who wins HOH they will at least put matt up. Brendon isn't sure about that he brings up that Matt did a very good job defending himself. Kristen continues and says that MAtt was nervous everyone knows he's up to no good he's going to be the target next week. kahty points out that Matt has no alliance he's dead in the water right now. ragan joins them and Brendon leaves. ragan says he's not going to be put in the middle of this he's friends with Matt and Rachel and he just wants to help get out the truth. They rehash the meeting..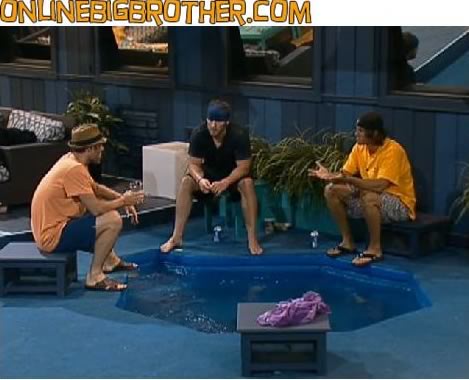 8:40pm Hottub Hayden, Lane and MAtt They're counting votes worried it might be close. Matt tells them theres no way that Ragan is voting to keep Monet. He explains to them that Ragan can be trusted they should keep him around until final 4. Hayden says Kristen will vote to keep Matt thats a locked vote. Matt talks about the experience of being in the "Meeting" He calls is a firing squad. Lane says Matt did a good job of dealing with brendon and rachel. They go over the votes for monet you have Brendon, Brit, Kathy, Andrew and for Matt you have Enzo, Hayden, Ragan, Kristen, and LAne. It's close but they feel safe. Lanes suggests that Matt lay low until HOH, Hayden interrupts and tells Matt it would be perfect if he won HOH. They all start to ponder who started the Rumor that Kristen was going to keep Monet. LAne thinks it was all made up to give the hosue a shake.
9:00pm Storage Room ragan, rachel and Brendon Ragan is explaining to them how this entry house meeting made Monet look like the poor victim, it made MAtt look like a sneaky snake and made Rachel and Brendon look like a power couple. Ragan starts defending, saying that he never heard MAtt say he was going to put B/R up. Brendon says he probably didn't because he knew you were close to us. Ragan is positive that b/r can make a deal with MAtt and they can't with Monet. Matt says everyone is after matt his back is against the wall. he'll make a deal. He tells them that there is only 2 people that he really has gotten to know and trust in this house and that is Matt and rachel and he thinks they can work it out with Matt. (rachel is looking suspicious glancing over at Brendon all the time) He tells them that if matt or Rachel go home it'll be bad for his game but also bad for his sanity.

Onlinebigbrother.com is around because of your donation every year the site costs us to host the images and run the 3 servers needed to handle the traffic. If you like the site then please consider donating to keep the madness going. Thanks!