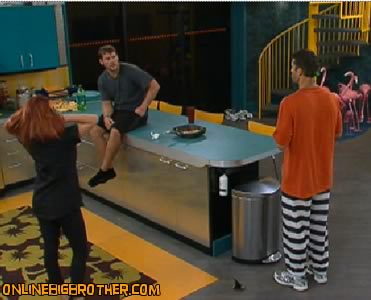 12:50pm The feeds come back from being on TRIVIA for their luxury competition.  They are dressed in prisoner and guard outfits. The competition was for a movie.  Rachel has on a policewoman outfit.  Rachel heads up to the HOH room and congratulates Enzo and those on his team.  Matt says how they lost by only 5 seconds, that he was 5 seconds away from watching the movie!!   Britney also says that she really wanted to see the movie.  Matt says to Hayden that it would have been funny if the movie was a romantic comedy since you three guys won it.  Enzo, Hayden and Brendon won the opportunity to see the movie.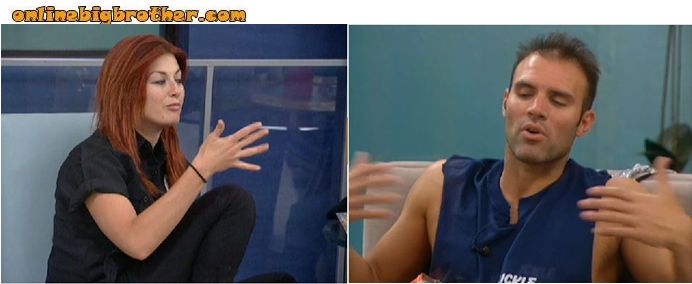 1pm Rachel tells the other houseguests that if anyone wants to come up and talk to her they can.  Enzo is the only one that says anything about wanting to come up.  Matt says after Rachel has left the room …yeah I'll come up …never.   Brendon says that he has respect Enzo for staying on the surf board for so long in the HOH that Matt won. Enzo says that people jumping off before 20 minutes, come on man …it was obviously them throwing the competition. Rachel says she saw everything, but doesn't want to throw anyone under the bus.   Enzo says that he busts peoples balls that threw the surf board competition.  Brendon says yeah I don't want people here who are just trying to float by.   Enzo says that  in his opinion is that Kristen is playing this game all wrong.  Enzo tells Brendon and Rachel that Kristen should be coming up to the HOH to talk. Enzo says that Kristen should have the respect for the HOH. Enzo says that he respects that Rachel went to Kristen, twice to apologize. Enzo says that Rachel is HOH and that she don't have to do shit. Enzo says that he is happy for Rachel and that they get the bed again.  Enzo says that he respects that Brendon and Rachel and that he won't put them up.  Enzo says that they have his word that he won't put them guys up, no back dooring, no nothing.  Brendon asks so this is on your family?  Enzo says absolutely, done!  Rachel says that Kathy is coming up next.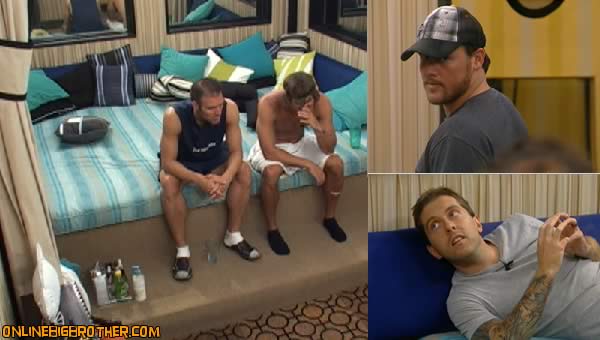 1:20pm Enzo goes downstairs and tells Hayden and Lane the conversation that he just had with Brendon and Rachel. Enzo tells them that they should tell Brendon and Rachel that they are fighters and that they think floaters should go up. Enzo says that he is mad that Brendon made him swear on his family not to put them up. Enzo asks why do I have to talk to Brendon, I just wanna speak with the HOH. I have to get use to this shit. Lane asks if they put me on the block I'm not promise shit. Enzo says that he thinks they might put up Hayden and Kristen but things Changes. Enzo says that they try to make an alliance with me, but they never use the word alliance.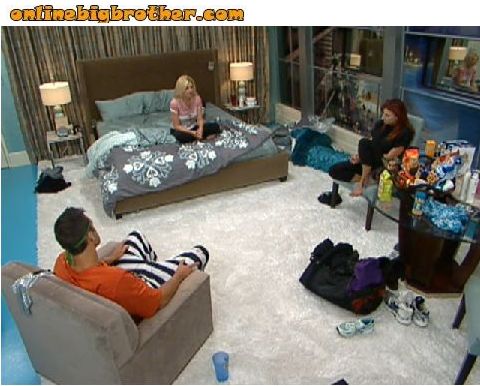 1:30pm Kathy goes up to talk to Brendon and Rachel. Brendon saying they haven't made up they're mind about nominations yet. Rachel reminds Brendon that she is the HOH. Kathy says that she loves Rachel to death and doesn't want to be in the drama. Rachel saying Kathy could have beat her in HOH if she buzzed in the right answer. Rachel says that anyone could win HOH. Rachel saying she'd hope if Kathy won HOH she wouldn't put Brendon or Rachel up. Kathy says that she's not out to destroy the obvious and says that she is happy that Rachel and Brendon found happiness. Kathy says she struggled last week and Brendon wasn't there for her all the way. Rachel says that she was going to lose her best friend if Brendon left. Kathy says she was upset at the thought of losing them too because she feels close to them. Rachel apologizes to Kathy saying she didn't know that Kathy needed her. Kathy says its okay, she knows all the stress Rachel is under because everyone is gunning for her & Brendon. Kathy says she really misses Rachel and their friendship. Brendon apologizes to Kathy for not being there for her either. Kathy says that she isn't sure what else to say but that she loves Brendon and Rachel. Brendon says she's great to have around the house. Kathy says that she stuck up for Brendon and Rachel and got put up on the block for it. Brendon says that they're not holding it against Kathy for hanging out with Kristen and that they are not going to play the game that way. Kathy leaves the HOH.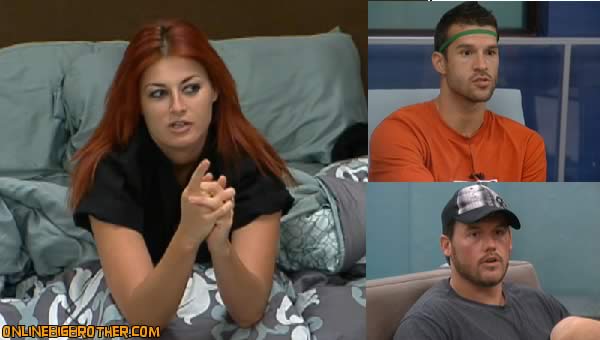 1:45pm Lane comes up to the HOH room. They start talking about luxury competition. Rachel says that she thought Lane's team won. Rachel says that her and Brendon have a huge target on them. Rachel wants to know what Lane's feeling. Lane saying he feels the same as last time. Lane says he'd love to have them in jury house. Lane saying if he goes to the final two he's glad trustworthy people would be in there. Rachel says the only one person that's here won't go to jury. Rachel says that obviously there's the whole thing with Kristen. Rachel saying she's saved people from the block two times. Rachel wants to know that Brendon and Rachel won't go up next week with Lane as HOH. Brendon saying the hardest part is that everyone's pointing fingers. Brendon saying it's hard to sift through truth and lies. Brendon saying he thinks they're friends… but he heard from a couple of people that Lane wanted to put Brendon and Rachel up on the block. Lane saying he heard that Kristen was throwing Enzo and Lane under the bus, but he's denying ever saying he'd go after Brendon and Rachel. Brendon says we have to take someones word. Brendon says that he doesn't know who to believe.
Brendon says that he is not trying to guarantee safety through the whole game, but just doesn't want to be a target a couple weeks down the road at least. Lane says it doesn't surprise him that there are people throwing others under the bus. Lane is grateful that he's been saved twice. Lane says he has a lot of friends, but not necessarily aligned with anyone. Rachel says other than Brendon and Rachel there are no other obvious alliances. Rachel says there is only one person who she obvious that she will put up. Rachel says that she can't fight next week and that they are putting their fate in others hands next week if Brendon doesn't win HOH. Brendon says he thinks Lane is a man of his word and would like to know that Lane would not put them up for 2 weeks if he won HoH. Rachel says that at least for one week anyways because things change week to week. Lane saying he thinks it would be chicken shit if someone tried to put them up next week. Brendon feels Lane understands the code of honor and loyalty and would uphold a deal. Lane says, he hopes that if he is still here he can compete against Brendon and Rachel because they are a power house. Rachel thanks him. Lane then says America sees it too and that there has never been such a dominating pair.

Meanwhile Hayden talks to Kristen in the storage room and tells her that he really wants her to stay in the house and that she need so fight! He says that this is for a half a million dollars and that if she needs to go up an talk to Rachel to stay then she needs to go do that. Hayden really doesnt want them to be both put up on the block and that she need to swallow her pride and talk to Rachel. Kristen says she doesnt want to kiss the HOH's ass every week like everyone else…