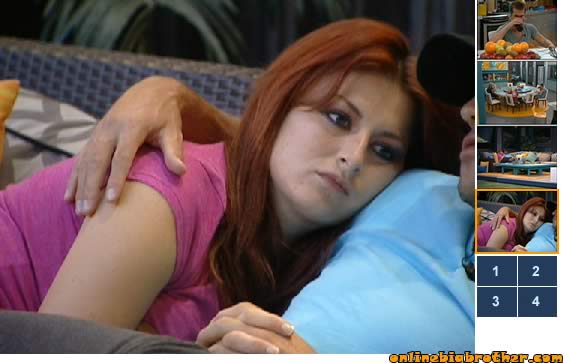 SEE what they CAN'T show you on TV! 3 Days FREE No Commitments
7:40pm Backyard Couch rachel and Brendon They are both fully convinced that Lane is the sab. Brendon points out that Lane was always a quiet player but now he's running around causing BLANK, Brendon says its the same behavior they saw in Annie. Brendon thinks positive that Lane is the sab and he's already slipped up. BRendon thinks that Rachel might be able to sell the inforamtion to someone for a vote or possible safety next week. She needs to say she know who the sab is. Rachel doesn't think they will believe him.
They start to study for quizzes
7:58pm HOH BRIGADE minus the gremlin Hayden is telling them about the conversation he had with Brendon in the bathroom. Brendon told hayden that he doesn't trust Enzo or lane anymore. LAne jokes "oh oh your out of the fake alliance"
Enzo: " BLANK this guy he has no idea what he's doing"
Hayden: "he was asking me if I trusted him and I said yes then he told me he trusts rachel so I can trust rachel"
Enzo: "What the BLANK yo"
Hayden: "he doesn't trust Lane because he's with brit"
Lane: "Good thats what we want"
Enzo says he's going to BLANK with Brendon tonight to smooth it over, he blames it on him being upstairs today sleeping and listening to music. Lane tells them to go to bed early so B/R doesn't see them together. Hayden says he can't Rachel is going to give him her knowledge.
Lane: "We need to get her wizard powers"
Enzo: "BLANK dummy.. he doesn't trust me.. you would think he would try to keep somebody" (enzo is getting excited)
Hayden: "poor guy he's got nothing he should be looking for friends"
Enzo: "You would think instead he's throwing people under the bus left and right"
Lane: "don't be worried Enzo He won't put you up"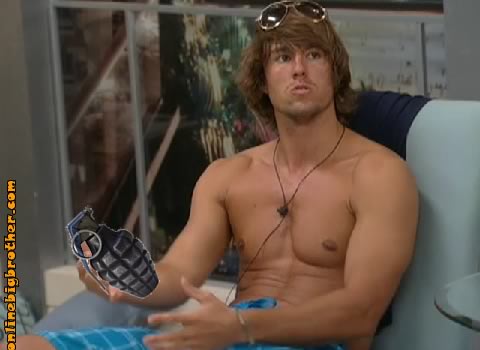 Enzo: "he thinks that what he did today is going to get him out this week BLANK him"
Lane laughs where keeping that guy he's not going to go anywhere. Enzo now starts to say that he wants Brendon gone that he thinks rachel is easy to manipulate, both HAyden and Lane say no way we have to get rid of Rachel.
Enzo: "brendon is a dummy, i knew me being up here studying would make him salty"
They all agree that they are golden this week if Brendon wins HOH, Brendon hate MAtt and Brit the most and will put them up. they have the votes to keep matt and Brit will go home. The only thing wrong with their plan is if Brit wins POV and Brendon puts up Lane, but they doubt that would happen they think Ragan would go up instead. Enzo wonders who they should put up. Hayden thinks it's smart to try and backdoor the "dodo head" since they have a "fake alliance with him". Lane thinks they could put up ragan and Kathy, tell them they are both pawns and they want to backdoor brendon. Hayden warns him that both of them will be pissed, Enzo doesn't think it'll matter at that point. Hayden also doesn't think kahty should go up as a pawn, Enzo recommends Brit and ragan since they are the strongest. Hayden and enzo agree to meet up tonight and work needledick tonight and try and get brendon to trust enzo again.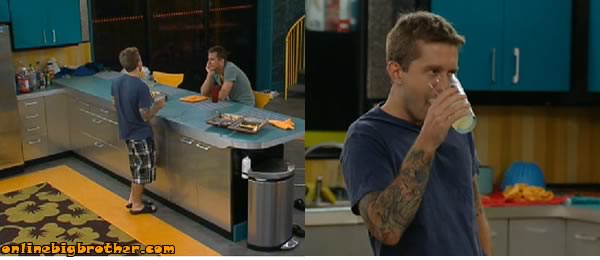 8:30p Kithcen Matt and Ragan Matt tells him about the other day he noticed all his BLANK getting ruffled around. So Matt decided to take a hoodie and lay it out in a pattern in his suite case. After a little while Matt went to the suitcase and everything had been moved. He went to DR and asked them what the policy was with people BLANK with other peoples BLANK…. FEEDS CUT OUT….
Matt says I hope it was her going into my suitcase because that how I would suspect otherwise someone is tricking me, I think it's pretty shady and i can't believe they (production) won't stop it. Ragan doesn't understand why Brendon won't look at him and he thinks it's because he's friends with Matt and Brendon feels so threatened by Matt. Matt doesn't understand why, Ragan says it's because Matt is smart and does well in challenges and Brendon is very insecure. Matt:"he's VERY insecure" .. HAyden and enzo enter.. they start talking about the pool tournament.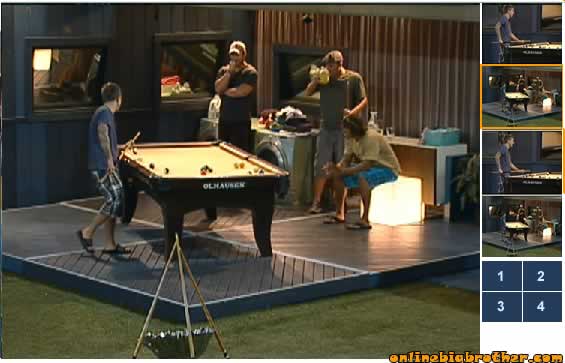 8:49pm Pool Tournament starting
9:23pm Pool Tournament still going on
9:40pm Pool Tournament still going on Every once in awhile you hear a "good try Rach" otherwise everyone is silent.