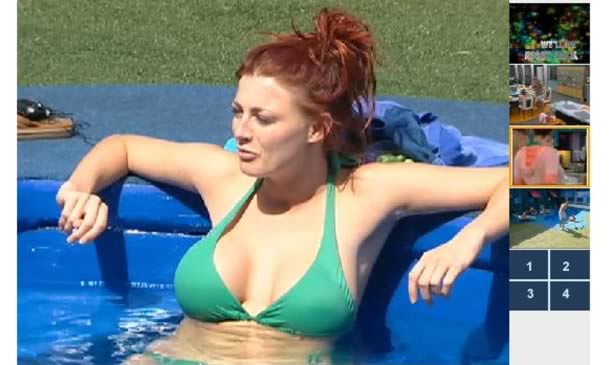 3:45pm July 10THRachel, Kristen, Brendon, Monet, Regan, and are hanging out in and around the pool talking about random stuff. They're talking about the beaches in California, and different vacation spots. They talk about how they found out that they were on Big Brother and were their keys were hidden. The houseguests are trying to think about different games they can play like red rover and 4 square..



SEE what they can't show you on TV 3 Day FREE Trial
3:55 Pool General Chit chat mostly about the Sabetour.

4:00pm Dinning Room Brendon and Annie. Annie is going on about her fears. She's certain that when Brendon goes off the block that Hayden is going to put her up. Brendon assures her that she has people in the house that will help her. He for one will do whatever he can to have her not go up (ya right and run the risk of Rachel going home) Annie asks him if he'll talk to Hayden and he agrees. Brendon continues to reassure her that he can convince Brendon to keep her. Annie mentions that Hayden has started to distance himself from some players that he was once close with. Brendon has seen it too. Bredon brings up Andrew and how everyone is ganging up on him for no reason. Annie says they should start sticking up for him more. They start talking about next weeks HOH, Brendon wants Andrew to win because that will re shuffle the power in the house. Annie thinks Andrew has a chance if it's mental "he's not a dumb and awkward as they are saying" Brendon tells her not to trust Brit she's walking around playing everyone and talking way too much. Both agree that Enzo is not to be trusted and he's on a course to self destruct. Annie mentions how Kristen is acting very quiet and doesn't discuss game with anyone every (They don't know about the hayden/ kristen alliance). Both of them feel Monet should take a hike but doubt Hayden would ever put her up she's got some friends in the house. Annie and Brendon are thinking they should talk to Andrew and tell him they will throw HOH to him if he promises to flip the house… Brendon makes plans to talk to Andrew later today. Brendon is sure if Andrew win HOH all the houseguest swill be running around trying to s**** his d****.



5:40pm Backyard Houseguests are divided half around the pool table half around the couch… no game talk going around alot of resting.