2:40pm July 10th Annie joins Ragan in the kitchen and they sit down at the table to talk. Annie is really scared that she will be going up on the block. Annie says she thinks shes being put on the block because she's social. Annie says Britney is spending a lot more time with Kristen now, although they don't like each other, and she is also sticking to Hayden. Annie thinks Britney would stab her in the back in a heartbeat. Annie tells Ragan that Britney was speculating Ragan might be the saboteur in the lounge room.

TRY the LIVE FEEDS 3 Day FREE Trial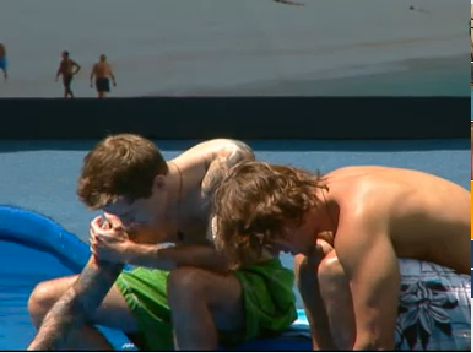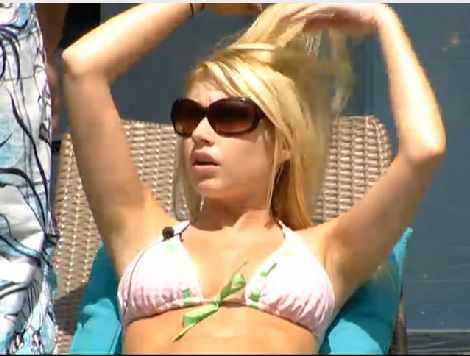 2:45pm Matt Lane, and Hayden are sitting with their feet in the hot tub talking about the new saboteur twist that there are life long friends in the house. They discuss that the way they will know who the pair is if someone is on the block for eviction and someone else totally random fights to take them off. They then start talking about how Britney has been telling stuff to Annie. They say its dumb that she told Annie within 20 minutes that she was in trouble. They all say thats saboteur right there… and laugh..



SEE what they cant show you on TV 3 Day FREE Trial

3pm Back in the bedroom with Rachel and Brendon, Rachel is still massaging Brendon. Rachel finishes her massage without the happy ending… and they make out some more. Brendon thanks Rachel for the massage, that he didnt even know he had a knot in his back until she rubbed it out. Then Brendon tell Rachel that they better join the others, but that he wishes they could stay in there all day. Rachel really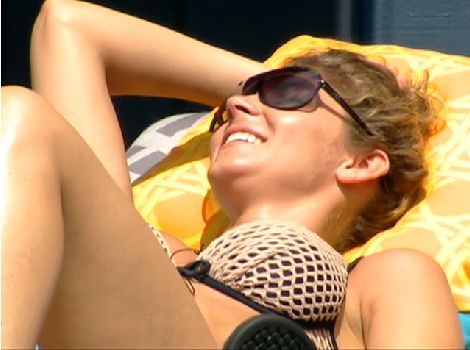 doesnt want to and continues to lay on him and kiss him …then they get up and leave the room.



3:20pm Kristen and Hayden are on the large lounge chair in the backyar talking about re-nomination plans. Kristen says that the new twist that there's a long life relationship in the house shouldn't affect their plans of backdooring Annie. Hayden agrees and says that there's really no other way around it. Hayden asks Kristen to tell him something about her he doesn't know. Kristen takes forever to answer. When she does finally answer she says she's artistic, and went to art school. Then Kristen says that she's a black belt in American Karate which includes several different disciplines. Hayden says he loves mixed martial arts and watches UFC all the time. Kristen then tells him that she was a ring girl for UFC before.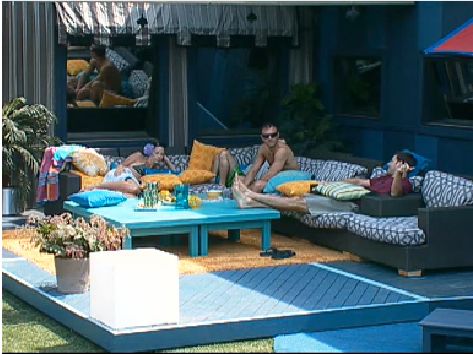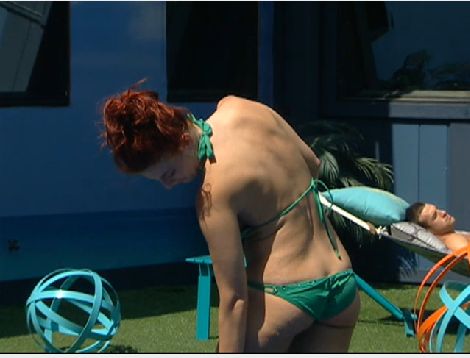 3:40pm Enzo, Annie, Britney, Matt and Andrew are sitting on the couches in the backyard talking and laughing. They want a board game. Matt says that he wants America to vote to give them one. Andrew says he wrote Monopoly on the list Big Brother had them fill out for what they get if they are HoH. Enzo says he wanted a newspaper. The others laugh at him because he would never get it, he also wanted and an Ipod, more laughter. Enzo then jokes that he wants a blow torch and to know who the saboteur is. Enzo wants to break out of the house to go to a club. They are all laughing and joking around a lot. Enzo and Britney are really funny. Britney says that it looks like the saboteur is wearing a zip-up hoodie or track jacket. Matt asks why do you say that …and she says because in the video you could see the shadow of a jacket or something.
Share it YO!!
Tweet