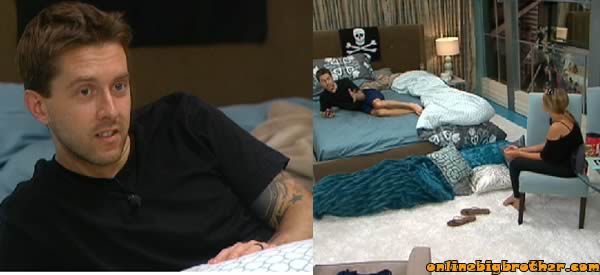 2:00pm HOH Matt , ragan and Kristen Talking about how it wasn't suppose to go this way, Matt doesn't want either Kathy or andrew to go. He asks Kristen if she thinks Kathy is closer to B/R then Andrew. Kristen says that Kathy think she's closer than she really is. Matt keeps saying It's not suppose to be this way. (no shit dumb ass) .. Rachel walks into HOH, "Hiiiiii Hows everyone doing"… mute.. … Ok Ragan is saying that maybe they should try and get the vote to be unanimous that way there is little drama. Matt says that Andrew deserves to be here more than Kahty but he knows Andrew is coming after him so he's not sure. Ragan reminds him if they take out Kathy Matt can say to Andrew that he's saved him twice now and he might give you a pass. Matt doesn't understand why Andrew hates him, Matts never done anything against him, rachel says she has noticed it to. Rachel tells them she's in a position to talk to Andrew and try and clear things up between the 2 of them. She asks Matt if Andrew knows about his wifes illness, Matt says no but he's not going to go tell him out of the blue he's going to tell the story organically, "I don't want to play that card like i'm using the illness to get farther" Matt tells them he's sure that Andrew doesn't believe a word they say. Kristen tells them that every week someone has to go home we should all know that. ragan instructs Matt how he should go about the week which people he should talk to first and when he should tell Kath. Kristen thinks it'll be tacky if MAtt goes and gives her a pep talk.
2:10pm Palm Room Lane, Enzo, Andrew and Brit talking about the POV comp. Brit says she thought for sure that Lane was going to do well, Enzo tells the that Lane was the first out. They discus the comp in detail. They had to count sets of items, make approximations on the items (push pins) .. Andrew and lane head to the have nots where andrew mentions to lane that he can't stand Brendon he wanted to win POV. He asks Enzo if he's the target.. Enzo doesn't think so but he's not sure. Andrew says he's upset with himself for not winning. Enzo tells him to not take it to heart everything should be ok. Enzo asks "who will they (r/b) put up if they win HOH"…"Matty?". Andrew says he's not going to smile at Rachel this cheerleader shit has to stop. Andrew is upset because he should of won that competition, he would of understood if it was a thing like the surfboard because his feet were so big but this comp was different. Enzo says he has to get out of the genie outfit, Andrew thanks him for cheering him up…
Onlinebigbrother.com is around because of your donations. Every year the site costs us to host the images and run the 3 servers needed to handle the traffic. If you like the site then please consider donating to keep the madness going. Thanks!