SEE what they CAN'T show you on TV! 3 Day FREE Trial

10:45am Hayden comes downstairs and says to Kathy three pre-game yaks. Kathy asks what?.. three pre game what? Hayden says yaks, you yakked three times already. Hayden asks if Kathy had any breakfast yet. Kathy says yes. Hayden says so it's all in there? Kathy says and last nights dinner. They laugh. Kathy says she would feel better if she could go out and have a smoke. Kathy and Kristen are in the bathroom alone talking. Kristen tell Kathy that she will be fine and that she doesn't need to worry. Kathy asks how long they had to wait between picking players and actually playing POV. Kristen says she doesn't really remember but thinks it was the next day. Kristen says even her stomach is upset having to wait for the POV to begin. Kathy says this sucks! Kristen says it sucks even watching it, you can hear the rest of the houseguests laughing and joking in the background. Kristen says that if either one of you wins it will be a better situation than if one of them wins because she knows that he will put up Brendon. Its his chance to break them up, he would be crazy not to. The odds are in our favor but it just so happens that they're both playing.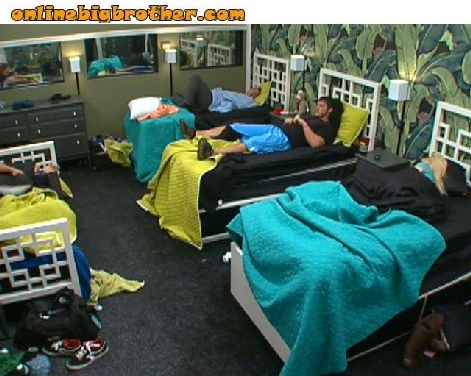 11:20am Matt, Britney, Enzo, Lane and Brendon are in the bedroom. Britney asks Matt if he can hear the music upstairs and he says yes. Andrew, Kathy and Kristen are laying in the lounge room talking about what the POV competition will be. They talk about how Ragan didn't sleep last night, and that he is in the bedroom by himself trying to sleep. They say that he is upset about not getting any sleep.





11:30am The Live Feeds switch to TRIVIA….for the Power of Veto Competition…

12:40pm Still TRIVIA…

1:10pm TRIVIA…

Onlinebigbrother.com is around because of your donations Every year the site costs us to host the images and run the 3 servers needed to handle the traffic. If you like the site then please consider donating to keep the madness going. Thanks!
Share it YO!!
Tweet