SEE what they CAN'T show you on TV! 3 Days FREE No Commitments
7:18pm Jumanji Lane, Brit and Enzo yo Enzo is talking about how theres 2 months left and he's getting stir crazy. Brt: "hey! I thought we were having fun". Enzo and lane start joking about quiting. Enzo says he's going to quit, Lane: "when this week or next" Enzo:" i dunno maybe i'll do it next week yo" Lane:" you going to do it ont he lilve show?" Enzo:" how do yo quit during the live show?" Lane: "you just walk out with the person leaving.. make sure your bags are packed" Enzo:"I'm going to wait until i'm on the block then i'll punch someone in the face."
Enzo starts joking about how he's going to decide who to put up. He's going to create a extra challenge in the house. He'll have groups of people and they will be instructed to make him lasnaga. He'll give them 1 hour and the group that isn't creative will be serious candidate for eviction". Enzo asks if Matt has an alliance with b/r, Lane thinks that they had a week week deal but now they don't. Enzo is saying that it was tough to not cheat on his girlfriend because he was in the prime of his life there was a lot of beautiful women around him back then. Matt walks in and they start talking about their "band", Enzo asks Lane: "What type of music you going to do? I bet you'll have smooth south style .. i'm going to blow your mind i'm going to be hard as shit yo…" They start talking about the order of their performance Matt will go first then Lane after the lights will go out and enzo will go "hard as fuck yo" (pretty damn funny hearing them talk about this) Brit asks them if they have a name yet.. Enzo and matt say no they're going to wait a bit longer because in 3 weeks they all might hate each other. Enzo proposes they have 2 tracks for their performance. Brit: "how the hell are you going to perform with only 2 songs it's like 6 minutes" Enzo explains that they want to keep people hungry "you don't want to thirst their quench"…. he soon figures out what he says and correct himself. Brit: "lane whats your lyrics going to be like?" Enzo interrupts: "I want to see you going crazy I want you to bite someones head off". Brit: "whose your inspiration lane?" lane: "eminem, tek 9, bubba sparks".. Lots of laughing between this group. Brit says they'll need like 10 songs for a proper performance. Lane asks Enzo how many rhymes he has in his notebook enzo says he has lots more than enough for 10 songs but he wants to do up some new material he thinks if they walk into the studio "Magic will happen". feeds cut when we come back Enzo is talking about tattoos. Brit quotes Teresa from Jersey shore: "why would you put a bumper sticker on a Bentley" Enzo says that chick is funny he's going to get a load of tattoos… Ragan joins them says everyone else is in the cabana room… Brendon now joins them.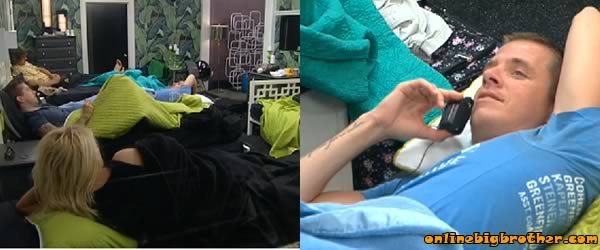 8:00pm Ragan, MAtt, Hayden, Enzo and Brit Ragan's doing his "Sexy notch abs infomercial". Enzo is talking about him wanting a quadruple elimination..
Talking about stage names
Enzo: "the white pudding"
Lane: "Mc Bestially Beats"
Share it YO!!
Tweet