6:45pm Andrew tells Kathy he won't be campaigning against her. kath tells him that the whole house is torn. She says that they didn't expect for both of them to be up, "They wanted to backdoor someone" Andrew says thats what he's hearing to and it's stupid, "He wonders what would happen if he pissed on their heads… just go in there and mess with them make them mad".. Andrew complains he has to clean up after them (the house in general), literally & figuratively. kathy says at least the house is split we know we have some votes each. Andrew is mad about the situation but mostly mad that he was used for this backdoor scheme. He says that the next couple of days are going to go fin he's going to try and enjoy them as much as he can. He's sick of the two of them having to play the mother/father figured in the house.
Top Big Brother Sites check them out
7:28pm Hayden/Lane playing pool, on the couch kathy, Kristen and Andrew chit chatting a flip over to that cam and Kathy has this to say about one of the rooms in the house "It's like that room is a sound proof room when it comes to sound"
7:40pm HOH kathy and Matt kathy says she sorry for bothering him, He doesn't care "it's a open door policy here". Kathy warms up her "YOU KNOWS" and gets ready…. "You know what happened you know just happened you know.. you put 2 people up you know… those 2 couldn't win POV you know and yoi know what? Those 2 people worked there hardest you know… You know.." (Well maybe not that bad but you know it's pretty close). Matt goes on about how this wasn't in his plan (I'm starting to think this is exactly what matt planned) Kahty tells him not to feel bad she's sorry she didn't win the POV she really tried. Matt tells her not to feel sorry it's him that should be apologizing. Kathy just says that things can happen in the house it's imposable to predict. Matt says he's not going to campaign for one person to leave over another. kathy appreciates that she hopes that people vote for themselves not because of the way the house is voting. Matt goes on and on about how this wasn't suppose to happen and how he fucked up..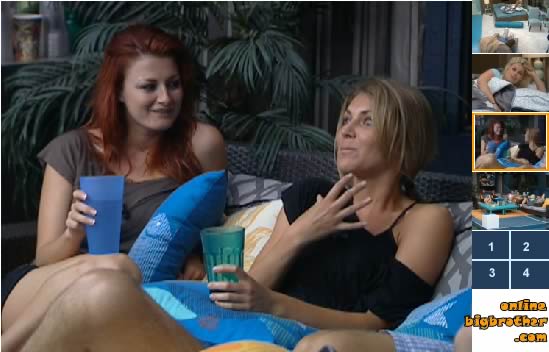 8:05pm Enzo talking about Italy, Brit tells them all about Pompeii


Onlinebigbrother.com is around because of your donation every year the site costs us to host the images and run the 3 servers needed to handle the traffic. If you like the site then please consider donating to keep the madness going. Thanks!
Share it YO!!
Tweet