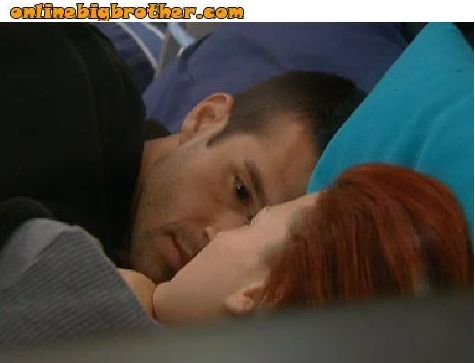 SEE what they CAN'T show you on TV! 3 Day FREE Trial
1:35pm – 1:45pm Brendon and Rachel are still talking in the lounge room. Brendon tells Rachel that he doesn't know why he trust Andrew so much but that he just does. Brendon says that Andrew threw a POV when he was up on the block to save us! Brendon says that no one else in this house would do that for us, for anyone really. Brendon says that if that doesn't prove it to you then I just don't know. Brendon asks if she trusts Matt for what he did for us, then Brendon says Andrew proved himself twice as much! Rachel asks Brendon then why doesn't Andrew like Ragan? Brendon says it's not that he doesn't like him, he just doesn't know if he can trust him because of his relationship with Matt. Rachel then asks why Matt hate her? Brendon says he doesn't. Brendon says that he is going to talk to Enzo and see if he has plans of putting them up if he wins HOH. Brendon says that he is going to make Enzo swear on his daughter that if he gets HOH he will not put him or Rachel. Brendon says that he will make him swear on his daughter several times. Rachel tells Brendon that Britney said that either Rachel or Brendon needs to win HOH this week. Brendon asks she said that? Rachel says yeah! Brendon says that is good, that shows that she has faith that we won't put her up. Brendon and Rachel talk about the floaters discuss whether they can make people not compete in the HOH. Rachel asks Brendon if he thinks Kristin wants HOH this week. Brendon says no, she's a super floater! Brendon says that Kristen and Hayden are going to try and stay under the radar for as long as they can.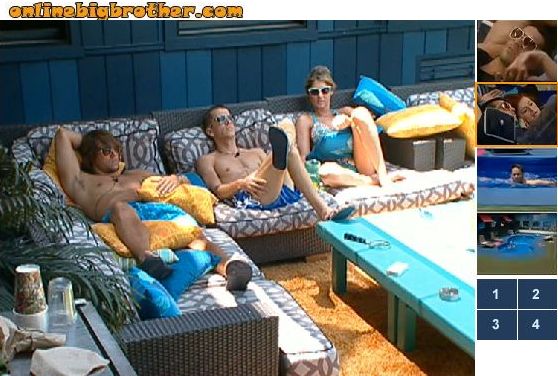 1:50pm – 2:10pmHayden, Ragan and Kristen are sitting on the backyard couch talking about random stuff.

Onlinebigbrother.com is around because of your donations. Every year the site costs us to host the images and run the 3 servers needed to handle the traffic. If you like the site then please consider donating to keep the madness going. Thanks!
Share it YO!!
Tweet