3:25pm Kitchen Andrew eating arrowroot cookies and baby food. Enzo walks in asks him hows the food treating him. Andrew thinks the baby food is good but eating is all day long 5 days in a row is hard. Brit walks in Andrew tells her all about how good the arrowroot cookies are.. says they taste like butter cookies, he points out that they're 20calories a each. Brit says thats a lot for a baby.. she goes back outside.. Brendon walks in same type of conversation with the cookies. Rachel comes in asks him about those arrowroot cookies.. Andrew tells her their good, taste just like butter cookies. Rachel all this baby food is loaded with carbs, Andrew "I don't know how these babies burn off all these carbs" Rachel explains that babies need carbs to grow. Rachel tells him she doesn't eat very much normally and she's finding she's eating even less in the house. He asks her if she just worked out. She tells him she'll do weights later today she just did cardio and she might do a bit more cardio after the weights.
3:40pm Backyard Lane and Andrew
Andrew asks Lane that they need to talk strategy, he knows they haven't talked it much before but Andrew really wants to now just to make sure they are on the same page. Lane agrees, tells him anytime Andrew wants they can go talk up in HOH. Andrew brings up that Lane is seldom alone. Lane says he'll make time for him when does andrew want to talk? Andrew thinks maybe tomorrow.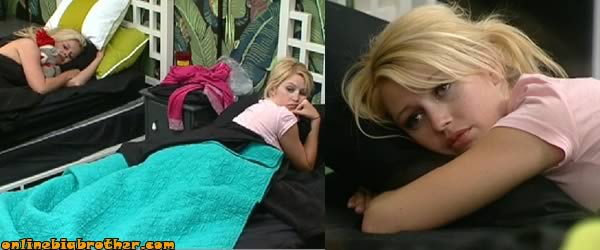 3:45pm Jumanji Room Kathy and Brit Brit is telling Kathy that Andrew told her that Kathy is coming after her. Kathy is AMAZED that Andrew is throwing her under the bus. Kathy asks brit if she's ever heard Kathy throw Andrew under the bus. Brit says no she thinks it's a bad move on Andrew's part, she adds that nobody believes a word he says anymore so theres nothing to worry about. Brit says in the beginning everyone was saying Andrew should stay becuase he'll go after b/r and they all thought you were b/r's maid. Even at that point Brit was still fighting for kahty to stay. kathy asks her who wanted her to leave. brit just explains that people where worried that you were with b/r and Andrew wasn't but know everyone wants to keep you. (OH i knew somehting was missing kathy wasn't saying you know… but she starts up 5 minutes into the conversation and she fires them out in rapid succession..you know…you know..you know.you know.you know.you know) kahty doesn't think rachel is voting for kahty to stay. Rachel is trying to make hayden and Krsiten look like the other couple. she wants to take the heat off b/r. Kathy adds that rachel is lying to many people in the house and she ready to spill the beans. Brit I think B/R are targets next week, but what will happen if one of them wins HOH. kahty "OMG it can't happen".."thats why i don't want andrew to stay becuase that means theres 3 strong going into HOH".. Kathy goes on and on about not being with b/r she was only close to them to be save and to gather information. brit says she nervous about HOH big time, Kathy is to. They know B/R will be fighting for their lives (I'll bet a bottle of Canadian beer that b/r wins HOH) Brit: "If Brendon gets HOH this whole house is going to blow, it'll freak out" Kathy "If b/r stay together they will take this place down they know everyone is against them"..

4:10pm Backyard Andrew on the couch, hayden playing with is lasso, Matt on the elliptical and Kristen in the sun. hayden tis saying how bored he is, Matt suggests he start a fight with someone.. thinks he should start it up with Kristen. hayden say no way he's scared of her.. Hayden asks matt if he's gotten to the bottom of the shit stain.. Matt says no he's going to call a house meeting to determine who did it. (read dawg's poo posts from the day it's in there). Matt asks hayden if he's going to put the lasso up on eBay.. Hayden "Yeah sure I have like a thousand at home" Matt brings up Casey last year and how he sold the banana man costume for 30 bucks. Andrew chimes in something about it being a messed up world he's living in.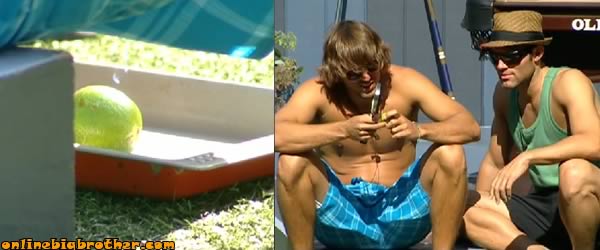 4:20pm Backyard most the guys are out back now with a magnifying glass trying to melt a lime Enzo"Let me put my 'dick' in there and you can circumcise me" .. Production tells them to stop.. Enzo "hey that wasn't long enough to be fun cmon here". Much of the house is outside just screwing around.

Onlinebigbrother.com is around because of your donation every year the site costs us to host the images and run the servers needed to handle the traffic. If you like the site then please consider donating to keep the madness going. Thanks!