Watch it happens as it happens!! Superpass 3 Day FREE Trial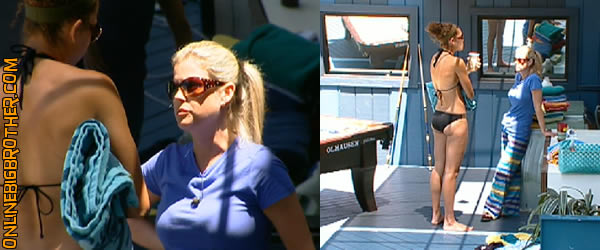 1:43PM Pool table Monet and Kathy Kathy is trying to be nice but still is coming on to be sincere. Monet apologizes for saying that Kathy is the reason she is on the block. Kathy knows this is a game and understand how things will be said in the heat of the moment. Kathy thinks that Brit is hurting Monet she tells her that not many people are liking brit and it's not a good idea for her to have Brit campaign for her. Kathy continues that it's critical that Monet campaigns on her own. Monet tells Kathy it is really tuff to be on the block and how theres little chance to get the votes she needs. Monet mentions that it would be nice to have a couple votes just to not have to walk out of the house like Annie did. Kathy says she feels bad about the situation that monet is in and she wants Monet to know that she's up on the block for winning the 10 grand. Monet says that Brendon and Rachel are on a powertip and that there power won't last forever. Kathy doesn't think they are she says that Brendon and Rachel are genuine people (barf… puke) Kathy tells Monet that they are friends and she doesn't want this to get perersonel. Kathy goes on and on about it not being personal monet isn't up on the block because of who she is she's on the block becuase she's a big threat that won 10 grand. Monet reminds Kathy that she never says anything bad about Rachel she likes her they just haven't had the chance to get to know each other (holy fuck what a lie)
Monet tells Kathy that she needs 1 maybe 2 votes and she really is going to fight for them. Kathy tells her that she wants the house to vote for the player that will help them in the game not the player Brendon and Rachel want out. Kathy says she'll think about it.
2:20pm Kristen and Kathy Backyard Couch Kathy explains the entire conversation she just had with Monet to Kristen. Kathy leaves on thing out she makes is sound like she told Monet that she's voting against her. Kathy says that Monet was truthful for the most part however Monet said she wouldn't be going after Brendon and Rachel which Kathy thinks is a lie. Kathy is certain that Monet and Brit will be gunning for Rachel and Kristen. Kristen mentions that Matt is completely innocent he hasn't done anything negative to her and kathy. Kahty corrects her and says Matt's been good to the house. Kathy says it was good of Monet to talk to her but it's already been decided and she doesn't see Monet getting her votes.
2:45pm Pool Lounging around
Share it YO!!
Tweet