7:09pm Backyard Enzo, Brendon and RAchel Brendon is telling Enzo that he is pissed that there was people that dropped out of the HOH so early. It shows that these players don't want to play the game and just wanted to stay off slop. He wants to take those players out. Enzo: "What was the time when they started dropping off 15… 20 minutes" Rachel "NO it was 8 Minutes" (Lanes time) Enzo replies "THATS just disgusting".. Brendon says that ragan is taking it very hard because he really fought for the competition and now he's on slop. Enzo madly munching on his food replies with ya ya ya and sometimes the odd "Ohh that is Disgusting" (Brendon and in a smaller way rachel have been working enzo for the past 4 days, being extra nice to him etc etc.. they have no clue how tight he is with Lane and HAyden)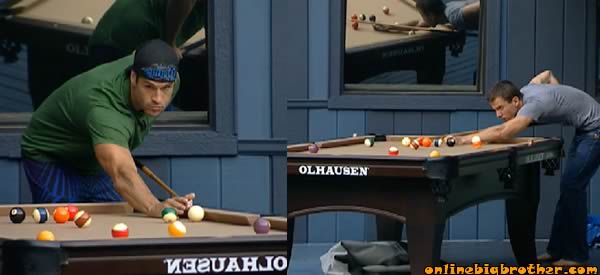 7:23pm Ragan and Brendon Playing pool, talkign about pool… you can hear Rachel in the background saying "HEEEEEYEE!" as she goes inside. Brendon starts talking about the Full marathons he's doing, LA marathon and the la hoya marathon…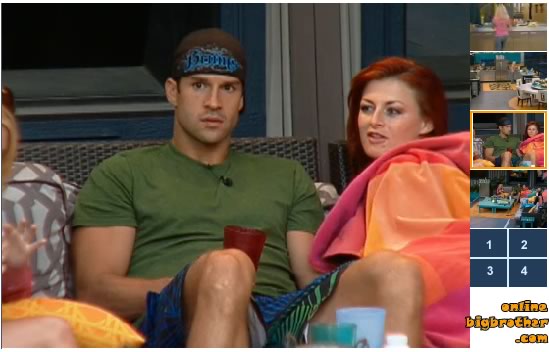 7:40pm Backyard Matt, Rachel, Matt, Kristen and Brit
Brendon talks about L Ron Hubbard and how he found out the best business model is one that is religious because of the tax loopholes. Brendon "It's the most profitable business and that is why he started it".. He goes on to say that there was a bunch of popular celebrities that jumped on board and really publicized it and that is why its as big as it is today. Rachel asks if he was ever a Scientologist seeing as he knows so much about it. Brendon says he worked for a place thats business model was based one Scientology but he was never into that stuff. They start talking about what there names mean. Rachel says this "Named after Ewe and Rachel in the bible and my middle name is Ailene and my nephew's name is riley", The girls say how much they love the name Riley. Brit's says her name means "british". Kristen is a Norwegian and it means Anointed one.
Matt says: "I saw Matt it on a mug somewhere and it said it means a gift from god". Brendon says his name is Irish Gallic means little raven. rachel mentions that she would call him braden for the first week…. Lane joins them


Onlinebigbrother.com is around because of your donation every year the site costs us to host the images and run the 3 servers needed to handle the traffic. If you like the site then please consider donating to keep the madness going. Thanks!